This is what we're up to, have been for a while. A sort of rebranding. Em & Wit Design. Well, we're still the Wits, but we're also Em & Wit. Read on, friends.
Before moving to our current house (project), I toyed with the idea of switching things up. New side of the country-Midwest to the PNW, new house to fix, goals achieved, new goals created, things of this nature.
Over the years, here at the Wits, the website became more about remodeling our homes (we're on #2 working towards its resale in a year and doing bigger things) versus our furniture refurbishing.  I knew I wanted to separate those parts of our lives because they have grown into two different beasts and it can be hard to follow.  For both you and the two of us.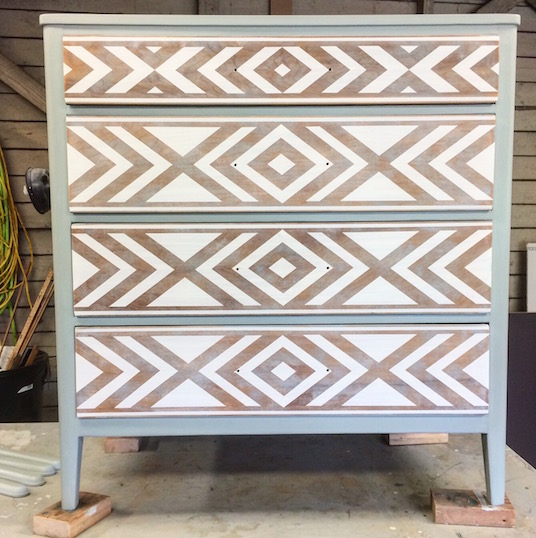 One of the five newest pieces
While finishing some home improvement projects over our last year, I tried thinking about the details. What I wanted to put out there, what I didn't, the look, I wanted to create space in our house for a shop, etc..  We weren't tackling furniture whatsoever during that time, which I felt guilty about, so I justified it by planning this feat. I wanted to say hey, Washington, we're here and we're pretty cool.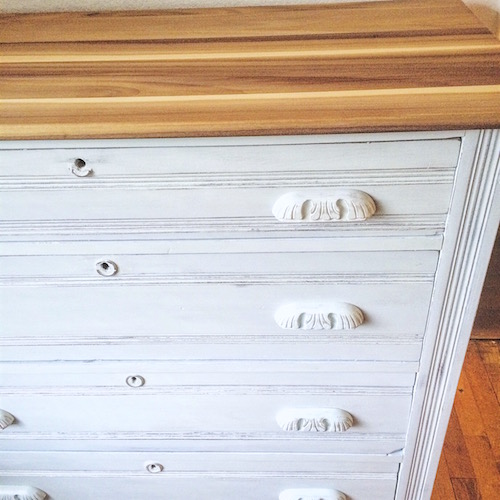 Another piece recently finished
I purchased domains, absorbed info about rebranding, designed a few site options, collected some pieces to refurb (we currently have 5 new pieces freshly finished and waiting to be revealed), researched the market, tested for our demographic, etc..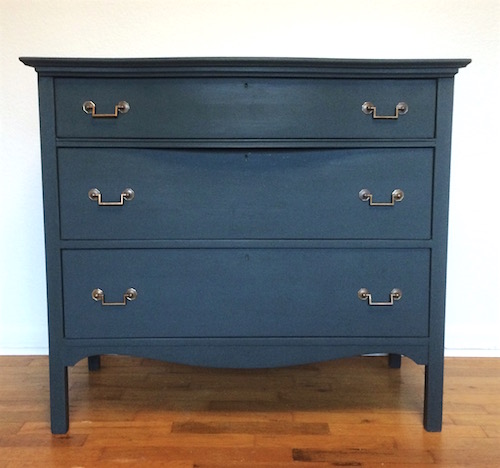 I aged these handles myself
It's trickier getting people to come where we're located than our last house in Minnesota (which had its own issues). #traffic And the city we're in does not have a terrific rep, not much going on here, but it tries. It's getting better. What a city slogan, huh?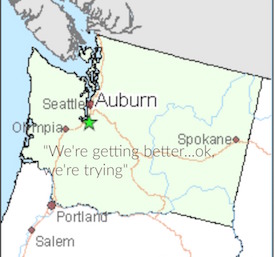 Anyway…
You probably won't be surprised, but figuring out a name was one of the truly difficult parts. Until a few months ago. That's when Em & Wit Design popped into my head. It's a mix of my maiden name and (of course) Greg's family name, both shortened.
Speaking of new names, you can follow our newer Instagram account-emandwitdesign (we are still at the old too).
Once that was settled, the new website came along (I'm still tweaking it). Em & Wit is the place all about our furniture refurbishing. The Wits is now strictly house talk. Which brings me to this…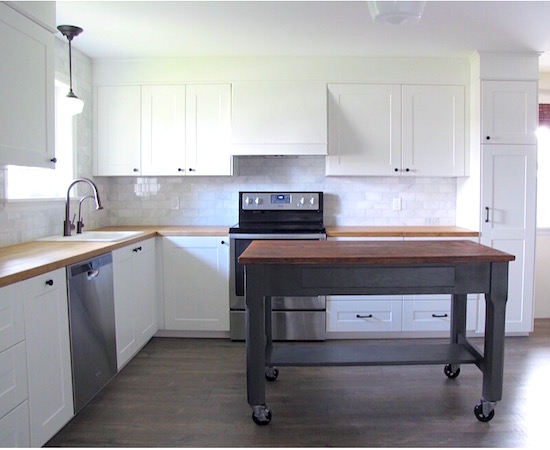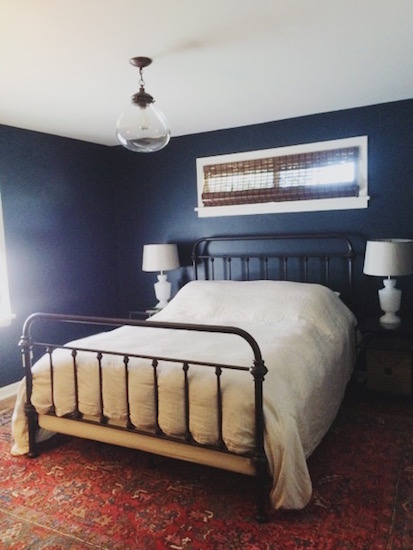 I left off in February (!) and it's now June, almost July. I last told you about our kitchen being nearly done and the master bedroom being finished.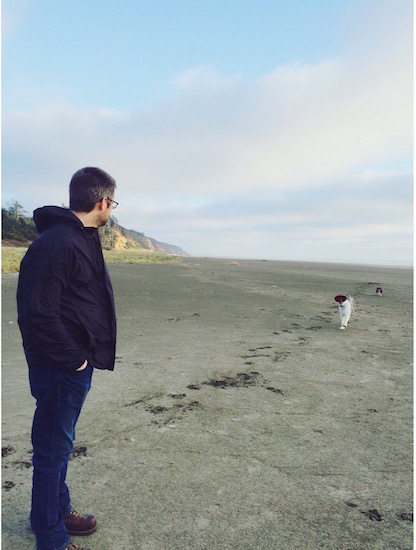 We even found time for a weekend getaway in April driving up the Washington coast around Olympic National Park. Absolutely beautiful. I'm so glad we moved.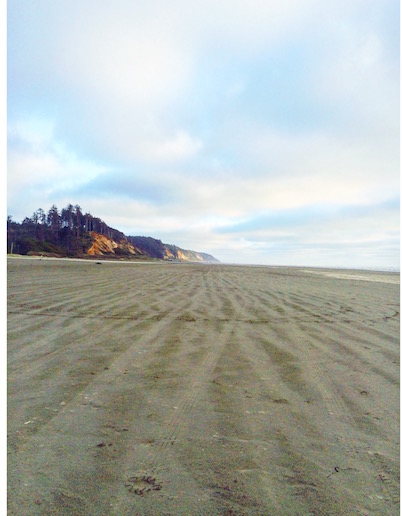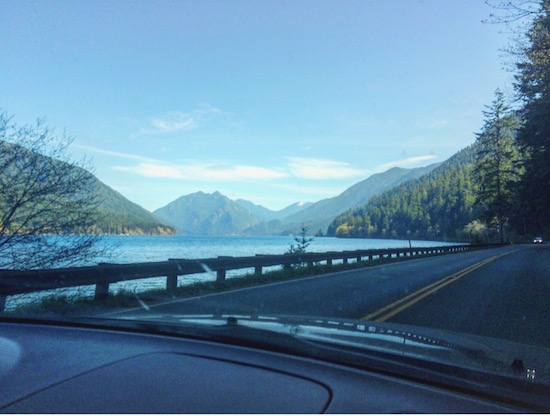 We have since tackled the exterior, ripped out pretty much all of the old landscape around the house, sanded the siding, removed/repaired (still doing this part) the gutters and simply have been working to give the house more curb appeal. We are, oh, about 75% finished and about to build a new front porch (we've been without for over a month which is our solution to solicitors).
I will not tell you how many samples we tried…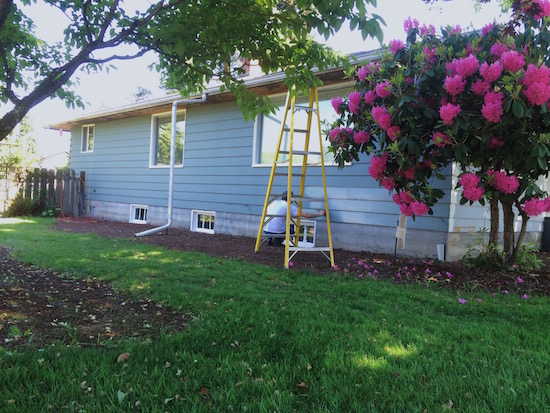 Infact, we need to finish this porch so customers can visit our shop. We briefly (it happens more often than we lead you to believe) went into a crazed state, stemming from bliss regarding the exterior looking much better, and attacked the old porch with hammers until not much was left. Then we woke up, the stairs were gone, looked at each other and said we don't have the budget to fix this yet, hmmm. Rolling onto the waist-high platform is not going to cut it. Not that I wouldn't want to see that…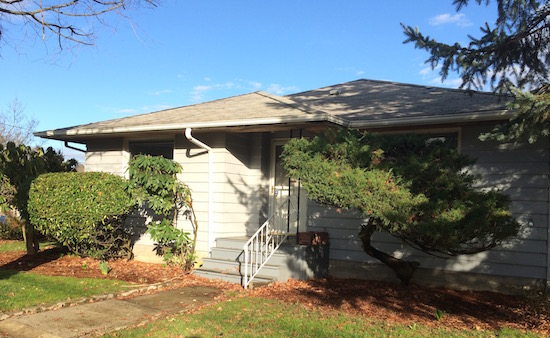 Before (that was an egg someone threw on the window before we bought the place)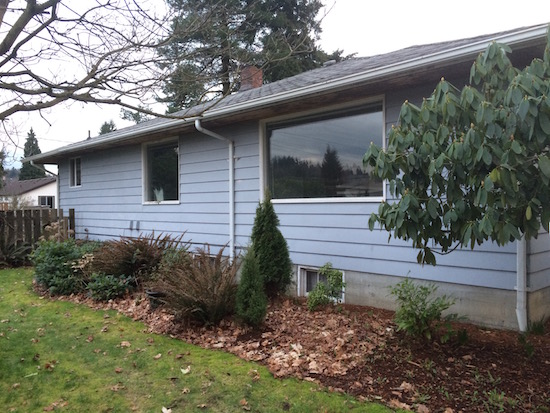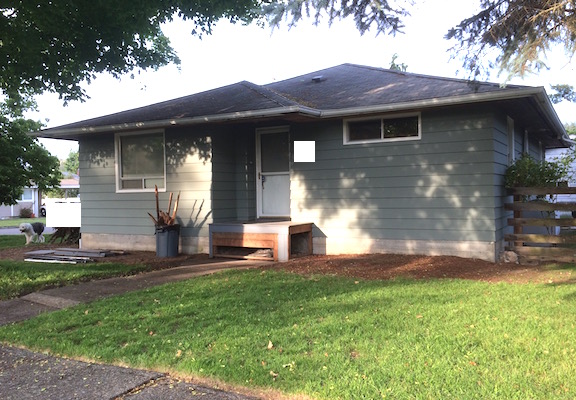 For now: new exterior paint in green with a slight hint of blue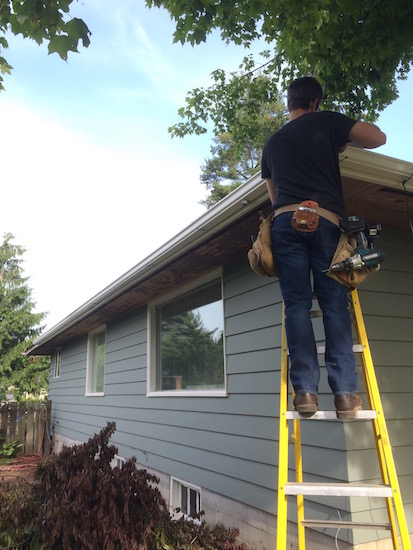 The second bedroom is finished.  While the master is deep, dark navy, this room is lighter green-blue.  Both are cozy.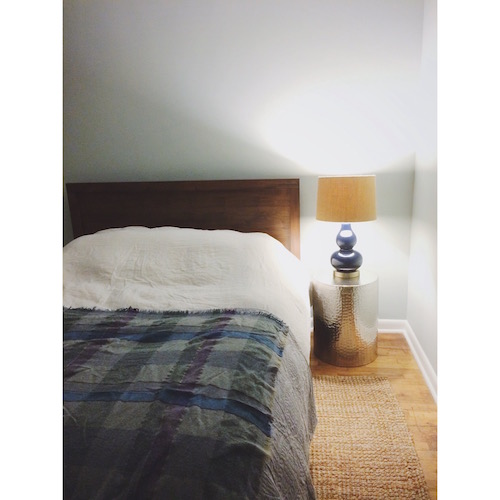 We decided to switch gears from working outside and began doing minor repairs to the cracks in the walls and ceiling in the living and dining rooms with new coats of paint following. The carpet was finally removed.  Donezo.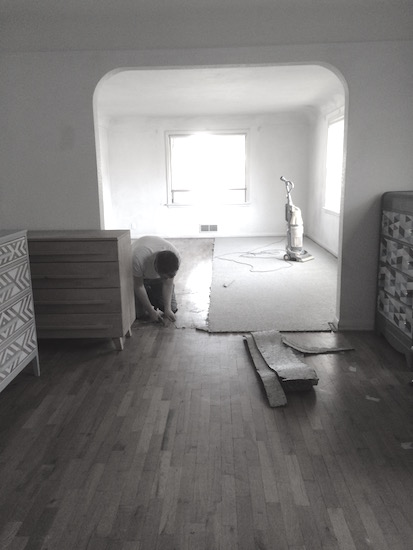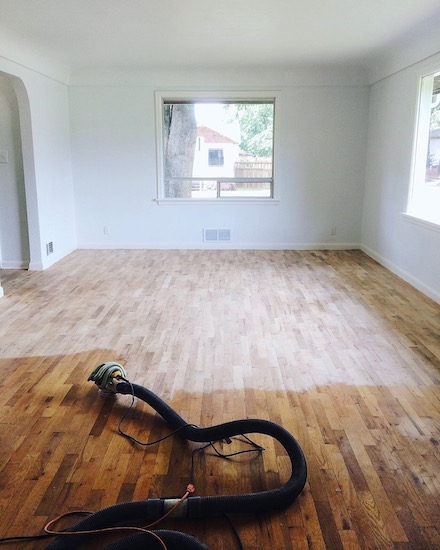 The trim is painted white, the walls are white. The natural light floods in and this = amazing. I am a fan of white paint + white paint in a room.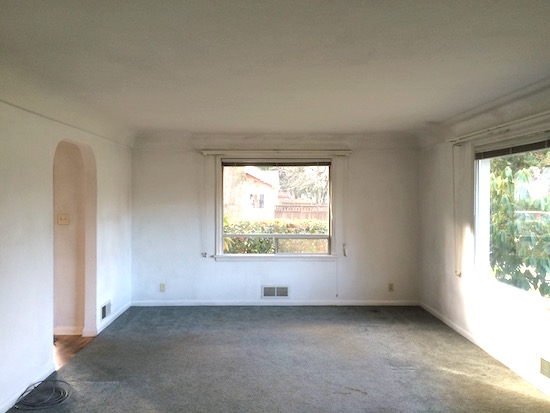 Before
After
It never ceases to amaze us how paint can help almost anything. The white accents and highlights the furniture and art in the room. I added some cafe curtains slightly higher than mid-window thus privacy and light.The floor was sanded and oiled, too. I sometimes go in there and spin in circles with a big smile on my face. (Weirdo style.)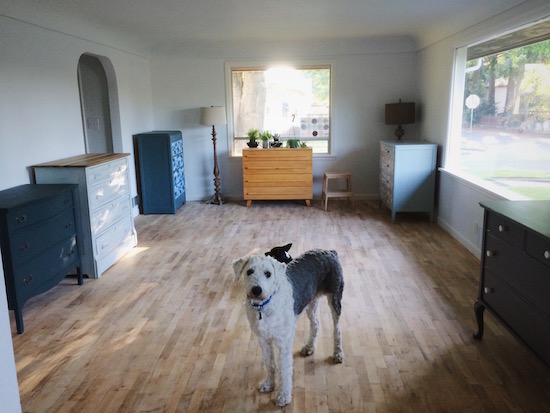 Before we oiled the floor. The pups gave their approval and we used the space as storage for our newly finished pieces. On the market soon, folks. 
We finished a few other small projects and are heading back outside soon. Several of our neighbors have stopped by and told us how great the place is looking these days. #homeproud #superduperbusy #superduperlovingit
We really only have the bathroom and hallway to finish upstairs, semi-finish the basement (half will be storage).  Oh, paint the garage, maybe fix that roof, oil the garage doors, then some minor projects and we're good to go.  Had I just said that in the first house I would have been stressing, but we're more experienced now and that message is a relief.  Just maybe I'll bring you guys along with more posts and none of this 'months of silence around here' bullcrap. You could always stop by emandwit.com, just sayin'.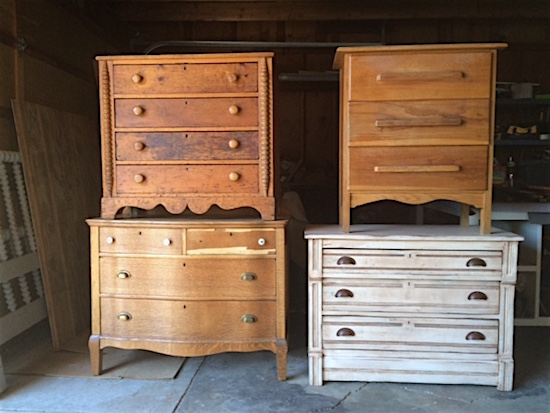 I'll leave you with this photo of our growing stash of pieces (aka dresser jenga) to repair and refurbish in our workshop. Life is good.
~Annie