We've been in the house for 1 1/2 weeks now.  The rental house was cleaned and ready to go a week ahead of schedule and our deposit already refunded.
So far the two of us have added lighting to the garage, switched out lights in the house, gave away the old by listing them on Craigslist (my old friend), organized every room, purchased oil for the furnace, unpacked, cleaned up the landscape/raked the remaining leaves, bought and used a reel mower, ordered blinds, picked up paint and wall repair materials, bought shelves and tables to work on outside, have had several electricians in to quote switching out the electrical panel (after finding that there was some "foul play" after it was inspected in 1997 concerning the correct service/etc….that has been frustrating to learn especially after having the house inspected previous to purchasing it and none of these visible issues were mentioned…which could cost us 3x what we were previously quoted and credited), bought one of these highly recommended Saatva mattresses, went over design ideas and about a dozen other small things were accomplished.
Greg got this label printer.  Like a happy boy these days (as seen on Instagram when he labeled his beer).  There have been only 7 trips to Home Depot and a few to Lowes-our trips to Menards are a thing of the past.  The schedule is set for projects yet open to change.  It's nice to be busy and making improvements once again.  But most of all we're enjoying the space.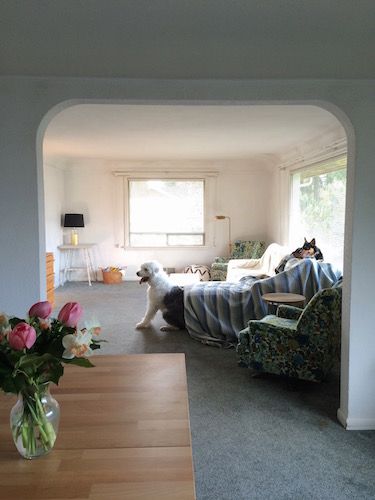 Comfortably random
Greg and I are in love with the house as are the pups.  We've met most of our neighbors, adore that kids play outside almost every day, and it appears to be a dog-friendly area judging by the number of dogs around and that we see going walkies.  One of our neighbors is from Minnesota and grew up not far from our last house.  How cool is that?
This weekend will involve organizing the garage better so I can get my bum in there to refurb some furniture.  I have a wall of dressers and a number of things favorited on Craigslist.  I'm also looking for items to make an outdoor theater (projector, screen, outdoor sectional) to take advantage of the beautiful summer we keep hearing about here. I'll check back later when I have a project worth sharing.  (There is no April foolery going on here even though it is April 1st…by the way, this is Greg's favorite "holiday" so I'm just waiting for some of his antics…wish me luck.)