I'm going to start by saying happy belated 28th anniversary to my parents as of last Friday.  They have finished their mud room which I will tell you about later…after their amazing kitchen and bathroom renovations I shared awhile back.  It's another thing of beauty.
Sorry I was gone last week and only popped up yesterday to say I'm choosing Bloglovin' and Feedly to replace my Google Reader (what are you doing with that?).  The important thing is that I'm back with lots of pictures and ready to share what's going on in our lives.
Our 3 season porch was full of things we've been removing like doors and trim (and furniture needing repaired, a giant dog crate, a tote full of garage sale items after cleaning out the kitchen, and some family dishes that belonged to Greg's grandma carefully packed in bins).  I put the old hollow core doors on craigslist and had a gentleman pick them up for his sister-in-law who also refinishes furniture and is opening a store soon.  She's going to decorate the doors and use them to divide the space.  How cool.  Just a small world.
It's snowing again so close to spring's arrival which is not my favorite.  Blowing and drifting kind of snow when my mind is on grilling, flowers, green grass and sweet sweet sunshine.  The weather impacts our ability to work on the house since we are outside shoveling and breaking ice on our free time.  Greg has been working late again so our time together seems better spent connecting, eating dinner together and holding hands than using every free minute to work on the house as we've tried during the weeks in the past.
What closet?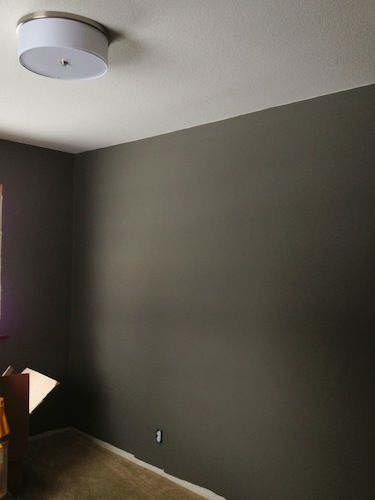 The light is new and if I'd known the shade was going to be so stark white I would have picked another light.  I'd go for more of a natural linen shade instead for this room.  But it's nice, provides a good amount of light and will do well for resale.  I can always move it to the basement when we finish the bedroom down there.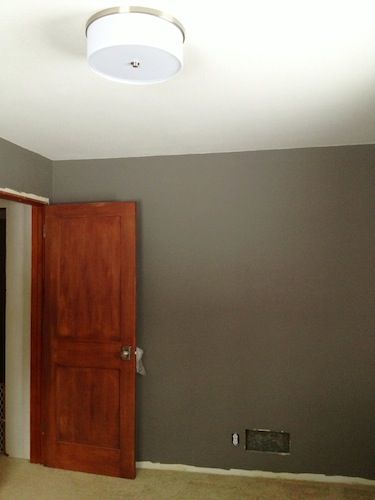 The door will be painted white but I like the warm and cool tones together.
Good news is that we have the second bedroom painted after drywalling and mudding where the closet used to be, the new door is up (after a little shave off the bottom), and we have moved into that room (plans for it being my office and workout room are on hold).
Henry's new hair cut (and this is his "I'm so bored" look and not him napping because this dog doesn't sleep).  This bedspread (clearance at Target years ago) has seen better days and the fleece blanket is a must here in these cold months.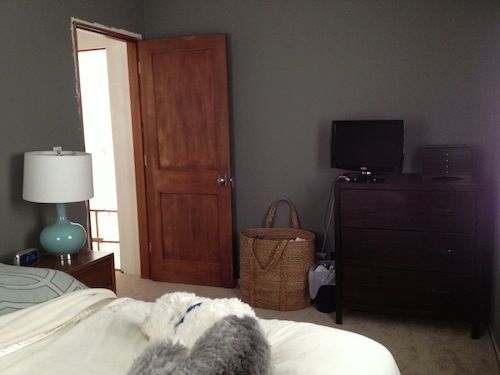 That is a World Market dresser (we got on major sale when the stores closed in Minnesota years ago…to come back)-are you surprised that's the dresser we have?  I love the simple shape and I went through a dark espresso phase that I still find myself drawn to.  HomeGoods lamp and laundry basket.  You know me, I got a good deal on those too.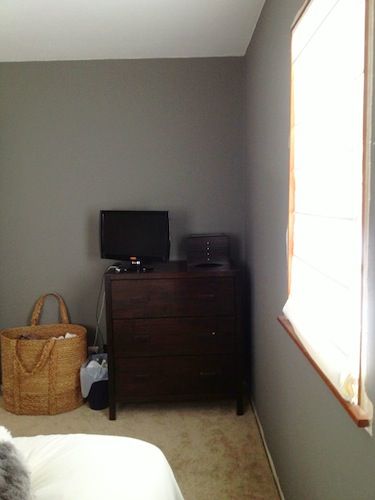 Eventually we'll put a wardrobe in this room for guests and resale.  
In case you're wondering, this is the nightstand that matched our first mid-century credenza and if you want to hate me, we got both for $60 and sold the credenza, receiving at least 6 times that for it alone.  It needs work but we can do that later.  You get a glimpse at the project we finished weeks ago behind Viv that I haven't shared yet since the baseboard is not up and trim not fully painted.
The second bedroom is small with our queen mattress but we both really enjoy how cozy it feels and love the dark color on the walls-Benjamin Moore's Chelsea Gray.  We may not move out of it but will bring the full size bed back up for more space. I think I'm going to go with more dark shades in our next house I'm so in love with how they make me feel when I walk in.  And this restless lady seems to sleep better now.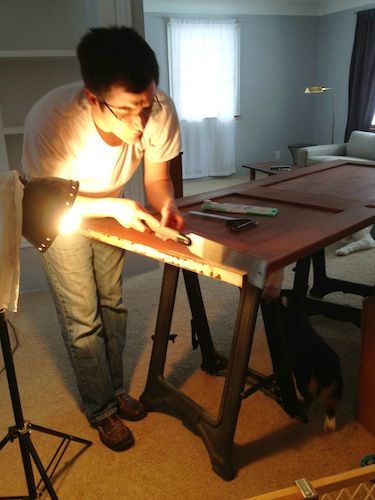 Old school style 
The walls are being prepped and we're removing the old trim in our bedroom for painting.
Tons of little boogers all over the walls (like all the other rooms) and someone thought tape was a substitute for spackle so we are scraping those spots off then we are mudding those areas since there is a noticeable dent left which is why all the rooms are taking longer to paint.  Lots of mudding with multiple coats and scraping then more mud and sanding.  Repeat.  The good part is that we can work on multiple things while it dries.  Like chipping ice and removing snow….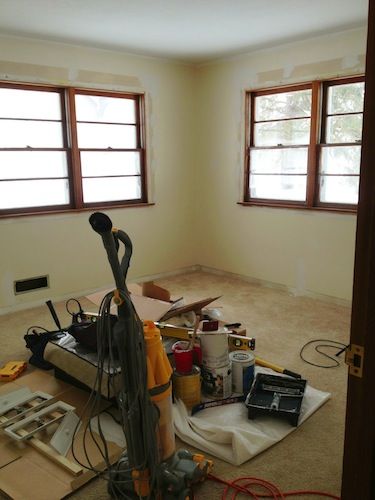 The top shade is Benjamin Moore's Gray Owl which is going in our bedroom.
The ceiling got a fresh coat of paint in a few rooms and the hall closet is painted in the leftover Paper White from Benjamin Moore.  Leftover because I thought I would use it for the trim until I realized it is definitely a shade of gray-white. We're using Decorator's White from Mr. Moore instead.
Shelves have been added in the hall closet and it just awaits trim and the new door (and the hardwood floor we hope to get in later). The hall is nearly ready for some paint after a delay with more mud needed in some areas (like above that closet up there since the old closet used to go all the way to the ceiling and we opted to make it as even as we can with the bedroom and bathroom doors for visual symmetry).
I'm on the lookout for a new floor lamp.  Vivi, our Corgi pup, chewed the cord.  My little bundle of joy.  It is an Ikea lamp so we're not out much but it was the main source of light in the living room.  I see this as a time to find something more my style.  Any floor lamps you'd recommend?