Now to show you things that have happened but my yap has been shut for the past 2, 3 or more weeks about…
Hehe uh crooked and no, that's not how our house is.
This doorway and wall became this…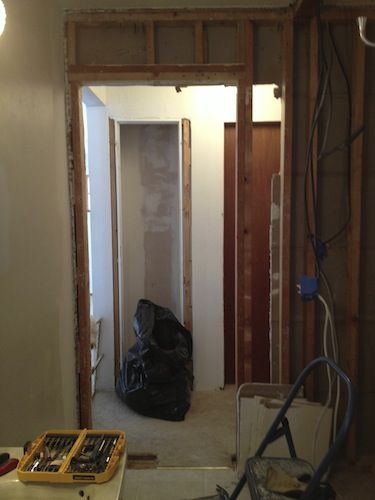 The doorway went from 24″ to 30″…I called it my fat guy in a little coat feeling.  Yep, that's the hall closet across the way that got a little jamb/door love too.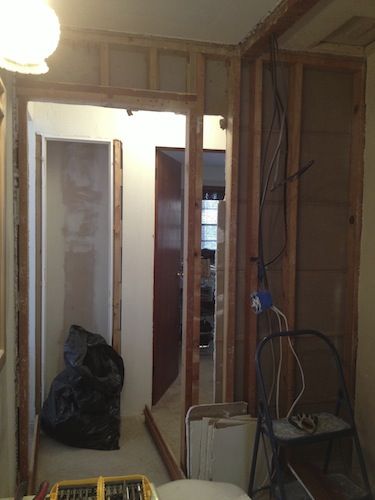 We did end up taking the second bedroom closet and giving the space to the bathroom which is somewhat of the space you see in the picture. If we must have a closet in that bedroom it will get the old Ikea treatment.
View from the second bedroom where the closet used to be.  Drywall has since gone up to cover this.  
The best part is that we don't have a door up yet in the bathroom. Greg was sick Monday and we ran out of time Sunday evening. We just make sure to have the curtains in the living room closed since you can see into the bathroom if you tried hard enough. That should be going up tonight with one of our new solid wood doors we picked up a few months ago.  8 solid doors for $500!  We have to paint the bathroom door yet.
Speaking of doors, master bedroom closet doors are up with hardware. I had some problems (it never ceases) finding large enough knobs-not wanting to go the expensive doorknob route-and ordered a few more modern round crystal knobs in a size I thought would work. They arrived and both were not as big as the website said and now I'm playing the "when will my refund show up" game.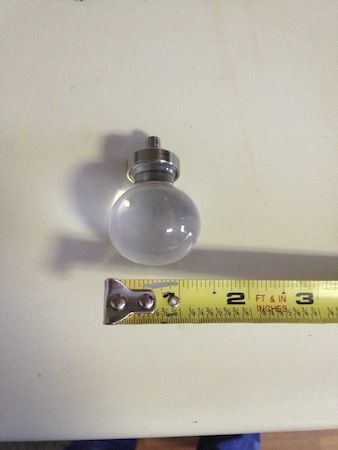 Does this look like it's 1 3/4″?  
The best part of this is that back before the doors were even up, I picked up some bar pulls at Menards I thought would work then changed my mind to the round knobs, had problems with 2 sets of those then resorted to using the bar pulls that were in the nightstand drawer all along. Weeks after the doors were up (we couldn't close them) and I was fretting over the tiny detail of the hardware. Dur.
There are a few more projects going on I'm purposely leaving out.  Why? I'm feeling uncomfortable sharing things that are not finished right now because I know that when they are done, they'll have that "ooooohhhhh ahhhhhhh" moment with before shots (if I can find those). You know, in place of the bleh reactions of boring (the type of posts I usually do…), unfinished, "here's the process" posts.  And I've noticed that is how other bloggers do it unless they are so big they can't fail. The ones who could paint a pile of turds in gold and put it on their bookshelf with other knick knacks and people would ask specifics about the poop decor. Where did you get it? Is it from a dog? Would this look good in a brassy shade? Is there a certain diet I should follow to achieve this? With other comments about one's love for the pile and the persons's ability to repurpose. That's when you know you are too big to fail.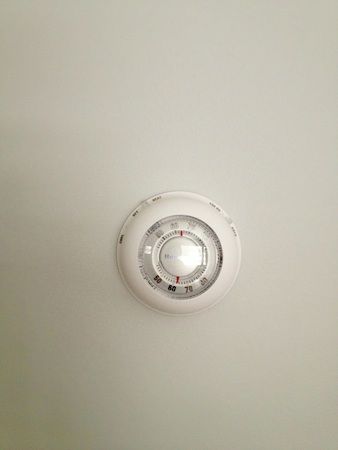 New thermostat cover.  Riveting.  
More lights arrived for the bedrooms but are not going up until the ceiling gets a fresh coat of paint and walls are sanded of their flaws (much like the living room but we don't intend to take as long).  We have orange peel ceilings throughout most of the house and have patched a few areas so paint should be going up soon.  The goal this coming weekend is to finish the hall and do some more drywall work.  Both of us have been under the weather but we're going to force ourselves onward.
My new West Elm lamp (on sale now)
Exciting news (to us) or more exciting news I should say, we discovered another DIY blogging couple who updated their kitchen on the cheap and think we're going to go the same route.  Pure genius!   The kitchen was the last room I had to figure out how to renovate and now it's starting to come together in my mind.  Definitely going to have to keep to a small budget there.  The bathroom (besides the basement) is getting the star treatment…even though it's still being done under $2500.