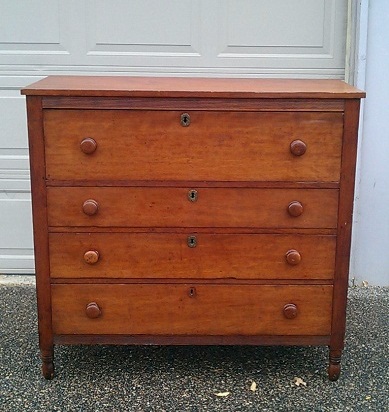 Ta-da! This is our newest dresser. I was doing my daily craigslist check Saturday evening when I came across this large piece in the town we live…which is very rare. When we find something in Northfield (MN), we jump on it. This big guy is an odd size in the best way at 44 inches tall, 45 inches wide and 19 inches deep. Made of sycamore. It's up to my chest. (Yeah, I'm just shy of 5'3″.) So we almost missed out on it because someone else had contacted the owner before us. The owner was doing the fair "first-come, first served" thing. Well, that person couldn't fit the dresser in their car and had to give it up. (What a wah wah moment.) So we got a quick go ahead to come and see it. Immediately fell in love, tried to get it in our Forester and with the casters (not pictured), it was a no go. The owner was such a nice guy that he let us borrow his truck to take it to our place across town. I still can't believe it. Total strangers and we find ourselves driving his truck. I'm telling you, there are great people you meet through craigslist. Had that first couple lived in town, they would have this gem.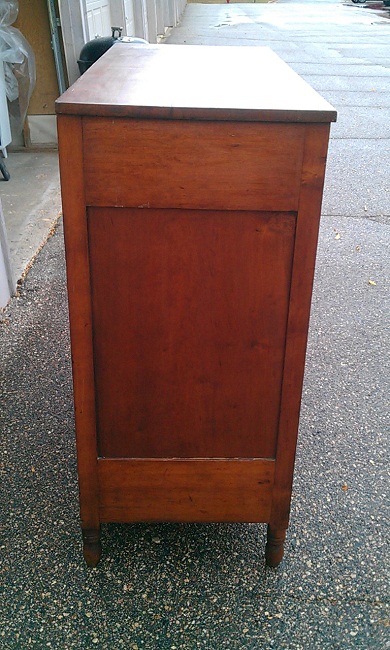 He told us that this piece was his grandparents and that he alone had it for 30 years but that it needed to go. It was a valued treasure in their family for such a long time so he appreciated our refinishing plans. Sure the top lock is not centered and the bottom lock is missing. We intend to bring it back to its full glory by replacing parts (finding matching antique parts which will be quite a feat),staining (means no wood filler on this puppy) and finding the right home much later down the line. Until then, he sits in the back of our garage. One of my most beloved finds. The kicker is that he was only $50. $50!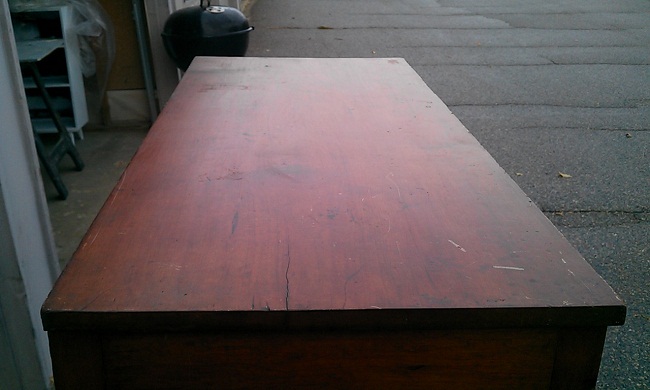 Otherwise, we're chugging away on projects-nothing too exciting to share and too busy to do another proper tools/technique post. There's something in the works. I will share later. Believe me, this is big and I have a big mouth to match so you'll know. And check out our etsy shop to see my talented, crafty mom's crochet snowflake ornaments. Seriously awesome. Hey, if stores can pull out the winter/Christmas decor before Halloween so can I. My mama is one creative lady.