Over the weekend we took a trip to Home Depot. Sure we have Menards in town and it's like our second home for the furniture refinishing business and a few home improvement tasks but I like to see all most of our options then decide. We were used to Lowes back home in Indiana or Home Depot, Menards being last on the list. It's been a bit different over the last 4 years in Minnesota. Menards all around while a Lowes is hard to come by, Walmart used to be the place to go, now that is Target which is nice. Going to Target was like a special event growing up. Now we're there a few times a week. Topsy-turvy. Swirly-whirly but that's the name of a My Little Pony character. That I did enjoy. Let's move forward.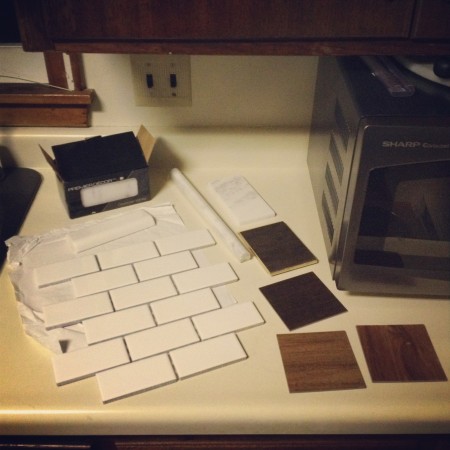 We're looking more to design the house with resale in mind than put our complete stamp on the place. Purple shag carpet is out. Darn it. Really wanted that and green stripes on the walls. Kidding, not my taste. Is it really anyones? I'd say somewhere in history, yes.
In the next year and a half is when we'd like to move somewhere else or be in a position to do so, be it closer to the Twin Cities (and Greg's job) or another state. I said that so causally but it took some deep pondering to make that decision.
Our budget isn't going to allow most of the options in the Minneapolis and metro design stores. Maybe one or two things. For the most part we are going to rely on Lowes, Menards and Home Depot along with our local hardware stores, Ace and Lamperts. There are bloggers putting together sweet sweet places with materials from those stores. I stalk them so I know.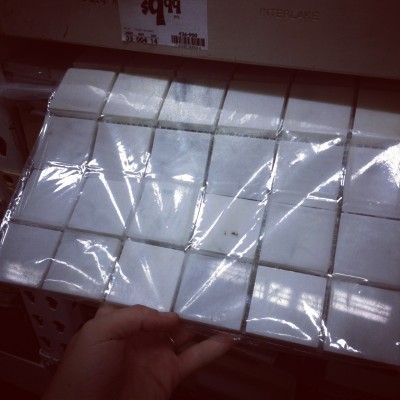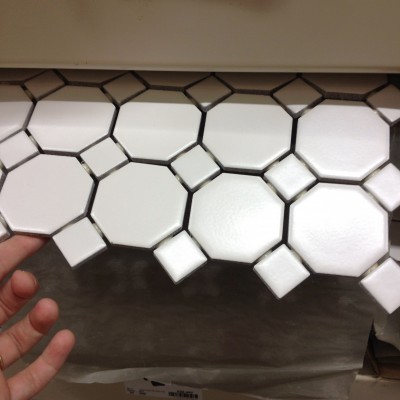 Home Depot, the one we went to at least, started carrying more stylish products. It seems like they are trying to appeal to a wider audience because I've seen the penny tile, hex tile and marble in reno projects everywhere for years without a source nearby (nearby is still 30 minutes away) to see it in person. I'd see items on their website and never find them in the store. That makes Annie a sad homeowner. That makes Greg's ears bleed hurt listening to Annie's cries and bitching. The he laughs like Ricky Ricardo (Desi) at Lucy. At least he's not cheating on me like Desi did on Lucy.
The flooring and tile section is mainly what I'm yapping about, not I Love Lucy…and I do. Living in southern Minnesota makes it difficult to find sources for things we want to see in our home. Our taste seems to be different and with that comes heartbreak over availability of adored products we see on HGTV/DIY shows (Income Property being one of our favorite shows) but moreso on the web. Someone would remodel their bathroom or kitchen and I would make a mental note about how I wanted to find a similar item, look, look some more, look with a crazy, wide-eyed gaze then make a wish to the home reno gods to bring some of those materials this way for us smalltown Americans to use while I'm throwing a giant tantrum on the aisle floor at the store 3-year-old style. This really nearly happens doesn't it? It's just me?
Those of us with stylish different taste than your average homeowner want more variety. There are products we see and cringe that people flip their freak over while Greg and I pretend to hurl all over one another. Very mature-like.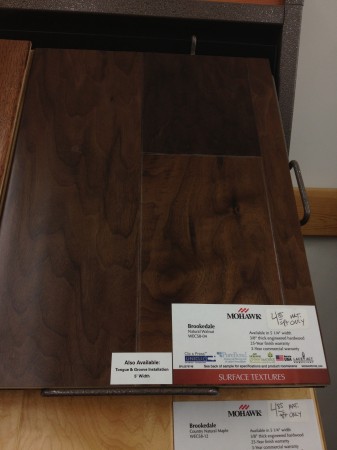 Dark, engineered, wide plank, smooth, not shiny, hardwood flooring has been the hardest to find (my dream floor for upstairs)…at least in store, ready for my eyes to see. My preference is walnut and least preferred is oak. There is one I picked out at a local flooring store but it feels like I'm settling. We found a version at Home Depot cheaper ($4.74 sq/ ft. online and $4.94 in the store) that is almost exactly what I was hoping for so I easily put that local flooring in second place.
Many have said putting in dark floors is not only hard to keep clean but it will turn buyers off and I pffft in response (yeah, like a fart) and keep it as THE one. (Liar: I've actually had a hard time, switching it back and forth in my mind.)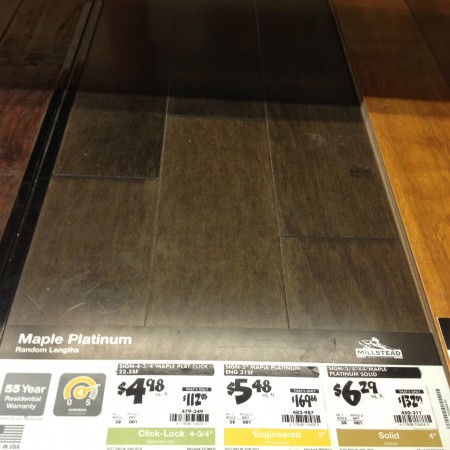 I've also ordered floor samples from online sources but it's not the same. When I turned the corner at Home Depot, I spotted this-Trafficmaster Allure to be specific-vinyl, interlocking plank and was smitten at $1.79/sq. ft. online and $1.99 in the store. For the basement. It's dark, it's durable, affordable and looks similar to the dark hardwood. I couldn't believe we found 2 floors in one place. (I am not affiliated with Home Depot. Seriously love the company. I marked that we're in a relationship on facebook-that's how serious.)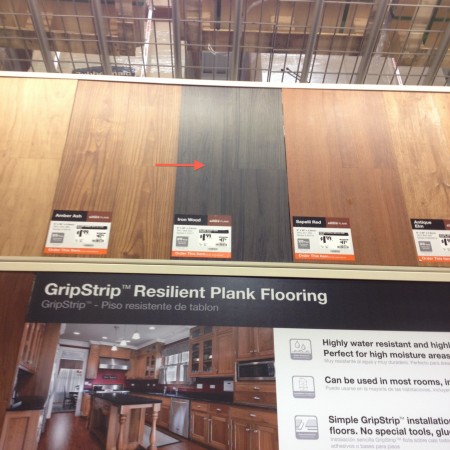 Greg has next week off for my birthday and for us to go gangbusters on the backyard, adding tile for better drainage (to the part we haven't touched yet),tilling and regrading then planting new grass. We have weeds to control somewhere in there. My method hasn't worked. Screaming at them like a drill sergeant. Hopefully the yard turns out before it's too far into fall or most of the backyard will be for mud wrasslin'.
I was hoping to add some plants, put in the paver walkway, make the rock stepping stone path, put in the rain barrel and chain, learn to tap dance, chop a board in half with my fist, go on tour with my beautimous renditions of songs (the stage will be a bathroom and I'll be in the shower…the only place I really let loose…don't go there, Annie) and a few other things but I partially doubt that happens that week. Maybe the following week.
Anything left will be pushed to spring. Pushed real good. Minnesota has long winters (most of the time). Long, sad, freezing, depression-inducing winters. Knowing there's more left to do that wasn't accomplished that week of weeks (especially involving growing more grass) would drive me batshit crazy. I'm a little stressed about next week. Not just cause I turn 30 on Wednesday, September 5th, either. Why are our days off and vacations spent doing things we kind of dread? No honeymoon and no vacation alone in 10 years and now I go turning 30 while my babymaking parts wither away since babies won't come for years yet.
I won't be back for a while around here. See you in my 30's! I'll be a new woman. Probably not.