Today is about catching up. I continue to look through my projects folder and see tasks that have been complete for weeks. Some are not complete and as Greg would say these days, "so sue me," but are at a point of content to stop and get back to later. Greg's phrases change and cycle so it will be something different next week.
None of the house is styled-no paint or art on the walls of our doing, bare rooms and only enough of our own furniture to get by until we get to the point of obtaining the new look we're going for (a mix of vintage,eclectic and modern using thrifty finds), so there isn't an exact purpose for these items I've done yet…maybe ever. I have been in a phase where I want to see if I can do other crafty ideas, mostly seen on Pinterest. That's what Pinterest does to you.
After my admission about not being the best crafter beyond decorating furniture post. That was before I told you readers about our DIY chalkboard and after our DIY pinboard in our studio office. Making me look like a liar (there was a sigh of relief when they turned out as well as they did).
There's always something up my sleeve idea-wise and sometimes something up my sleeve starts to take a back seat to the new something up my sleeve and nothing or barely anything gets accomplished or shared. Just a bunch of stuff up my sleeves and I've already got muscular flabby arms so it's getting uncomfortable.
Remember this $14 mercury glass lamp I got at my local thrifty/vintage decor store and how I wanted to change the shade…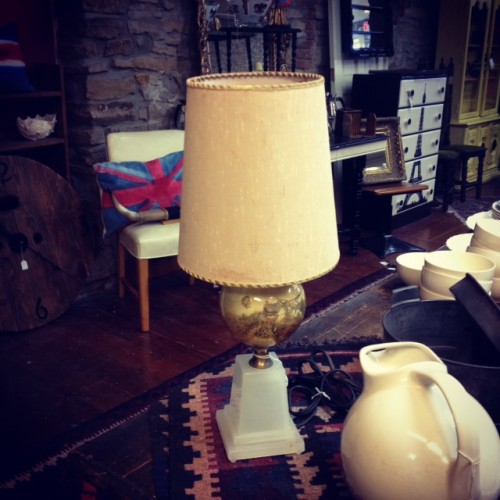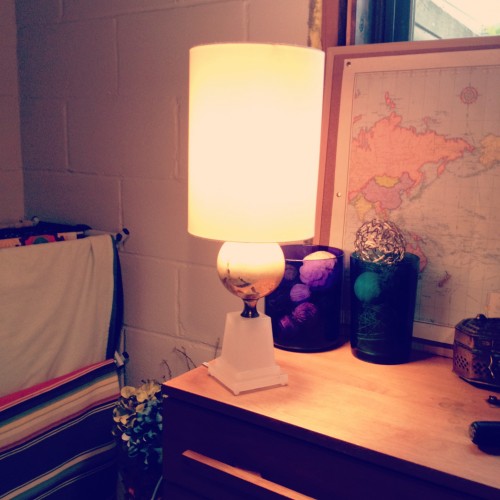 We rewired it using a kit, ordered a plain shade and spray painted it dark blue (best color ever to me) using upholstery spray paint. I thought the blue offset the gold and pale base.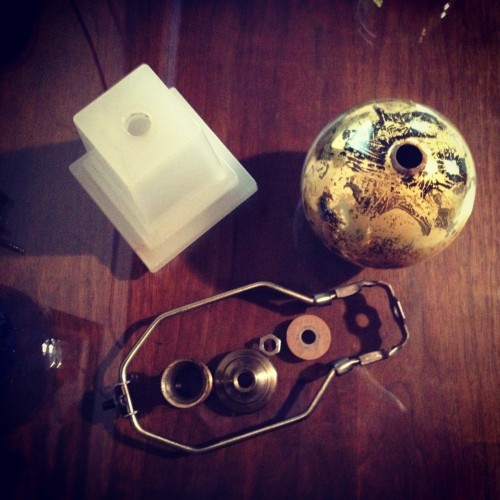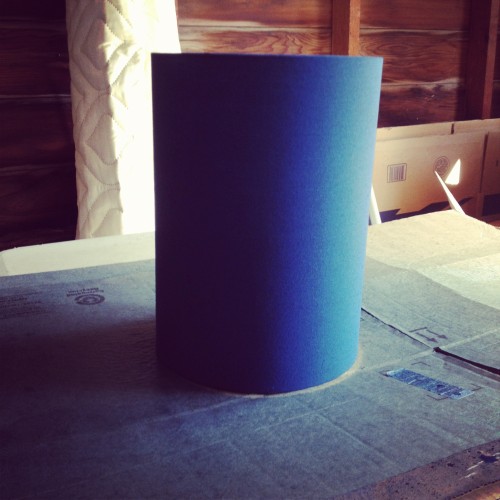 It's still a bit wobbly and the harp isn't quite the right size after 3 tries (lots of lamp parts hanging around here) but I'm ok with it for now. Maybe all the right parts will come to me like life often hands us at the right moment.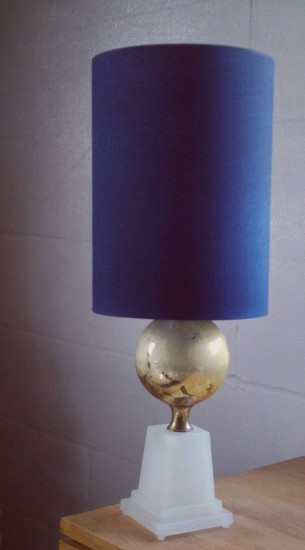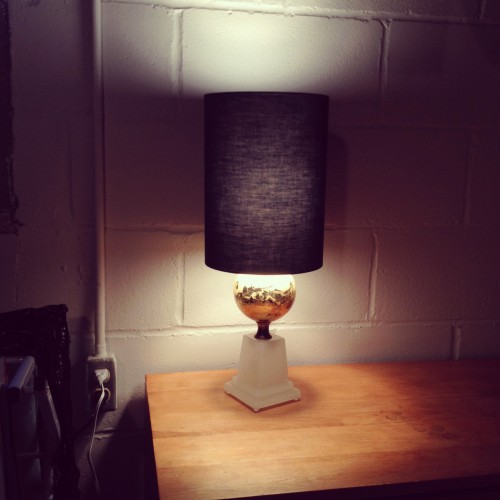 Then there's this lamp. With that $1 base I found at a garage sale (all about those garage sales).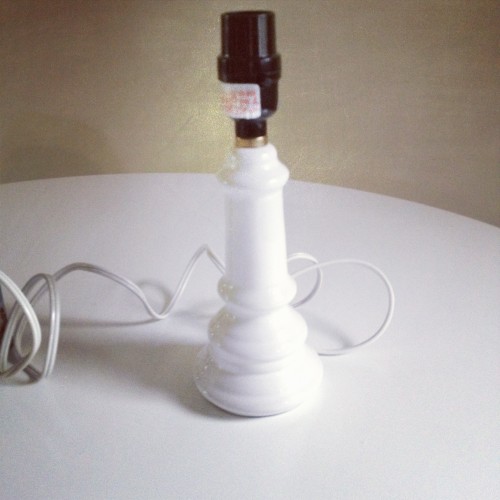 The base was spray painted Rust-oelum Glossy Winter Grey…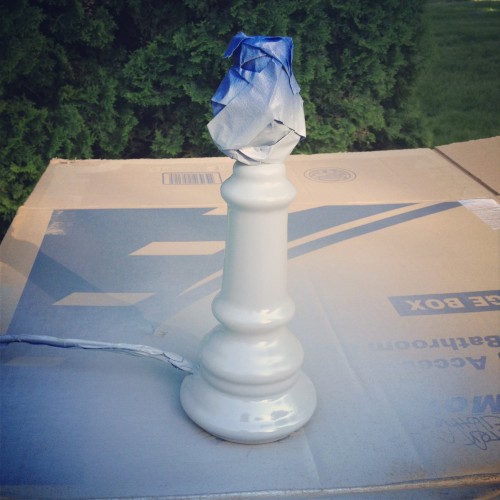 Used a shade I already had but you can find a similar plain shade from Target and a yard (you could do with half on this size shade if you trust you won't screw up…I was not that confident) of fabric from Carousel Designs in mist and grey chevron. Then I more or less followed (to get the gist) Sherry's tutorial from Young House Love (another favorite of mine…people are going to think I'm sucking up with all this name dropping but remember this post is about 5 in one in order to catch up a little) on adding fabric to a lamp shade.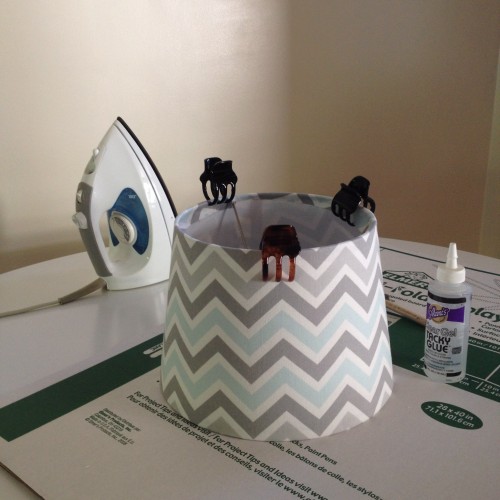 This is the finished product.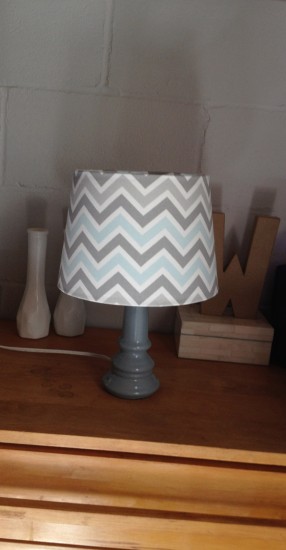 A crooked shot but what the hey. Many of my shots are. I already have a friend that called dibs if I were to ever sell this lamp. That makes me feel like I did something right.
So, I'm all twitchy from wanting to jump on styling the house, finding a place for my creations, putting us throughout…still a long ways away. I'm working on a post where I show you how we really live, what the house looks like on any given day. Greg hears my pleas for us to transition to more decorating than destruction every.single.day…like the backyard makeover still in progress. Turns out, it costs money to do those things. And I just recently finalized what I want the patio/breezeway area to look like and it's not cheap, folks. And we're all about budget and cost efficient ways but we're also about trusting our instincts. New grass will be planted which we're going to try to do a patch in the pine area, that used to have a little grass, for testing. That will be one thing on our list to try this weekend and the weeks will tell if it works. I'm skeptical but it's in my nature.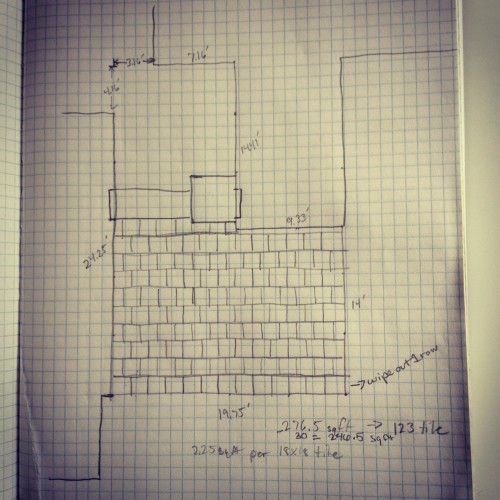 I'm also trying to find alternatives to bluestone pavers-the large kind with a more modern twist. I love this look that Morgan from the Brick House has on her tumblr. I actually just found that out. Total coinkidink. It's been pinned on my account for a while now and the one I keep going back to. I had one of those moments that make sense since she and I tend to be on the same page in terms of decorating. Her style is my inspiration for much of our mid-century place. Her thrifty finds make me jealous and her talent doesn't quit.
*And if you're wondering how the neighbor/pet etiquette thing went, well, after some discussion with friends in person, on facebook/flickr and one very rude comment directly sent to this blog, it seems the majority of persons…after some discussion about the extent of the damage which was a little trampled (and seeing the area today, nothing is killed, ruined and has perked right back up) along with my apology, think I'm all good. Good to know because I was leaning that way. I kept the nasty comment, hinting I wanted my dog to die among other ridiculous notions, out because this is not a place for fighting and rudeness. Which reminds me, over at one of my favorite blogs, Primitive & Proper, and another top choice blog in my books, Living Savvy, is a combined series about blogging etiquette which I love. Guess what today's topic is-comments. Boom! Nice timing.
How do you handle the comments or commenting? Have you any lamps to show me? I'd love to check them out.