Where to begin…well, the visit with my (Annie's) parents and sister was just what we needed.  I miss them.  My poor dad and Greg slaved away in the basement pretty much the entire time.  That post to come later about the project and surprise (once again) we've made changes to the plans for down there.  There may be another visit from them soon to help that space and Greg's parents are coming later this summer.  Thank you so much, mom, dad and Al.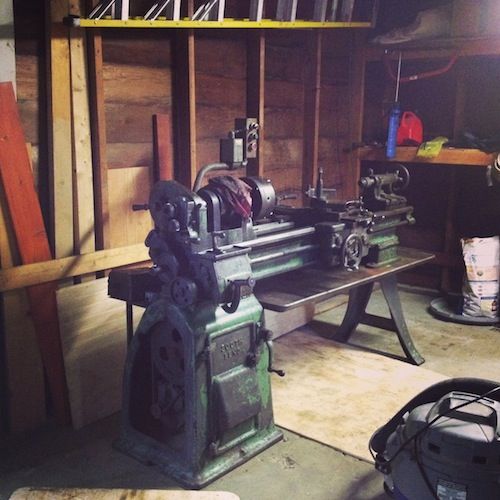 Just before they pulled in with their trailer (holding a good amount of my childhood memorabilia, furniture, my grandpa's lathe-Greg's new favorite thing-and other goodies), I found this maple butcher block work table on craigslist.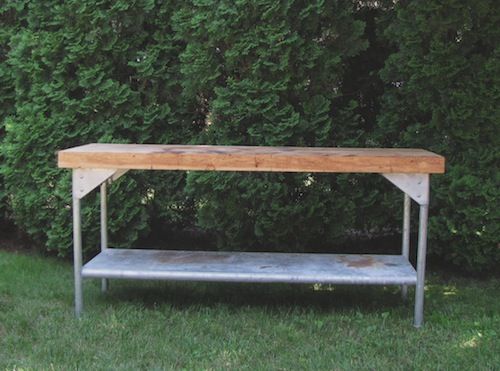 Greg picked it up by his lonesome after work while I cleaned the house.  We've since sanded and cleaned it up then applied a few coats of mineral oil.  It's now in our etsy shop.
It came from a beekeeper who makes honey bon bons in St. Paul from her rooftop apiary.  How cool is that?  She sent Greg home with a few which were absolutely wonderful.  The table was originally from W.S.U River Falls, Wisconsin where it gained its patina.  One of those awesome finds we weren't searching for and picked up with not so great timing.  I love it though.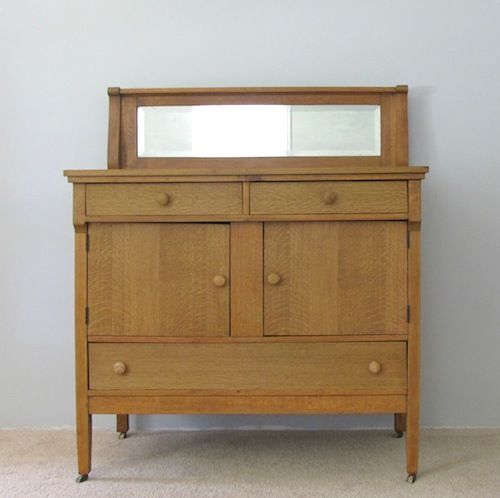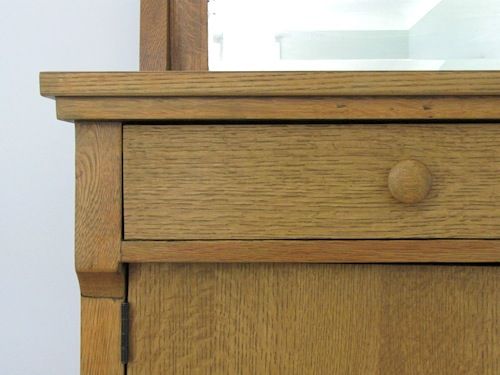 The antique sideboard/buffet/server/cabinet (whatever you want to call it) we picked up with a number of other pieces in a kind woman's barn last year is finished.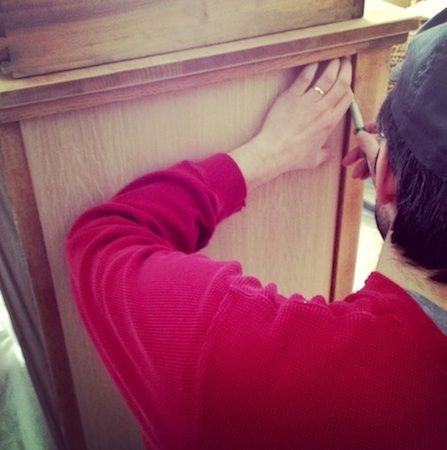 After hours of stripping the damaged veneer from about 75% of the thing, wiping the entire piece with Murphy Oil Soap (like we do with every piece), repairing the drawers and drawer stops, filling the doors with putty since some of the wood chipped away right where the hinges needed to go then shaping that, adding new hinges and hardware, gluing the new veneer on (after searching for the matching grain pattern and paying some big bucks), trimming and hand planing the new veneer, then using 2 stains to match the old patina (after sanding the whole thing of course) which was a bit fussy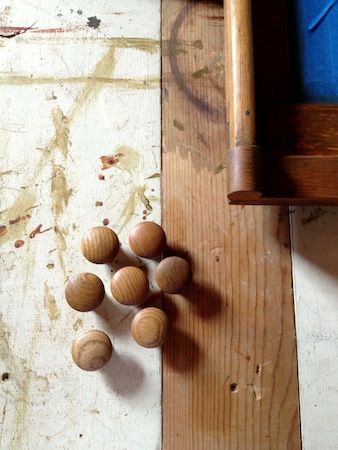 …then finding out the new "old" knobs I ordered on ebay were not all the same oak but only after sanding, staining them and noticing the tones did not match at all.  We ended up using some of the old which were not quite the same size but just barely with the newer knobs.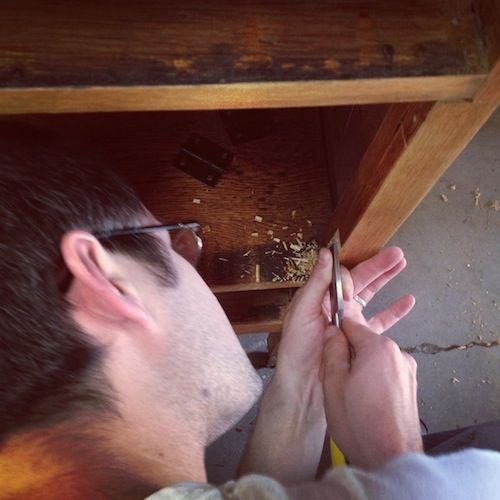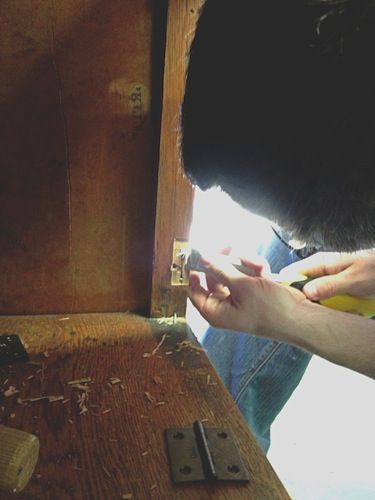 I tried using Rub N Buff in Spanish Copper to age the hinges it came with (not original) after waiting on that to arrive (took a while) just to be really unhappy with the results.  (I've heard it's great but it wasn't so much on this project.)  With ruined hinges, looking as though they were just covered in dirt, we called (they did indeed have the butt hinges we needed-tee hee, I said butt) then drove to Rockler 30 minutes away (and a few minutes from where Greg works in the metro…on his vacation mind you) where I found hairpin legs…something I've been looking for…and a tad cheaper with a finish coat to avoid the rust issue…which is not something everyone that sells them includes which was why I hadn't bit the bullet and bought them before that day…and they are spendy and trendy but I've had them in mind for about a year for a special quirky piece I'm currently working on.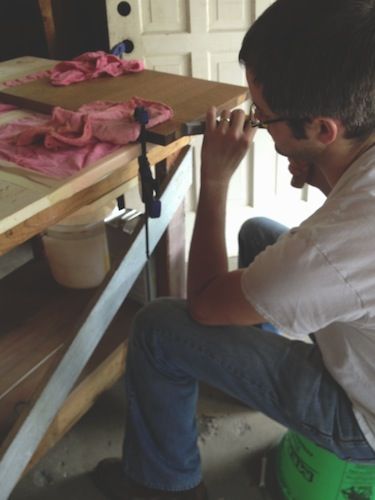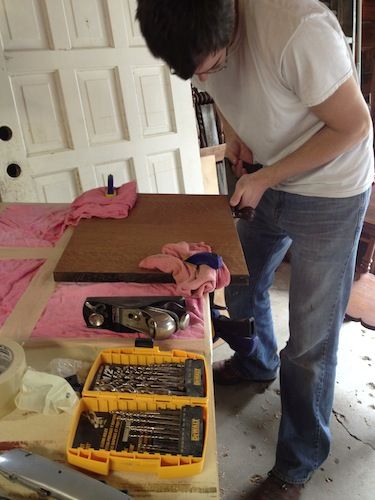 After getting a similar shade from the 2 stains and multiple coats and lots of frustration later, not to mention finishing it up with the Fiddes & Sons clear wax we adore so much, it's now complete and lovely.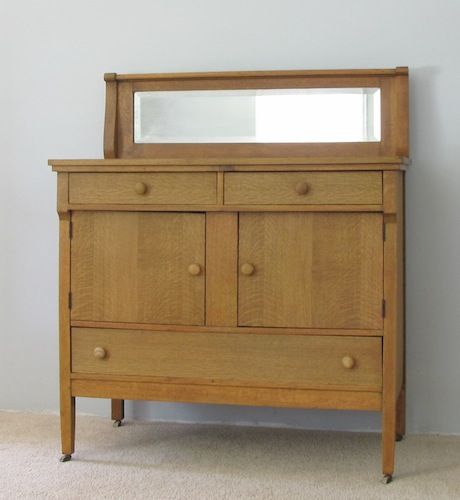 I really don't want to part with this one.  With the hazy antique mirror and wood casters and…I sigh a little.  My bar idea is still etched in my mind for it.  But, we have a house to work on and little money and like usual, the money we make on furniture goes towards house projects (or debt).  You just don't come across something like this very often.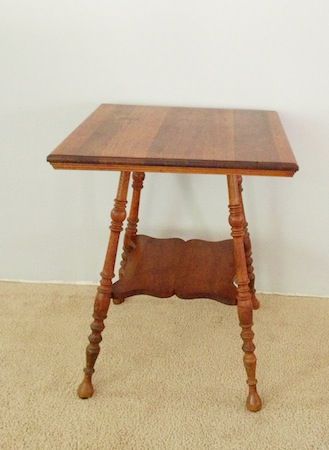 My mom was kind enough to give us her old side table.  A table I remember from childhood and one she told me she picked up in high school for her room.  I have plans for it and Greg has already taken it apart, re-screwed and re-glued parts, and has it ready for my makeover.  I hope we do it proud.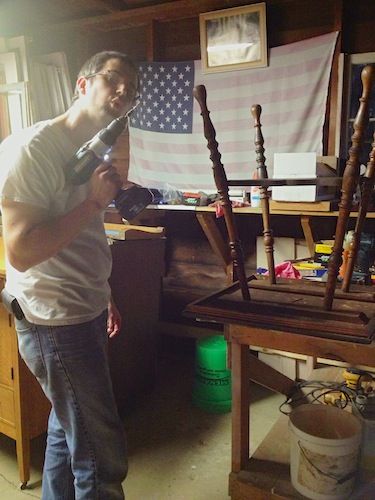 The supplies arrived today.  Once again I went with who I trust and purchased from Robyn Story Designs & Boutique and again from John Millen Hardware.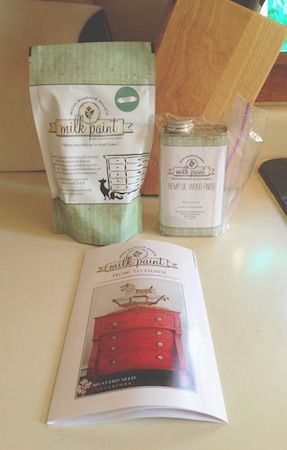 Giving Miss Mustard Seed's milk paint a try
Just after picking up that campaign dresser a few weeks ago, I found a similar one on the curb (it was actually from the same place we picked up Lieutenant Dan…he doesn't have legs).  "Found it on the curb" is misleading.  We stopped by the yard sale the gentleman has held the last few years and what isn't sold tends to end up on the curb so we swing by when it's over.  Suddenly those things we passed on for such and such an amount look much more appealing when they are free.  Amazing.
It is laminate-something we don't typically work with-and we did pass on it the handful of times we drove by…then one day mom, my sister and I decided to go for it and in their van it went.  Really don't think Greg is excited but I see it as an experimental piece.  So what if it doesn't work out?  I want to do something interesting with the thing but don't know what.  Any ideas?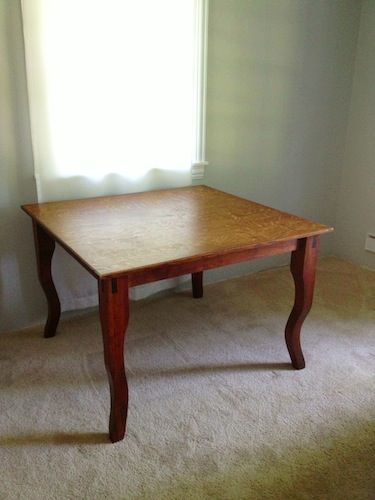 One other piece of furniture my family packed is the antique quarter sawn white oak table Greg salvaged from a WWII training facility near our college town of West Lafayette, Indiana.  I remember removing it from the old building covered in dust and cobwebs looking an utter mess.   That was about 7 years ago.  My mom happily housed the refinished piece in their old dining room until they moved and could no longer arrange it in the new place.
This table is important to us because it's from a time where our furniture refinishing business did not exist.  A bit of something from Greg's hardwork in his dad's wood shop over weekends when we were home from college.  He hand-shaped the cherry legs (the original base was not salvageable), added the walnut apron front and refinished the top.  It's also in our etsy shop along with a number of other things I finally got around to putting in there.  There's more to come.
Just the other day I spotted this Arthur Umanoff (I need to research it more to find out if it's real or a reproduction) chair for FREE on craigslist.  I want it for my very own.  Greg picked it up after work and now we have ourselves another project.  It's missing screws and needs some love but it's at the right place.
I'll be back later with info about the basement project.  Happy 4th of July to my fellow Americans!