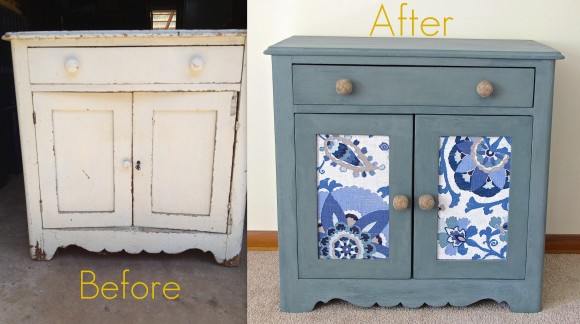 Didn't quite know where to begin with these two. Thought I'd just put the pictures up and talk a bit about how these salvaged pieces came to their finished state. Both are in our etsy shop looking for homes.
The cabinet above was in rough shape (the one from that great local lady who sold us a bunch of her antique furniture stored in her barn-she said she brought this guy with her from her St. Paul apartment when she was younger) and that's putting it mildly. You can see in the before picture (sorry it's cut off…wish I could say it was editing issues but it was purely me) that the doors and other parts were broken, there was water damage, a smell and lots of dents and bangs to substantial levels. Scraping and sanding those layers of paint off, I admit, were the hardest so far of all our salvaged pieces.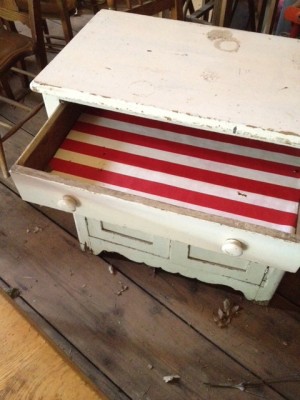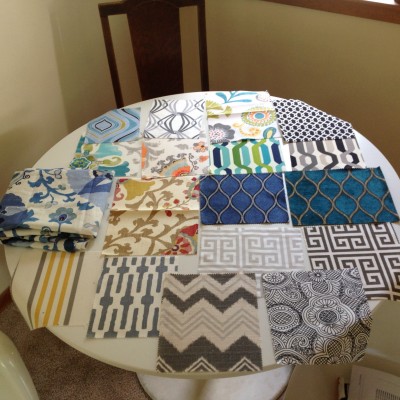 But as soon as I saw it in that barn I knew what I wanted to do. No lie. Leftover milk paint from the empire dresser and I had just found a great website for fabric, Tonic Living, and knew the panels on these doors needed a little somethin' somethin'. We've done grasscloth wallpaper on the drawer fronts of a client dresser plus another wallpaper on the back of a bookcase and have always wanted to try fabric…with the help of Mod Podge.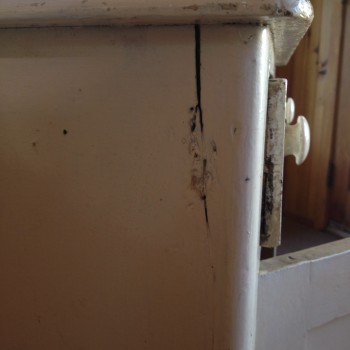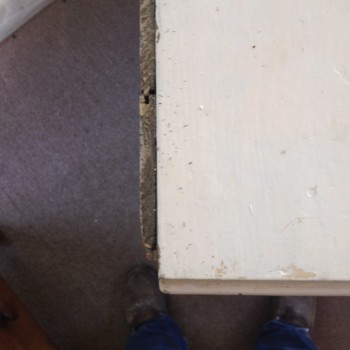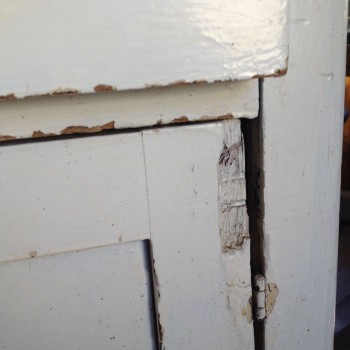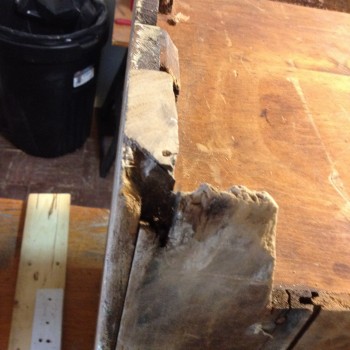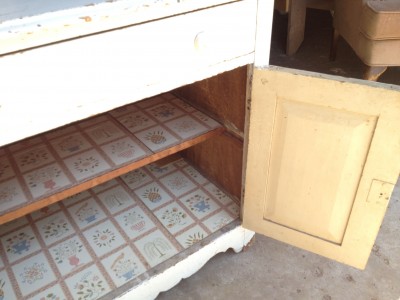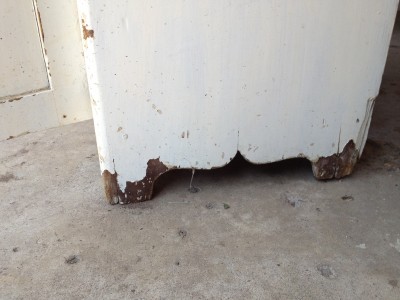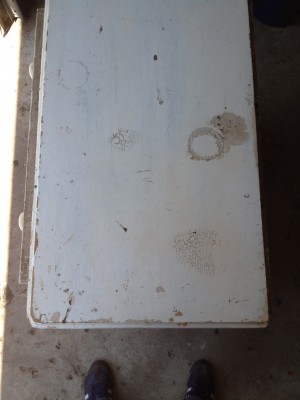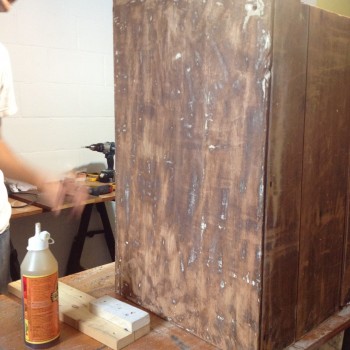 After lots of wood putty, more sanding, we cut off portions of the legs that had the water damage, added new concealed hinges, door stops and knobs, moved the top back since it wasn't flush and just a bunch of small things to make the cabinet shine.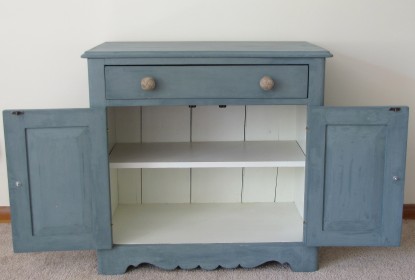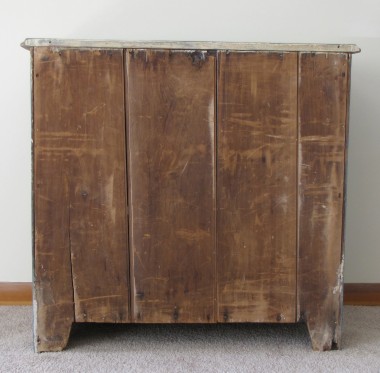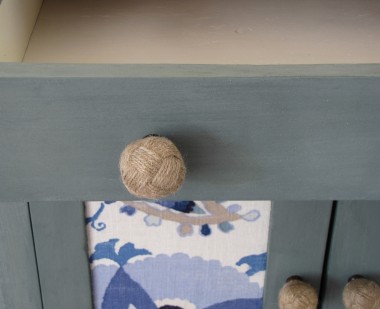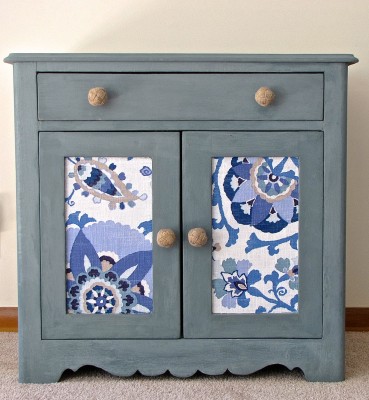 But it is milk paint so it's not shiny-it has started to chip in some great places like it tends to do. Milk paint has been around for a long time (we're talking caves, people). One of my favorite milk paint users-now with her own line-Miss Mustard Seed says it best: "it's made of milk powder, lime, and pigment, so it's all natural and behaves very different from its more modern counterparts like latex and acrylics. It comes in a powder form and you mix it with warm water prior to use. It provides a beautiful matte finish that shows amazing variances in the color." I describe it as a chalkboard-like finish which I thought was a great fit for the older piece, leaving some of the character.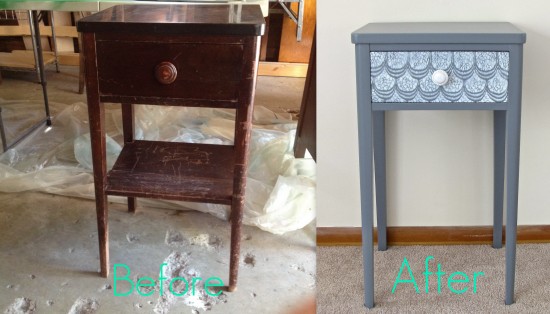 But the table was pretty easy. Found it at a local garage sale at the end of July. We decided to remove the shelf, fill most of the blemishes and paint it gray since we have mucho left from my gray phase. I originally wanted stripes for a French look with dusty blush pink and gray but the pink ended up cotton candy and overall the stripes looked more like circus time.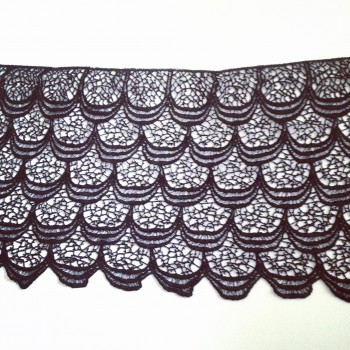 So, I took the lace idea I intended to use on a dresser and put it into play on the table after a few coats of paint.
I ordered the French lace on ebay last winter. I wanted an edgier, more sophisticated style of lace and this scallop, coral look had me at hello.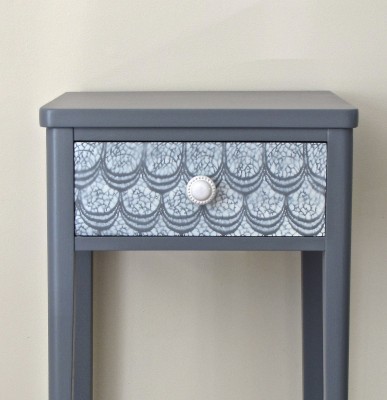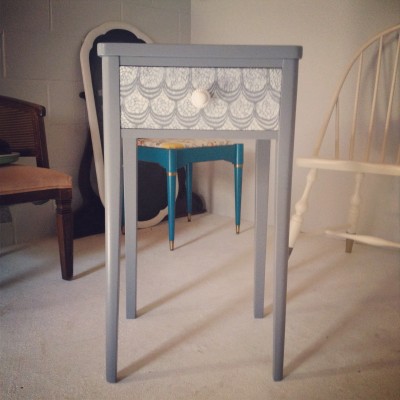 Simple tape job to hold it in place and an easy hand with the off-white spray paint then voila, lace design drawer front. I was inspired by this one from Kara Paslay (love her work). Added gray and white striped matte paper to line the drawer and a new, off-white, ceramic knob in my collection of hardware. Cough cough hoarder.
There the two are. Now we're on to two other dressers.