Finally! That was what I said when Greg told me his coworker, and our pal, was going to let us use his new tiller this coming weekend. No more digging everything by hand! The yard continues to bother me with its lack of progress over the last month.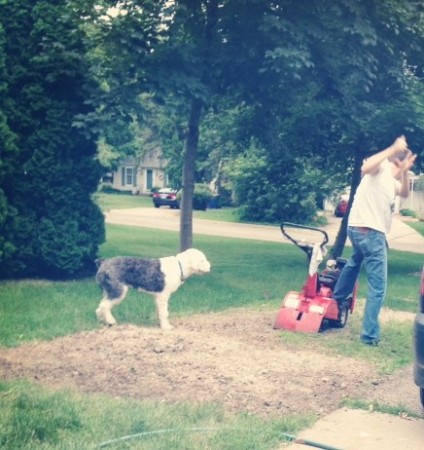 We had a tiller in our grasps-thanks to the couple we bought the antique barn furniture from-but it didn't work and went on to be repaired. So close.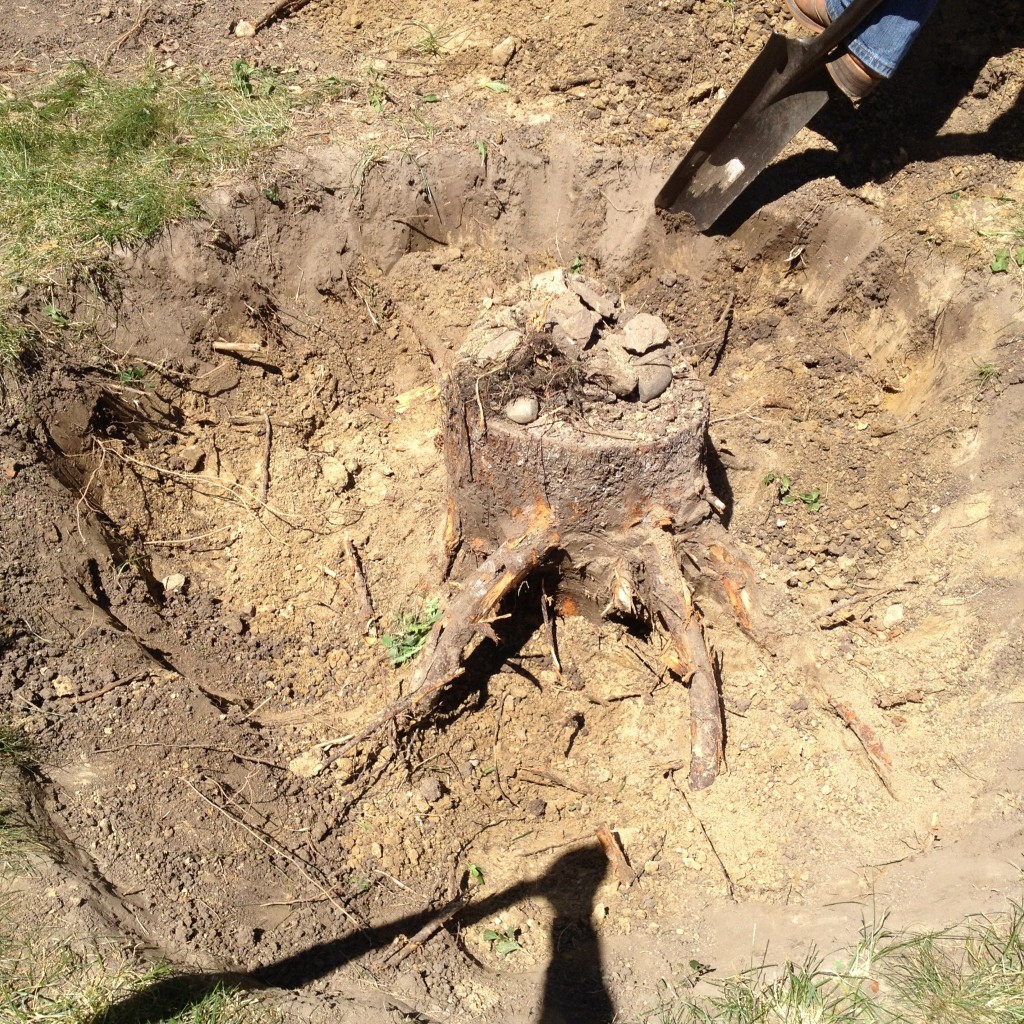 The large stump is buried, the last of the million rocks are buried along with it, I moved the firewood stack to the weedy/rooty area that we share with the neighbors even though it's on our side of the property (bet they are happy) and the large mound of topsoil must now be moved by the firewood before any tilling happens. We decided to leave the rooty/gooseberry area alone for now and focus on getting grass to grow in the spot directly behind and beside the garage/garden shed (about half of the backyard). That's where we're at. Notice the pile in the grass picture below.
Forgot that we also have to make several trips to the compost site again to bring the remaining yard waste. The bags weren't cutting it so we've switched those to totes (the large plastic bins we use for moving). Unconventional but we make it work.
Look at this grass (pay no attention to the weeds growing and the brown lawn next to it)…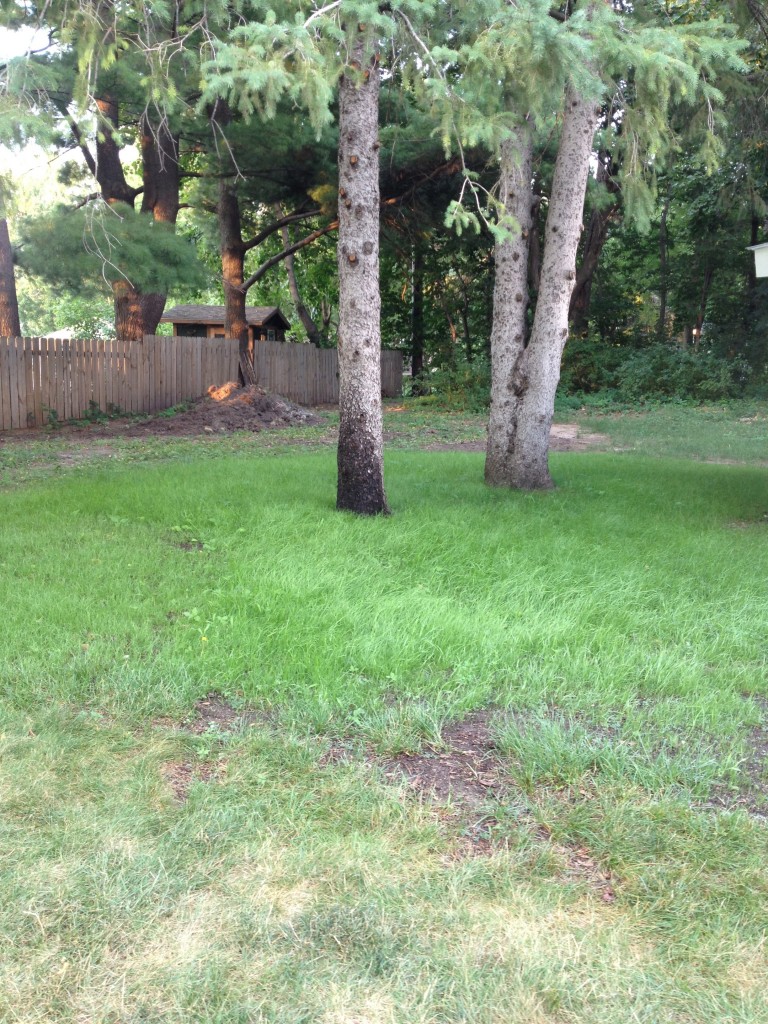 Several people said it couldn't be done with those pines (I agreed for a short period of time but Greg believed). Now to rip out the rest of the grass to fix the yard grade and water in the basement issue.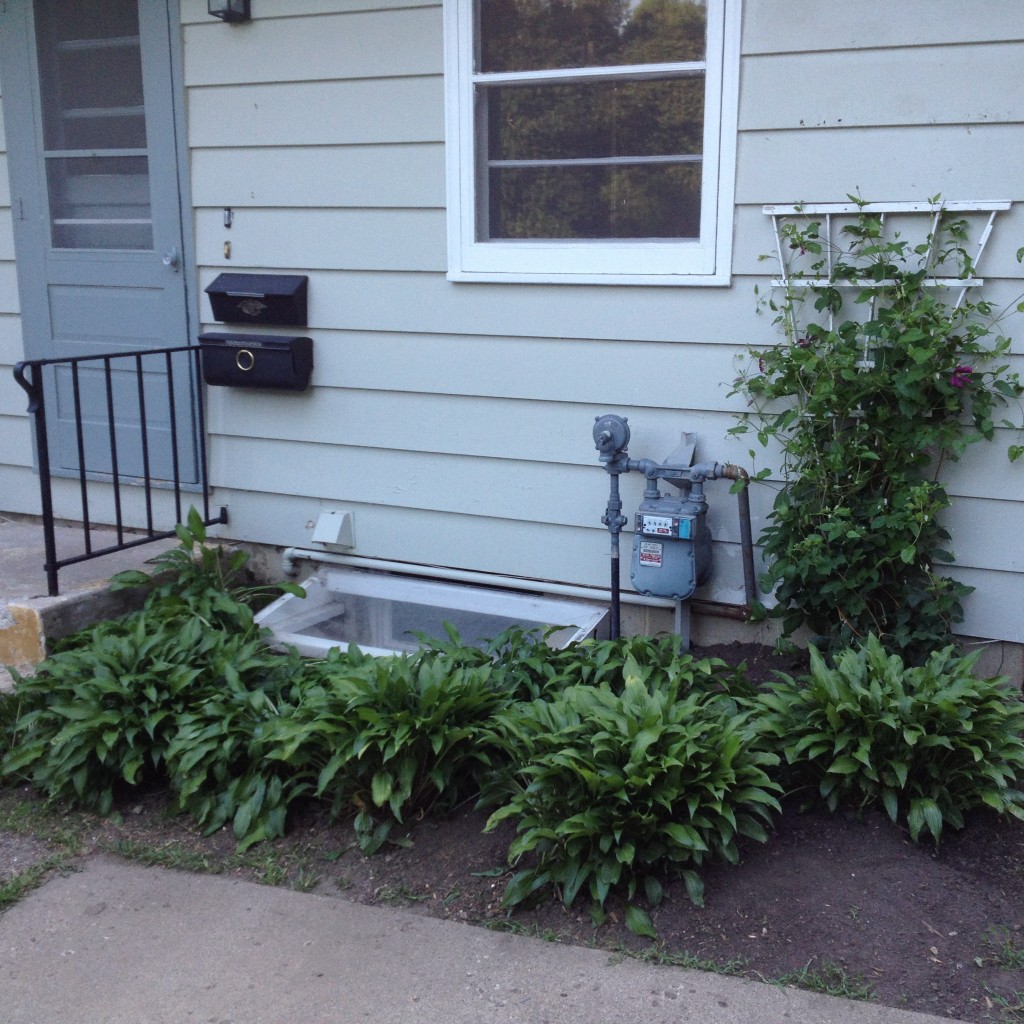 Then there's the actual beautification process. You know those lovely hostas and tall grasses that we transplanted from one area to another and the bushes the neighbors gave us? Yep, dead. The house's overhang and inhospitable soil were too much for them. Back to the drawing board. So much for trying to save some money. I have no idea what works well in a very dry, sunny spot. Hopefully grass because that's our plan. No more messing around with plants we aren't fond of anyway. Give us grass, lots of grass…that doesn't sound quite right. The hosta area in the picture will be pavers and we'll be building a fence to hide the ugly bits.
Besides all the yard tasks, I've been snapping pictures (not very good ones as usual), listing my finds for sale in our etsy shop and on my ebay account, packaging/shipping many things out to some lovely buyers. Busy yet decluttering the studio that's been looking cramped, packed full of things I've collected. Feels good. Too good. Might have gone a little far and put our mid-century credenza (the one we're currently using as a tv stand) on craigslist. Might have a buyer already. We have no idea what we'll be using to put the tv on…we don't watch much as it is and lord knows we have enough to do.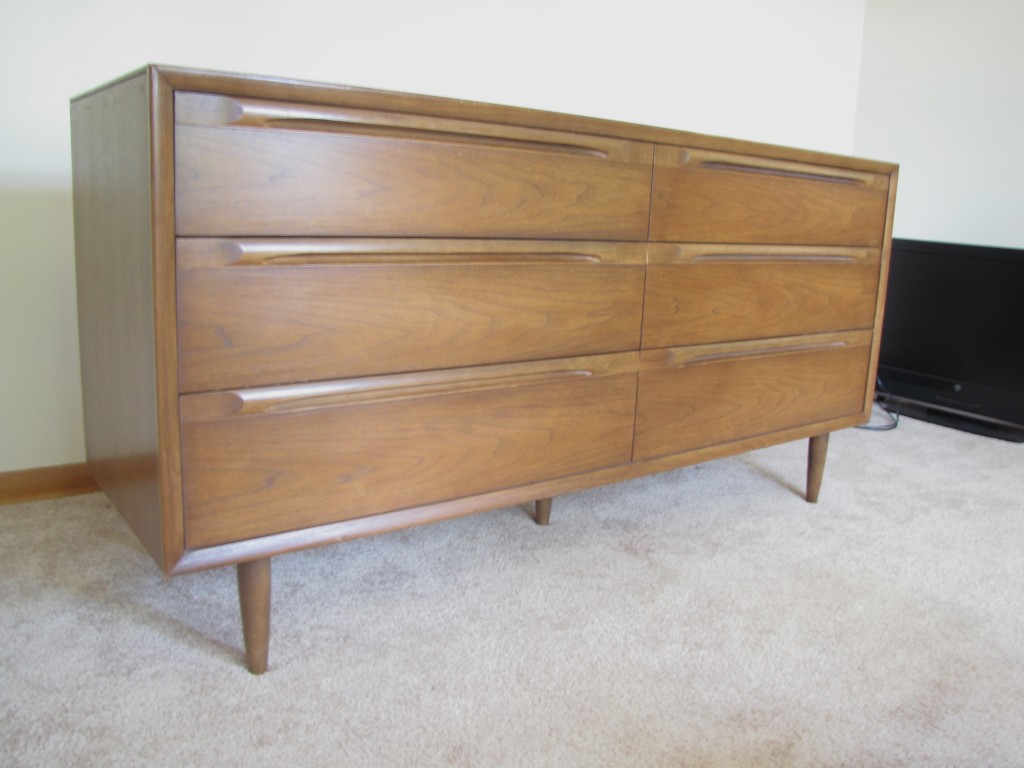 My hardware collection has been thinned. Most of the knobs and pulls were (or are currently) listed on ebay. I've been very upset with the experience. For almost 10 years I've sold and bought on ebay. There were a few years where I was on hiatus from selling. Now that I'm back, I'm disappointed with the change in pretty much everything-dishonest buyers protected by ebay, dishonest sellers and claims filed getting nowhere and the entire environment is different in a bad way. Anyone else not feeling ebay these days?
Need I mention the woman who bought a pair of jeans from me who didn't like the scent of the box I packed them in? She was given a refund, as an ebay claim rep allowed, and got to keep the jeans. I should clarify that I was allowed to keep the money as well since ebay now pays for refunds (and either the seller pays them back or ebay waives the repayment if they find a claim to be in your favor) and not let her leave feedback. A smell…in a box…shaking head. God forbid there be a cardboard smell from the cardboard box that the jeans were shipped in. A pair of jeans you're hopefully going to be washing before wearing. Still can't get past that one.
Have I mentioned how much I love etsy?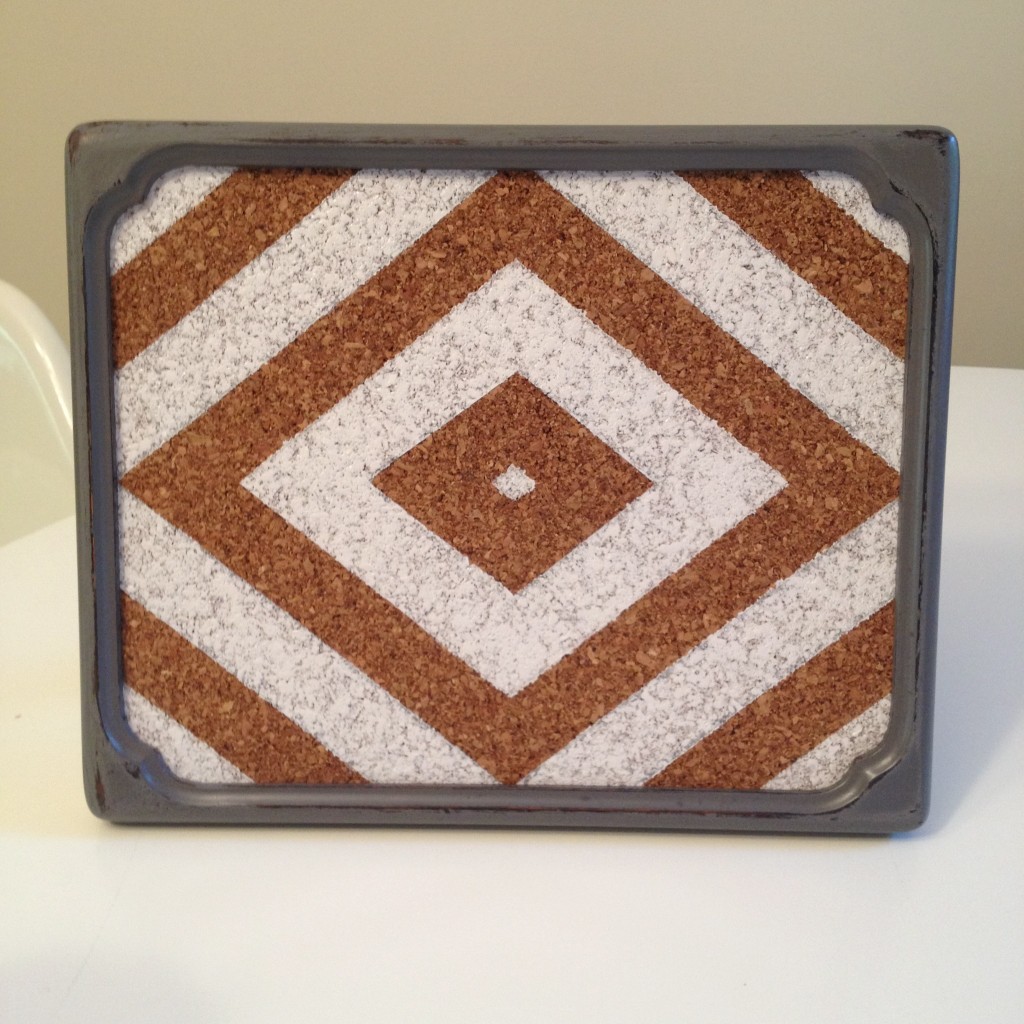 Greg and I have been busy working on a number of small painting projects more on the decor side that will soon be in our etsy shop. We've almost finished another dresser. We have a set of chairs we're redecorating-our first chair project- and started sanding/repairing a few other pieces of furniture. We're busy. Oh, and we've almost paid off 1 of the 2 debts I've mentioned a few times which is spec-frickin'-tacular.

Anyone following our facebook page might be wondering how our little hardware creating adventure went over the weekend…it didn't.

Greg attempted to carefully drill the milk glass knob (the hardware I searched months for only to find two mismatched sets that I desperately wanted to work on the empire dresser) and it broke. It was the damaged knob but still. We went on to order a diamond drill bit. Unfortunately, the other set I bought on ebay arrived after the drill bit purchase and they so obviously wouldn't work. Huge doorknobs. HUGE. Like the picture of them.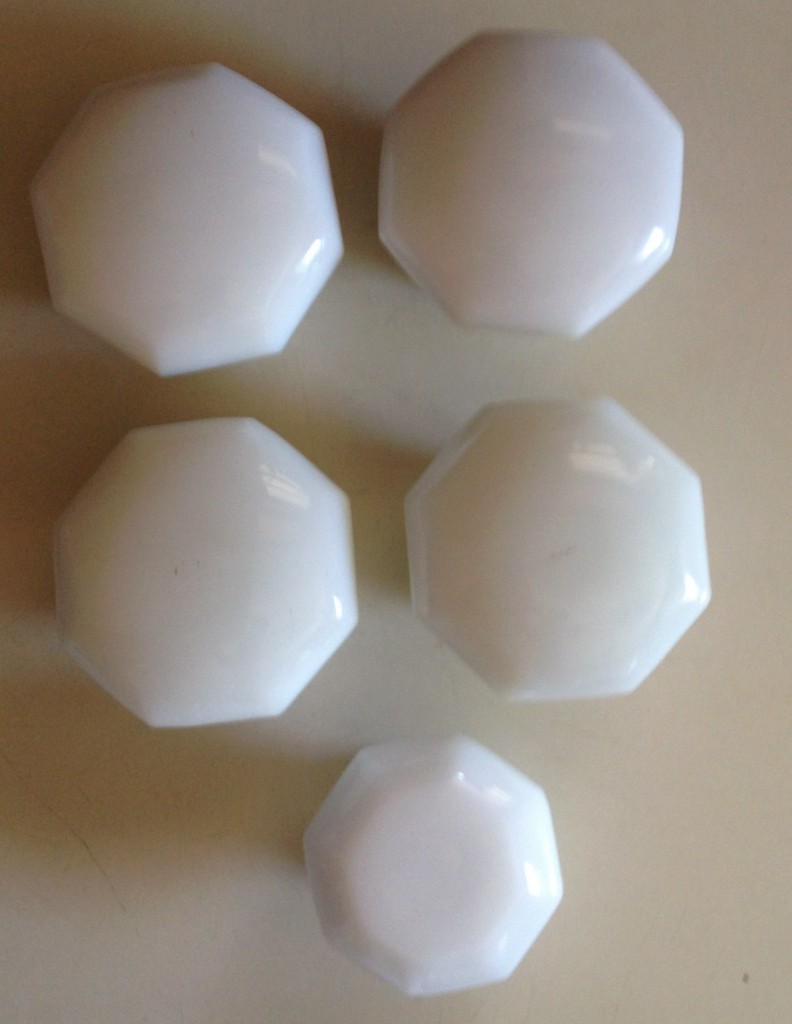 Beautiful hardware but not the dimensions the seller provided. I'm keeping them because they were so hard to find. They are all octagon-shaped and solid white milk glass but I've got 3 different sizes and nothing that would work on the empire dresser. (I also snapped a new picture of that baby.) For more info on the entire empire dresser project, check out this link.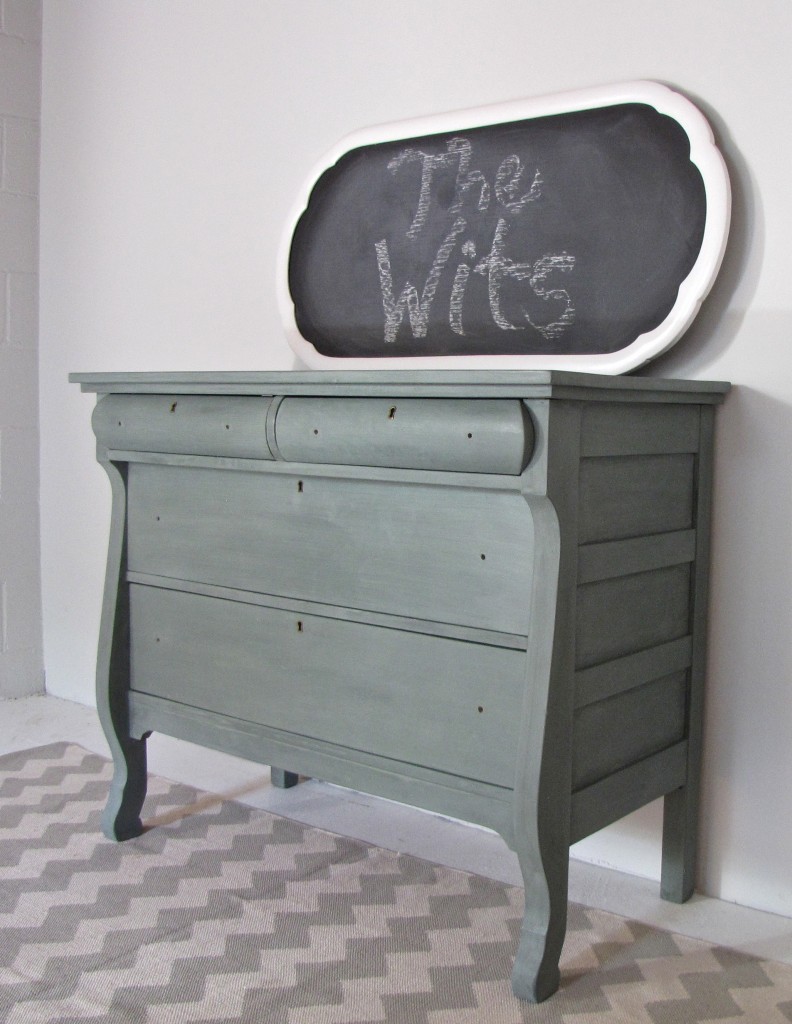 That about does it. You're caught up. What are you up to?