If you were in the room today and if we were pals that came over to each other's houses to share life and the goodies we found (like in the show Cougar Town which is awesome), you'd see a giant smile on my face and know that I was up to something or I found something really special. I wouldn't say a word while walking you to our porch where this now sits…(beside our other 2 dressers in the small space)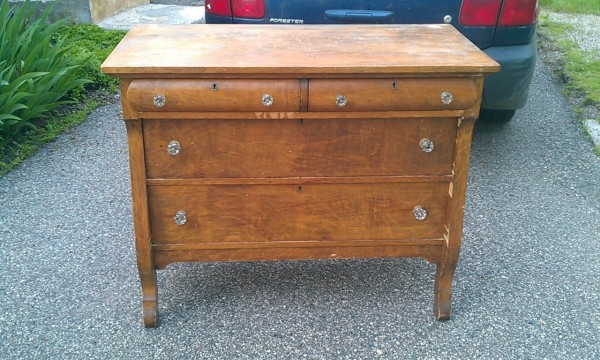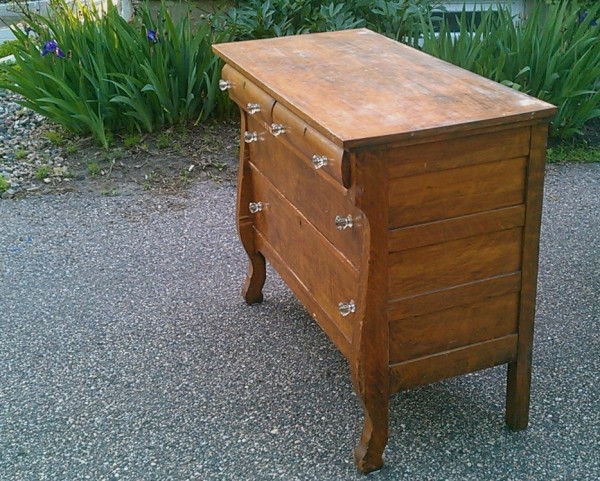 and I'd make the ta-da motion with my hands like Vanna White until you had a look on your face that satisfied my need for approval on the purchase (you'd probably have to fain more interest than you'd like). Knowing me, I'd probably do it a bit too long with dramatic song and dance towards the end. I get way too excited but that's good because I also get way too upset sometimes. It balances somehow. Once I started to speak, I'd tell you I picked it up for $100 the night before and go into why it's beautiful. But you can see the antique empire dresser. It's glorious. Sure it has some damage and was made to look like quarter sawn oak with a faux finish but is actually birch or soft maple. Greg needs to investigate further. It looks heavy but isn't. The curve in the top drawers add great character. This one gets the stain treatment after a few repairs and stripping. But I want it in my possession for just a little bit. I have a hard time letting unique pieces go.
Craigslist find. Not too far away and it has a mirror. I'm not usually crazy about mirrors with dressers but this one rocks…and I don't have a picture. Doh! I'll put it on and show you later. Before I delve into the depths of what could feel like a trip to Snore Town for you, I want to tell you that I started a Pinterest board for what can only be described as dresser porn. Dressers I find online or in person will find their way here and you can follow along and comment away…for those of us with a little problem. I promise to add more than one…the number in it at this very moment. I also should have noted that I created a Pinterest board for just the things going on in our life-before and after furniture pieces, house projects, thrifty decor finds and the like.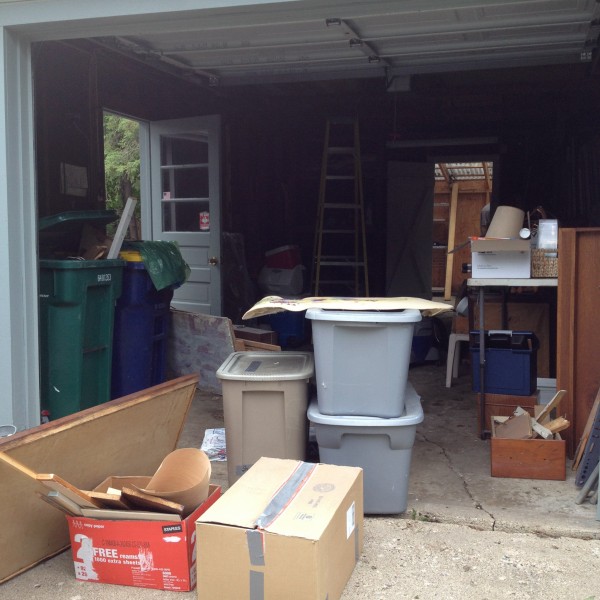 But I'm here today to tell you about the cleaning/organizing of our garage and garden shed (attached to the back of the building) that took place Sunday like I said I would in my last post. Swear I had the 'before' pictures. Victim of the move to a new computer I suppose. And just to let you know, I'm not that uptight about life but I like my things in some fashion that makes sense and I do not believe you or anyone has to live in such a way. To each his or her own. So this is not a how-to or tips to organize…those posts have a tendency to drive me crazy and I like the topic.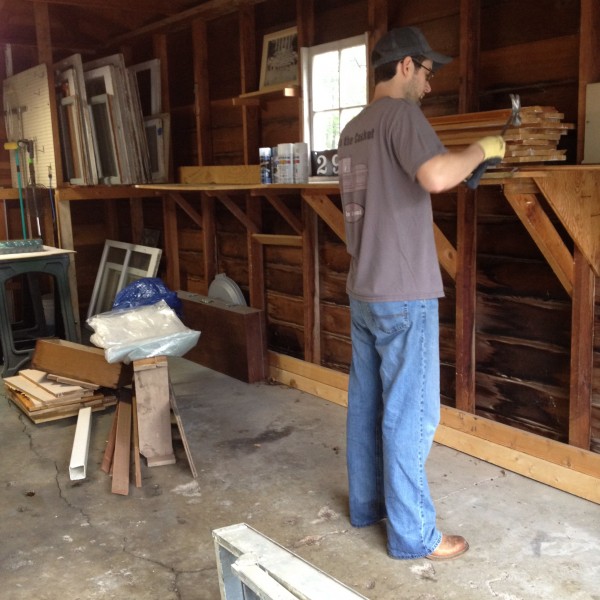 Imagine cobwebs, dirt, bugs, wasp nests and my husband placing things wherever he wants while I've been trying to make areas for everything (car maintenance, grill and accessories, tools, trash, garage sale, etc.).
We took out the rickety shelving on the one side (I can now get in the car when it's in the garage without contorting my body) and made the other side where we house our lumber (and in the rafters). Most from the house and basement demo over the winter. Oh, the junk on the right side of the shot is for the upcoming garage sale. Priced, sorted and ready to go.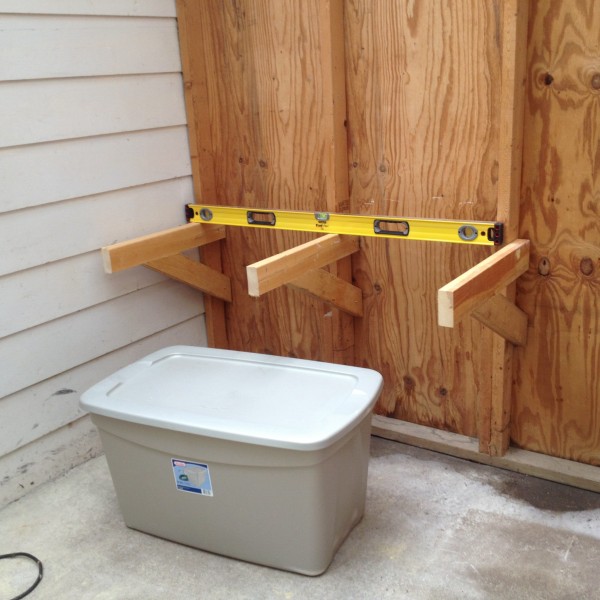 Just as anal picky as I am about organizing, Greg is about constructing and repairing things. Take these shelves. He did a beautiful job. A beautiful, precise job on a shed that wasn't made with such precision. It drives him crazy. Most of the house is like this. Our camping equipment, totes, "things that come out in summer," and other belongings are stored here now. Nothing of real value to others for any stalkers or potential thieves.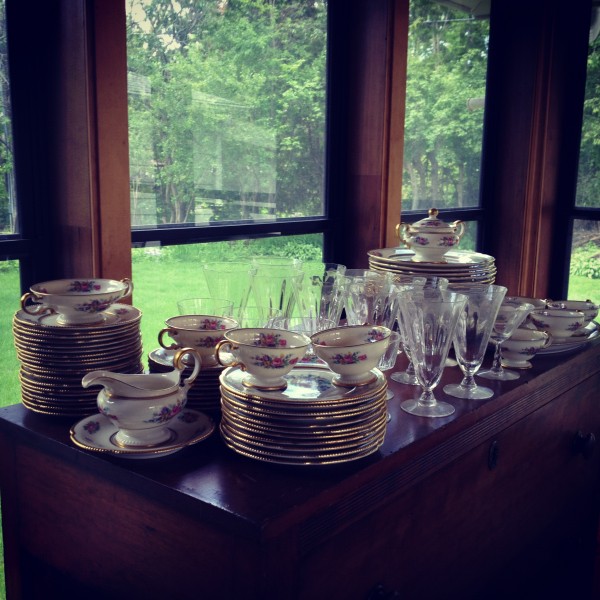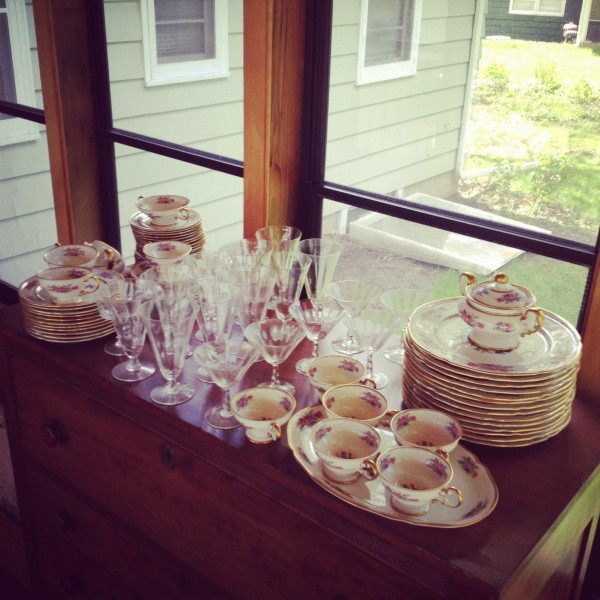 I actually got to bring in some things Greg's mom gave us, like his grandma's wedding dish set and crystal stemware, vintage Pyrex and such. (I organized the kitchen cabinets this week too and it now sits at the tip top for safekeeping.) If only I could get that "we have a puppy" smell out of the house. One solution I know you us smartasses are thinking is to get rid of the puppy…not amused.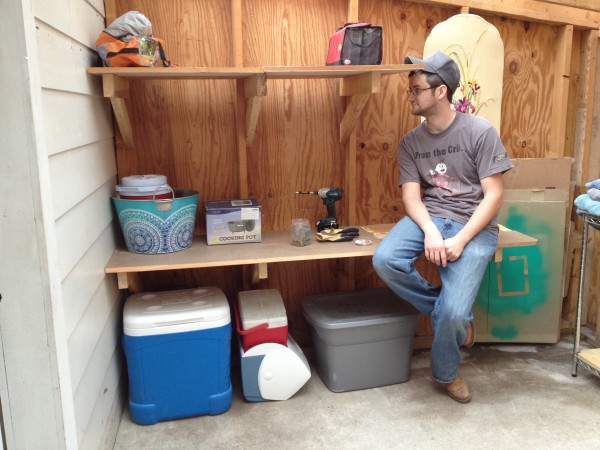 Greg reconstructed the table in the shed by giving it a new top and bottom shelf. I imagine seedlings and other projects happening on this top. Because my ma-in-law gave us artwork-things in the family and made by the family-I really wanted to give them a home. Greg's uncle is a talented artist now living in Arizona and we have a number of his pieces.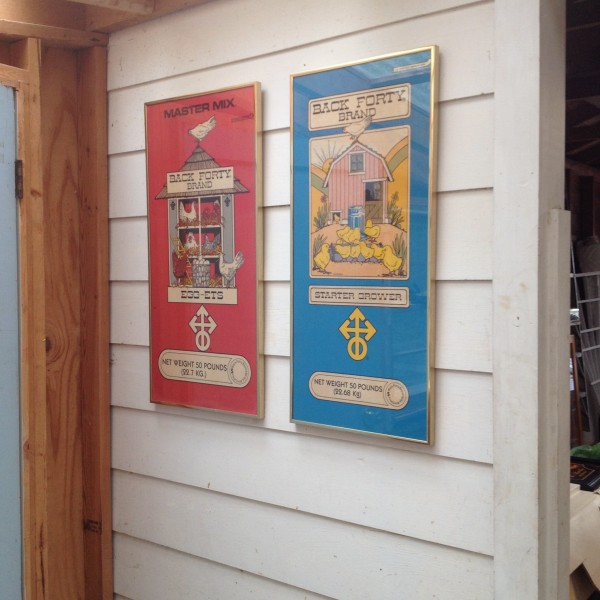 The space is warm and comforting now but I think my wet-dry vacuuming pissed off the previous tenants and they are trying to rebuild. My space now, buckos! I'm not a fan of s words (spiders)…so much that I can't say what they are and refer to them as s words. But not so much that I can't sweep them up when they stand in my way of organization. When I'm determined, I can do anything (and so can you…I felt that was my sappy, after-school message of the post time).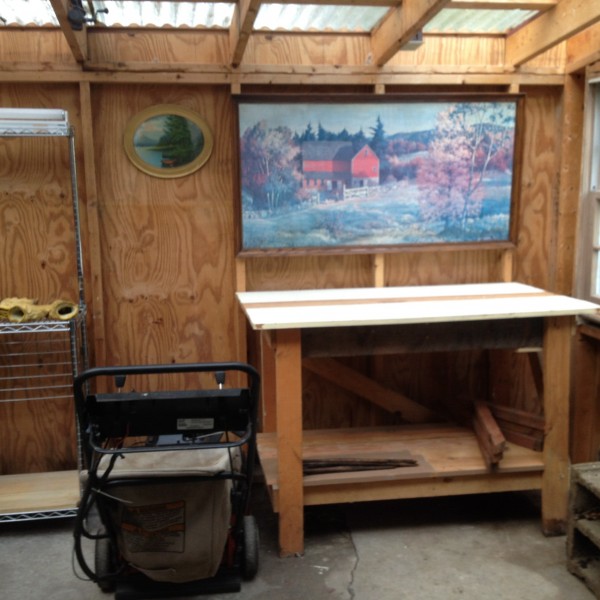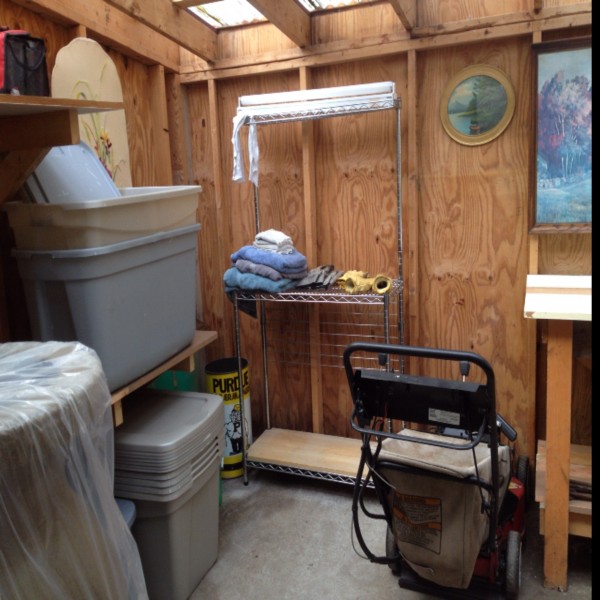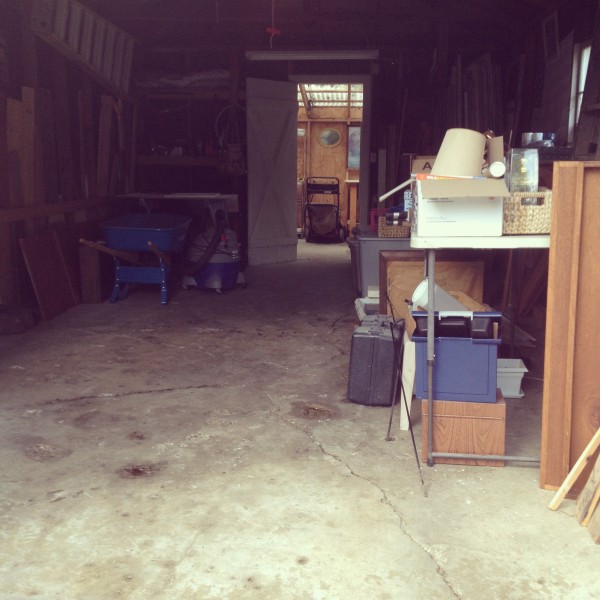 I know you can't really see with this picture but it was near the end when everything found its place. The two ladders are up on the wall, things stored in the basement joined their fellow similar items outside and the trash is very full. There it is. Probably boring to you. I feel better. Enjoy your day!