Here's what we've been up to…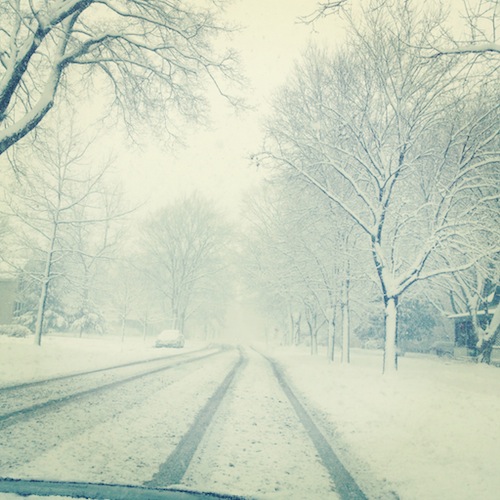 our necks in snow.  Fine, so not quite that much.  It fell Friday and kept on coming Saturday.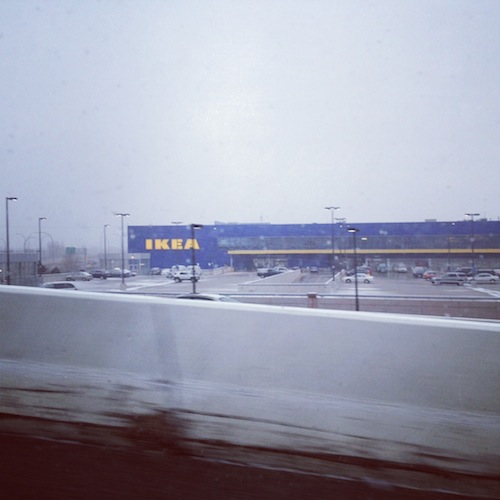 We were at Ikea when it began and quickly turned into this below on our I-35 route home.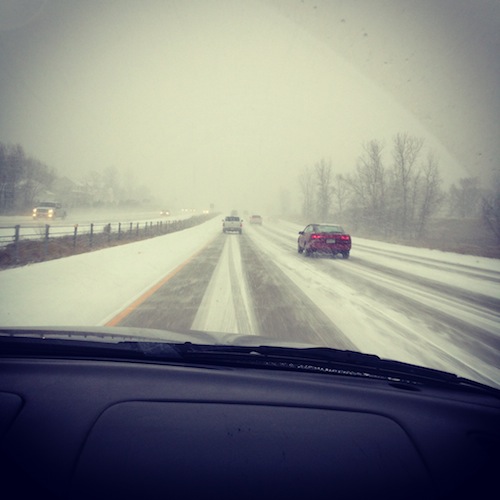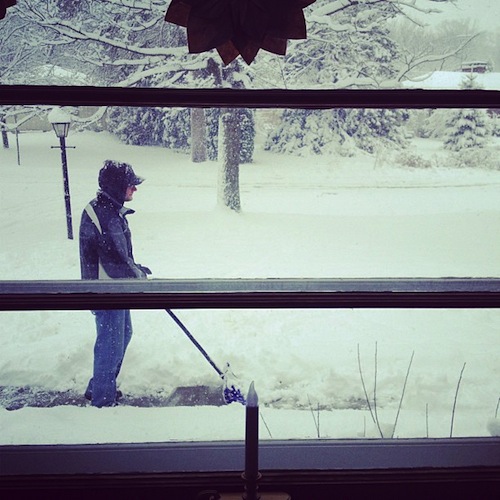 Which meant plenty of this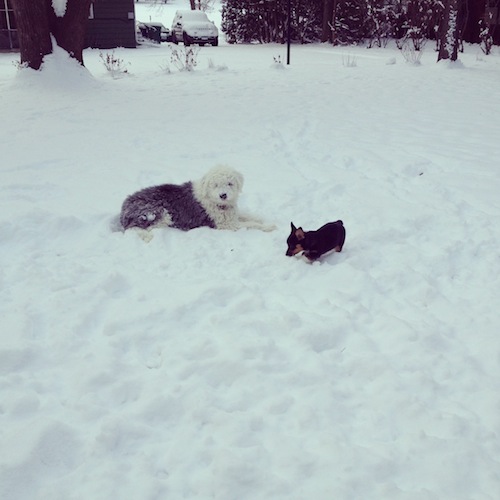 and this.  Vivi's first encounter with snow and it's a hit.  Henry is also our big bundle in love with snow.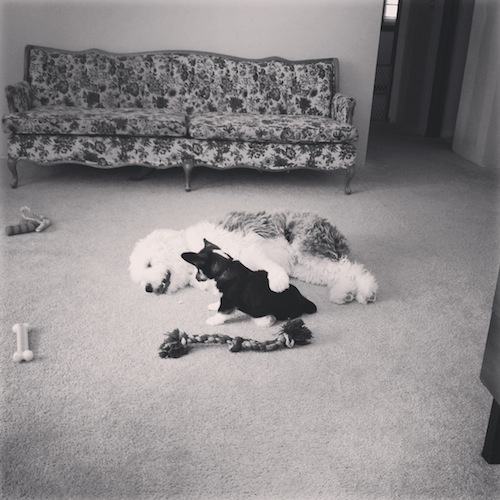 Then came some of this inside.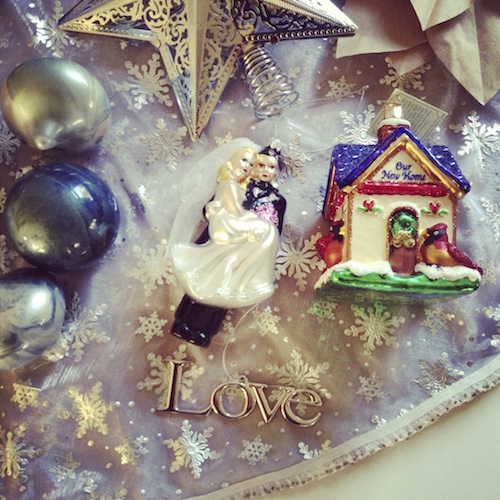 Where we have some holiday decorations scattered about.  Greg and I made the ornaments on the left for my first "adult" Christmas-the one after I graduated from college and was in the real world.  The couple and house ornament are from my parents, commemorating our marriage and first house.  The star and love ornament have been with me also since my first "adult" Christmas.  Since it will be just Greg and I again this Christmas (with the pups) I wanted to be surrounded with memories…especially since I forgot we donated our tree and do not have one this year.  Whoops.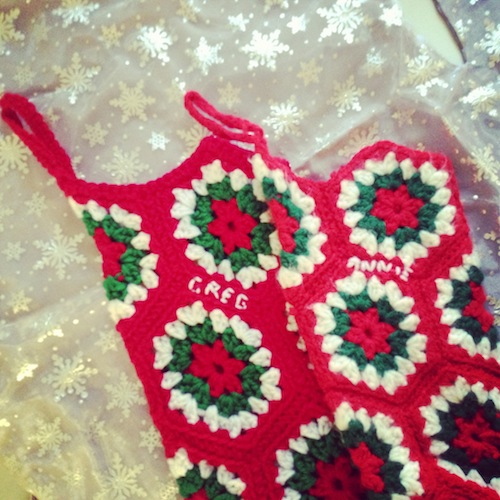 These are up too.  My mom made these stockings.  Mine is very old and Greg's was made when he became my husband.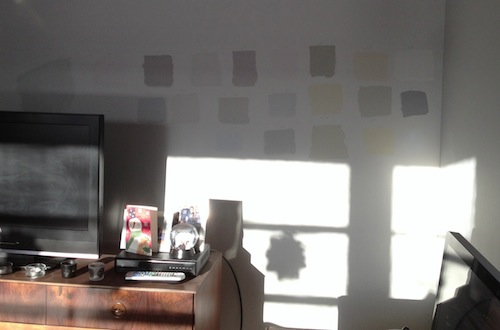 Unfortunately, these paint samples are back up on the wall.  It includes 10 new ones…still nothing that is my ideal shade of gray.  10 because after those 7 from Benjamin Moore I decided to go for 3 more.  (Total of 24 I believe.)  I'm going to get one more that seems promising then I might call it quits.  We're trying to be on our way out of the house in a year and the shade on the wall is pretty even though it's not what is in my mind.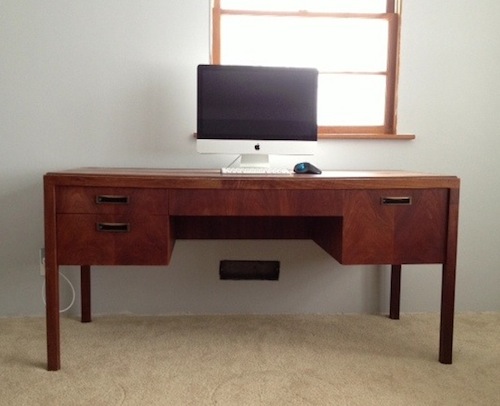 We're selling our desk.  Brought the heavy beast upstairs where I get to stare at the snow and decorations while working (and stay much warmer than in the basement).  We've put a number of things on the market we no longer need in the hopes they find good homes and to help pay off some debts.  Still trying to reach our goal in that department.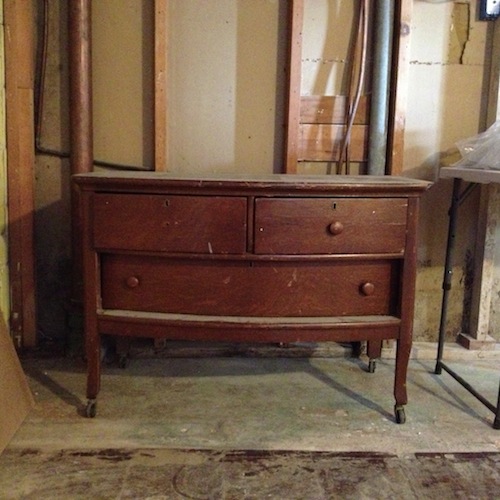 This gal started to get her makeover this past weekend.  We were trying to see how far we could get in a short amount of time.  Did pretty well until we had to factor in putty drying time which is where we're at with the dresser now.  Days later with a few more coats needed still to even out the curvy fronts.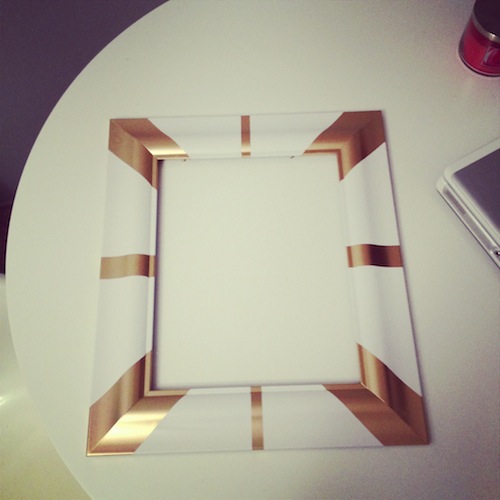 Been doing some small projects like this glossy white and gold frame and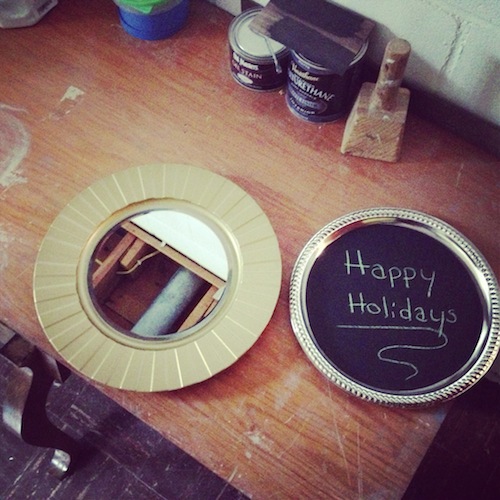 this "sunburst" mirror with brass spray paint (the free plate I mentioned before) and I glued a mirror to it.  Wish I'd gone with a convex one.  The chalkboard is not my doing but it could easily have been.  Take some chalkboard paint and apply it to a faux decorative plate (or a real one).  Voila!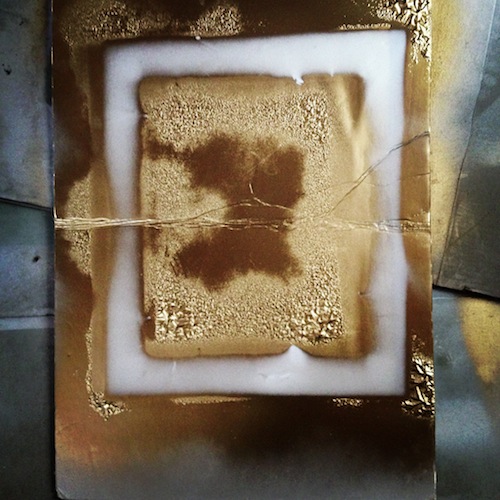 This is what the chilly temps did to the area where I sprayed the gold paint.  Neat.  Although we're having difficulties finding a time, temp and weather where we can spray the lacquer on the drawer fronts in the garage to finish up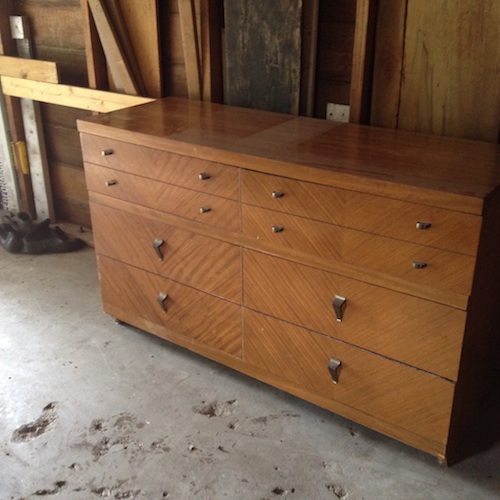 this guy.  He's looking very different these days.  His body is in the old studio office while his drawers await lacquer elsewhere.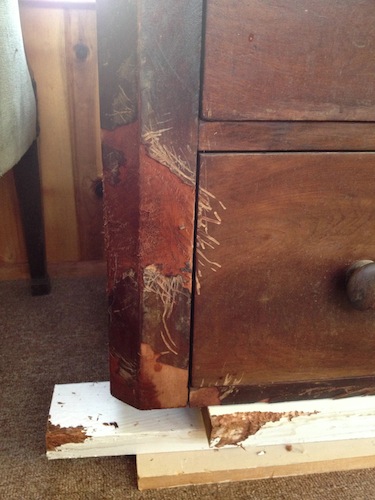 Which reminds me of this.  Our two darling puppies spend time in our 3 season which, as some of you know, is part of our storage area and after months without attention to a single piece, this happened today.  Lieutenant Dan (remember that's the name of this dresser without legs) is not pleased nor am I.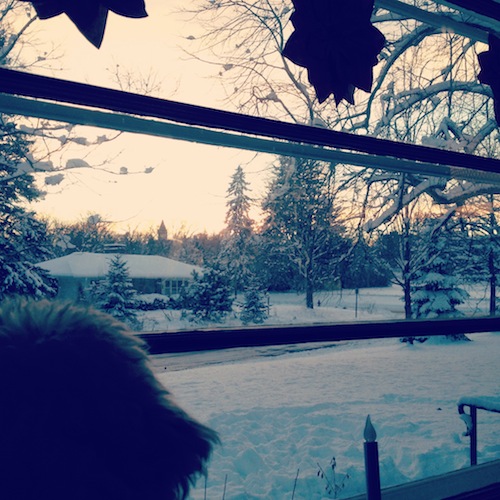 But we're coming to my favorite part of the day where we all 3 wait to see dad (Greg) come home while the sun sets.  (Here in Minnesota with the time change that'd be around 4:30PM.)
Happy holidays!