The secret, surprise "thing" we've been working on is this modern slat fence on the side of our house by the door most used. The fence was finally finished last night. It stands 45 inches tall, a little over 7 feet long on the front and a little over 3 feet long on the side.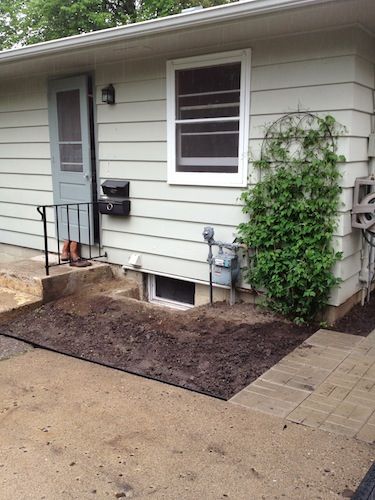 Before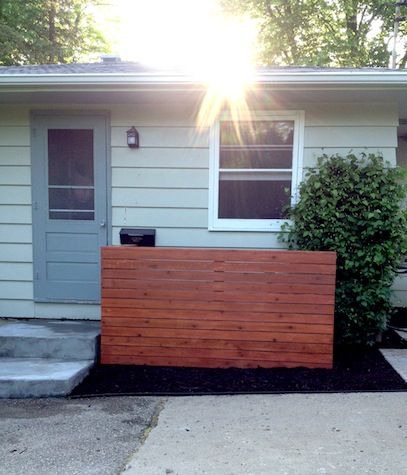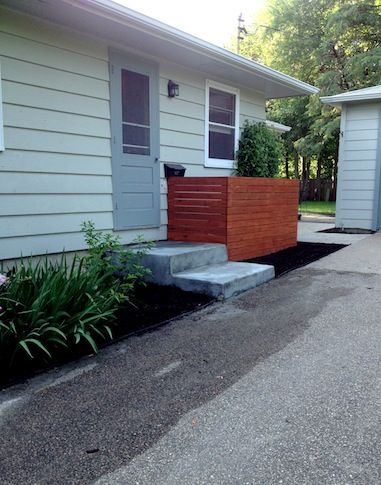 After
We added the mulch and called it done…although I would like to put some tall ornamental grasses in front (maybe later) like I want in some of the other mulch spots. So, I'll call it mostly finished.  I was inspired by Morgan from the Brick House a while back when they put in their fence and had the design in the back of my mind.  I knew I wanted something similar.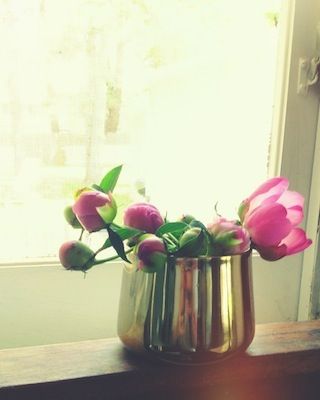 The peonies bloomed and I've had several bouquets in the house giving off their beautiful fragrance.  I enjoy placing some of the buds in vases or glasses with heir gorgeous blue green foliage.
We've been between fence building, step repair (which took longer than I thought and was somewhat due to rain and somewhat due to having other things on our plate at the same time), prepping and creating the paver patio and salvaging the antique sideboard in the garage.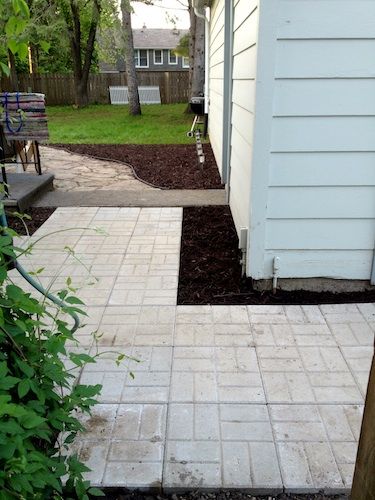 New paver patio
This is Greg's face in response to using the giant nails to open the drawers while he worked on the drawer stops.  That's what I found so we went with them. Getting all stabby-like. 
Side note: I enjoy working on the furniture projects in the garage much better than the basement. If only we lived somewhere we could do that all year long without the weather being much of an issue. Minnesota allows for outdoor work maybe 4 or 5 months in a good year…which was not this year with the late spring arrival. Certain conditions don't make for good painting and finish coats.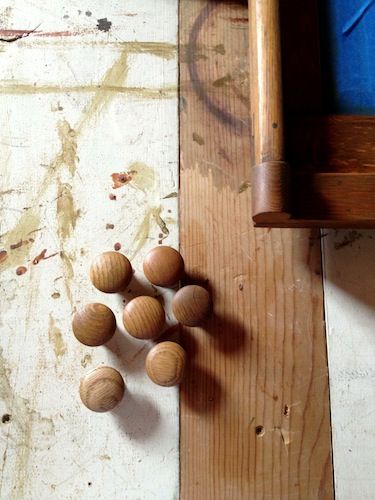 To help with some of the issues we're hoping to get the Graco TrueCoat paint sprayer. That would be just wonderful for all the doors and trim yet to paint and our painted furniture pieces. Probably a dozen other tasks.  Sherry and John from Young House Love recently used it to paint the trim and doors at their new house.  It looked like such a help for a big job.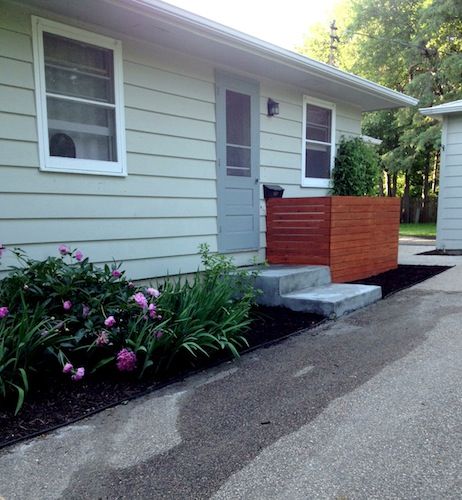 Now back to the fence. If you'd like to know how we made it, please ask and I will do a post. Some of the materials we already had but the entire thing cost less than $200 to make.  (Even if you don't ask I'm working on the how to.)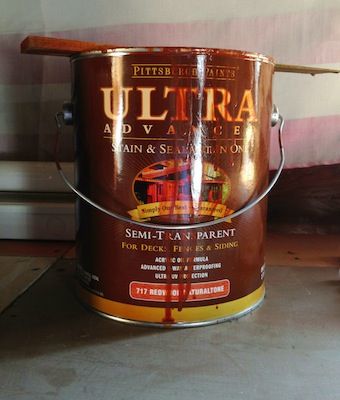 Leave it to me to see the parts I am not thrilled about/am already thinking about changing-like the stain and sealant in one we used (Pittsburgh Ultra Advanced Stain and Sealant In One in red oak) was not the same sample color at the store (that seems to be how it goes more than not) but we didn't want to shell out another $30+ to change it AND have stain leftover we'd surely never use. It's a bit too orange and bright for my taste. The stain and sealant is such a great product though. It's an acrylic latex and cleaned up with water which is handy. We'll turn to it again in the future.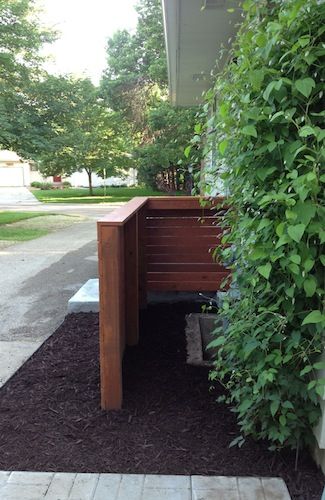 The color does look good with the blue/green tone of the house and the dark mulch and well, I love the fence and the color has grown on me. It truly might be just the perfect tint but it's one of those things you don't know until you've tried a few samples and we didn't to keep the cost down.  We've had 2 compliments from neighbors over the last few days. They are used to seeing us "destroy" the yard or having dead grass once spring rolls around and ripping out plants. We must have looked like the Addams Family last year. I heard our 9 year old neighbor boy ask his dad what we were doing taking away the grass and living in dirt. I'm not sure what he said in return but it stuck. After all, I did say this was the year to beautify the space instead of the projects that seemingly ruined the area last year…to make it better later which it did.
As my dermatologist (I had horrible acne growing up and stupid adult acne now) used to say, it will look worse before it looks better (talking about a new medication regimen). That stuck with me too and it applies to all kinds of scenarios.
As I said, this project was under $200 and if you don't have steps to repair right next to the area (Greg can tell you how he did that too) for several weeks with multiple applications to wait on to set, you could probably finish it in a weekend.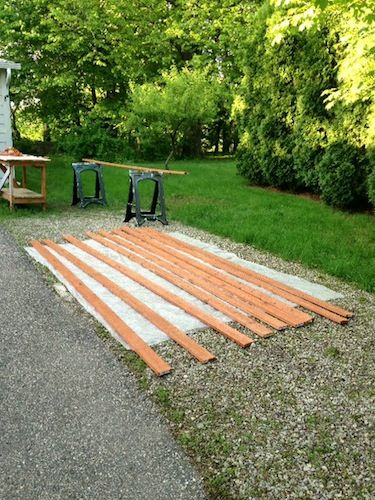 That is if you get your lumber ahead of time and put a few coats of stain on each side before putting the pieces up which is not necessary but we found helpful so you only have to do a single coat once it's up or not. I just wanted to create a more even look on the cedar boards so I sanded the rough sawn lumber once it was up (after a little sanding to both sides when it was not between coats) and put on the final coat once it could be called a fence. A bit of work but worth it.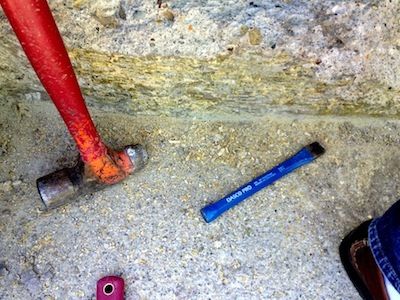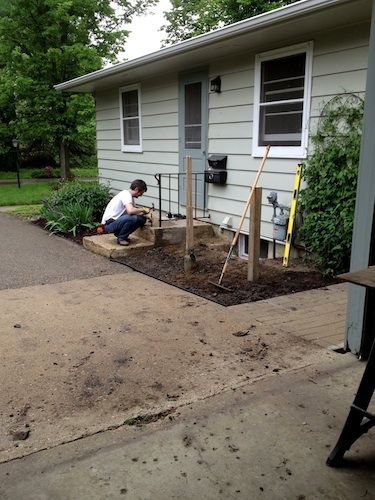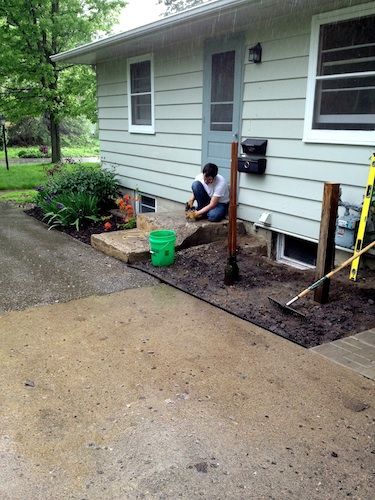 So.much. rain. and. mud.
Another side note: those steps we repaired had outdoor carpet on them like the front steps (which we're keeping on those) and the entire corner was broken off and chipping-giant chips-on the entire thing. After 3 weekends and some weekday evenings with chiseling, cleaning then applying coat after coat and leaving each to dry for 24 hours, Greg will tell you they are not perfect but they look and function much better. And it was a lot cheaper (and not as messy) than removing the old and getting new ones poured. Hopefully we don't have problems in the winter.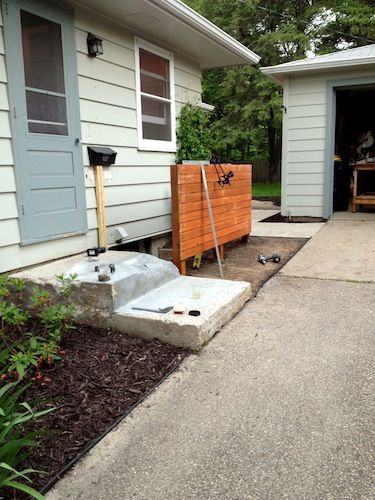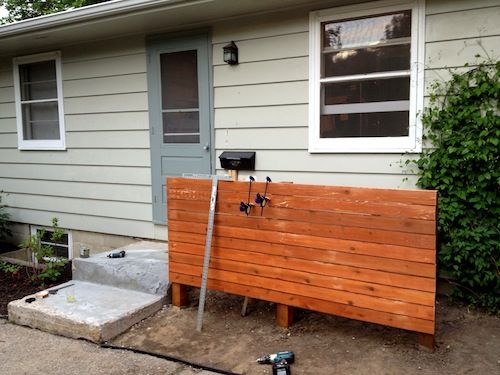 The fence covers an unattractive area where the utility room's window well and the gas meter are and was a solution to a tricky spot where plants don't thrive. Except for the established clematis that I somehow think I've killed twice but it keeps coming back. I do work with the vines to be sure the tendrils attach as it grows instead of being a giant mess but seriously thought I ended its life a few times. We took out the old handrail a few weeks ago on the steps so the new fence also acts as the new rail.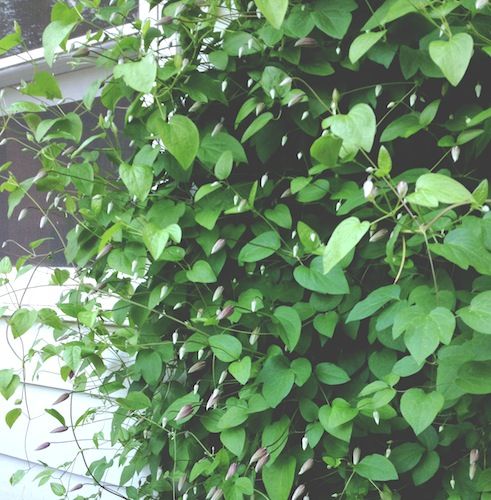 The clematis that won't quit.  
We have always wanted a fence like this and planned to put one around the yard until we found out we'd be moving near Seattle…and it would be expensive. But it would be nice to have some privacy. Something we're putting as a priority at our next house or maybe we'll just go back to living in the country. Something we're seriously considering.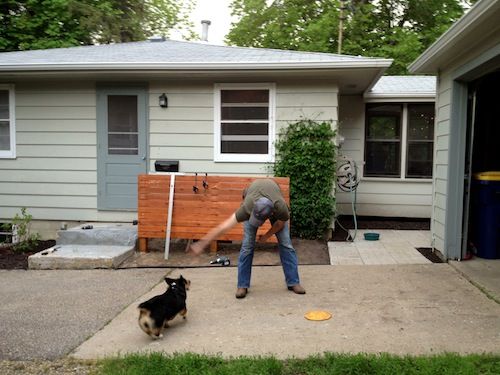 There's always time to play with puppy Vivi.
There are a few more things I'd like to get and do for the outside of the house-add new lights (already have them picked out), put in a doorbell (we don't recommend the wireless version…not a good experience), add a new mailbox, patch up the holes and find a shade of paint that matches the existing to get rid of those spots. None of which are in the budget right now.
The entire house needs to be scraped of the old paint and painted but that is majorly expensive and won't happen during our time here. The previous owner or rather her "selling team" that "fixed up" the place didn't remove things like hooks, clips, doorbell buttons, handles and the mailbox and just painted around them so the old color (looks pink!) is still behind those. I've been reviewing paint swatches to see which one it could be. This has prompted me to write down every single shade we use, inside and out, so the next person won't have to guess.
When we bought the house in 2011
Now spring 2013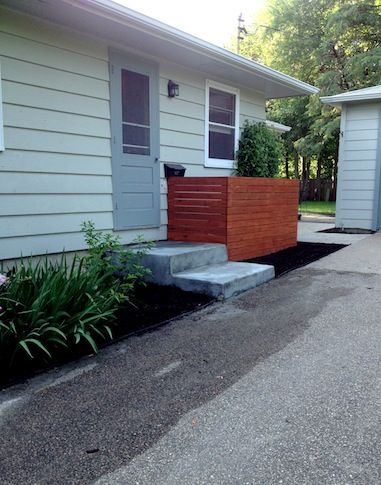 What do you think of the new fence?