Intsead of showing you the new credenza (we are keeping it for ourselves-it's absolutely perfect for our space, needs some work but who cares) we picked up from some of my favorite people at Find Furnish (have been following them for a while and finally got to go to their place of biz), I'm going to tell you about a lesson we learned.
Warning: If you are an amazing business and do great work I will shout it to the world but if you are horrid I will exhaust all of my options so that others are aware and aren't harmed by your practices. I will tell it straight to my pals that come check on us here at the Wits. Today is that day.
I don't even like to call it a lesson. It's a story about a horrible business called floorstoyourhome.com that came with awesome reviews, recommendations and showcases an Angie's list and BBB high rating on their website. They did ship it out fast and seemed friendly enough until we received the walnut flooring. But their material is absolutely horrible and below cabin grade, as in trash bin grade. Greg is responsible for and knowledgable about wood quality-it's part of his job as a restaurant furniture designer/builder-we're not oblivious-and he declared that there was nothing you could do with the quality they sent. The rep tried to tell us we could fix the knots (which we expected and most of those weren't really the issue) with epoxy (that in itself has problems) but some of the knots were through the finish and veneer to the core and no amount of anything would fix that. The clicking mechanisms were broken on a number of them and some of the edges were cut crooked making their claim that all was "installable" a bunch of bologna.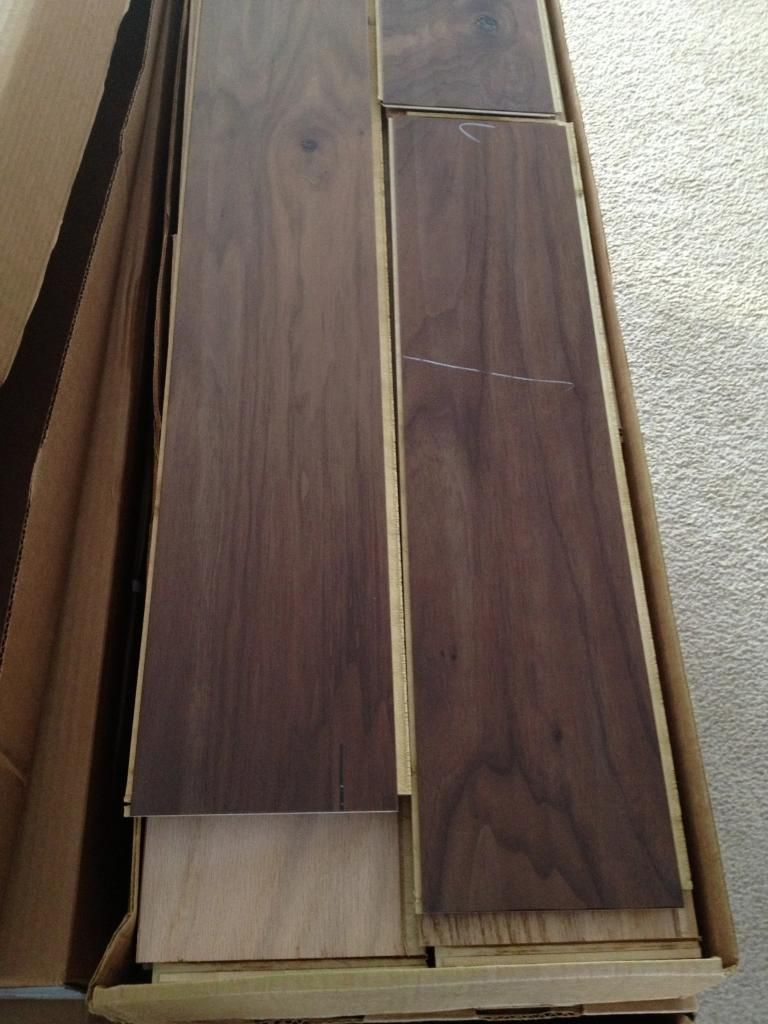 Yep, the floors I was ecstatic to get in my post last week…the majority were below "cabin grade," below the pallet quality it arrived on and the business was not helpful. Now we're out over $400 (the cost to ship it back and the restocking fee) plus all that time trying to sort through the material to find anything usable.
I called immediately before the truck left to say the first box we checked was awful and that we'd like to return it-having no idea if we were to put it back on the truck or what-the rep said open some more boxes and see what we think. While the rep said this, I watched the truck driver we asked to stay drive away. It's winter in Minnesota so we took the 27 boxes inside and began evaluating a few more boxes. Once we opened those, 3 of 7 were chock full o' pieces in absolutely horrible condition. Mohawk should have tossed these. Greg called back this time since he came home from work to help unload and the rep said they don't typically take back opened boxes. The best part is that Greg thinks it was the same rep I talked to who had not even 30 minutes before told us to open more boxes. Two boxes were damaged in shipping and you couldn't see it until the cardboard corners placed for "protection" were taken off. Our concerns weren't addressed at all with that issue.
Once the guy told us how much we'd be out to ship it back we thought we'd go through the boxes and try to get enough flooring to get the job done, perhaps buying the better quality version to finish it off. After 12 boxes of the 27 being opened and sorted, that's when we realized more than half of it was not usable which equates to almost 160 sq ft of flooring only good for the trash which is about $400 worth. Who knows what the remaining 15 held?
Since we had sorted the ok from the awful we thought maybe they would take back the 15 unopened, 6 of the bad and we could keep the remaining 6 boxes we deemed worthwhile and just get a refund (minus shipping and the restocking fee) but it's either we return all or nothing they told us. This requires us packing it in the boxes, putting it back on the pallet and wrapping it for shipping. A large pain in the bum and we're still out flooring, $400 and the time it took to sort. And what they should do when they get this back is throw it away because whoever buys it next will not be pleased either. We told them this and marked the boxes but I highly doubt they will be that human and decent.
Yeah, both Mohawk and Floors To Your Home should be ashamed of themselves.
Bottom line: we expected some bad and took it into account in our calculations but did not expect more than half of our order to be unusable AND we did not expect a company to behave as poorly as this one. I guess flooring is going to be a big issue in this house with the tile mess for the bathroom and now this. We're avoiding Mohawk flooring for their shoddy "factory seconds" practices and are once again looking for hardwood flooring.
By the way, Greg made it back from Seattle safe and sound. He believes he'll be back there in the coming months and I plan on being by his side. He loved the kind people, culture and dining with the natural beauty of the land and water. Just as he remembered.