Tur-dur! The retro/mid-century/vintage/clean-lined/mod dresser is finally finished. I don't know what to call it beyond done.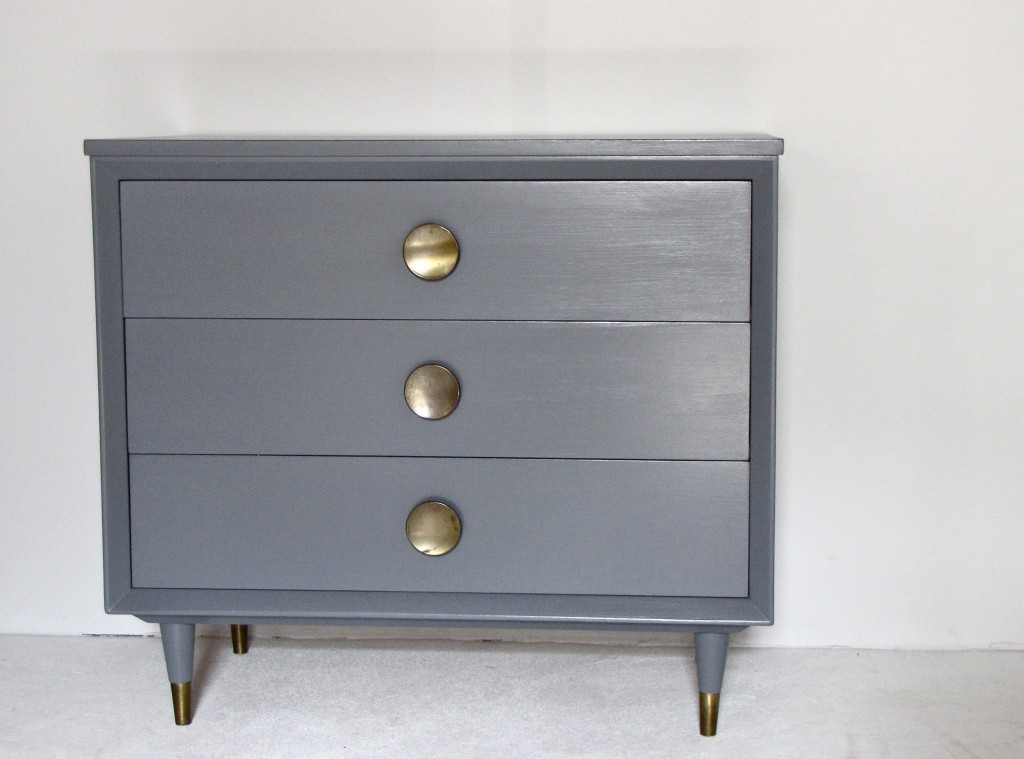 It ended up dark grey (gray to some), like a few others but only with a somewhat glossy, poly finish and I love it. I'm probably biased. We don't usually go for the shiny/poly finish although we've done it in the past. Depends on the piece. Just as we pass on pieces priced way under their value that are too beautiful to paint. We respect those pieces too much and leave them alone. We've seen those end up painted and cry a little inside. We get the ones beyond a simple fix-up, ones past their time for stain. It goes in for an operation or two on our table then gets a makeover. When we can afford pieces in better condition from the get-go, you'll see more stain.
Back to the star of the post. This grey dresser has a sort of beveled edge. When we picked it up from the craigslist-er, a tremendous deal, we knew we had something special. Something we haven't seen before. It's timeless. Not that other dressers aren't but there's this quality to this one that makes it hard to define. I've had problems listing this guy because once you describe a piece it leaves whatever that idea implies in the person's mind and mid-century/mod/modern has a connotation in this world of Mad Men (a show we enjoy) as a fleeting fad that some may roll their eyes over. Older generations laugh-they have that furniture and it wasn't this big of a deal. That era is pretty trendy right now and can leave a bad taste in someone's mouth when you list with those keywords. Some will be ticked that we painted it. Believe me when I say if we could only stain every piece we come across, we would.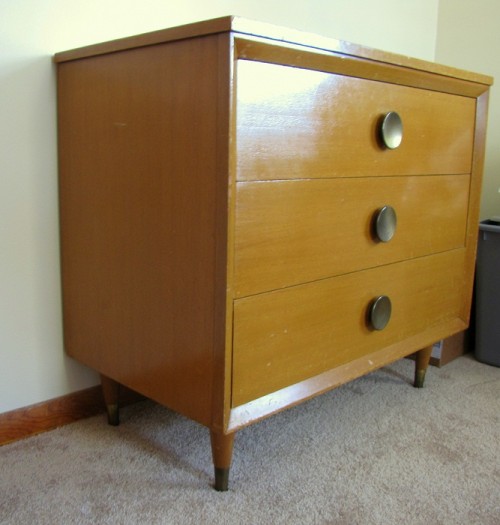 And it is retro, mid-century, mod but it's also timeless and versatile which doesn't get conveyed enough. It's a challenge to list every piece so that it will be noticed, searchable, adequate and until it's seen, some pieces don't get the credit they should. That goes for every furniture seller.
The large, round, original brass knobs and the brass cap legs had to stay…to remove or damage those would have been a tragedy. I wanted to contrast and highlight the components. The warm brass, the cool grey. To be honest I was inspired by a piece I saw on Pinterest. A $2000-ish laquer job (ours is a reasonable $450 right now) and thought, gee, we can do that. Our interpretation.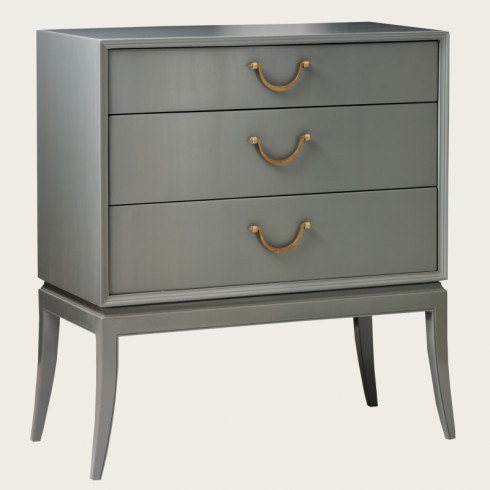 Our dresser is the very piece that we tried to put an oil-based, glossy grey on but just didn't have the environment to make it turn out as great as we knew it could. So we turned to latex (water-based) and even though it couldn't get as glossy and laquer-y as we hoped, it's still the opposite of our last piece-the empire dresser which lacks any shine to its finish with the milk paint and wax finish. Someday we'll have a proper oil-based environment for the technique.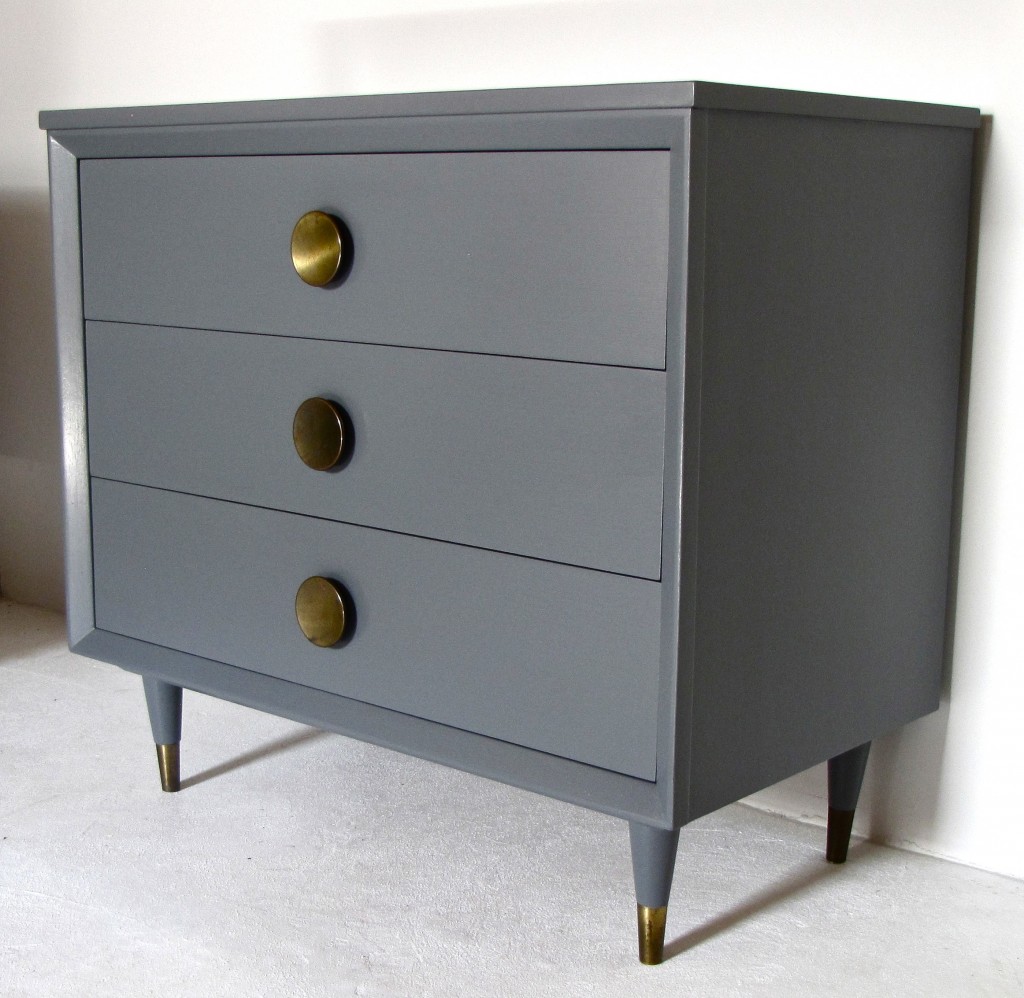 The two finished dressers are sitting by one another in the studio. I see them all the time and think they are both pretty darn awesome…biased again. The grey one would make a great nightstand as well. There's a place in our guest bedroom that would welcome this guy. But I'll just wait for the right buyer to come along to cherish it.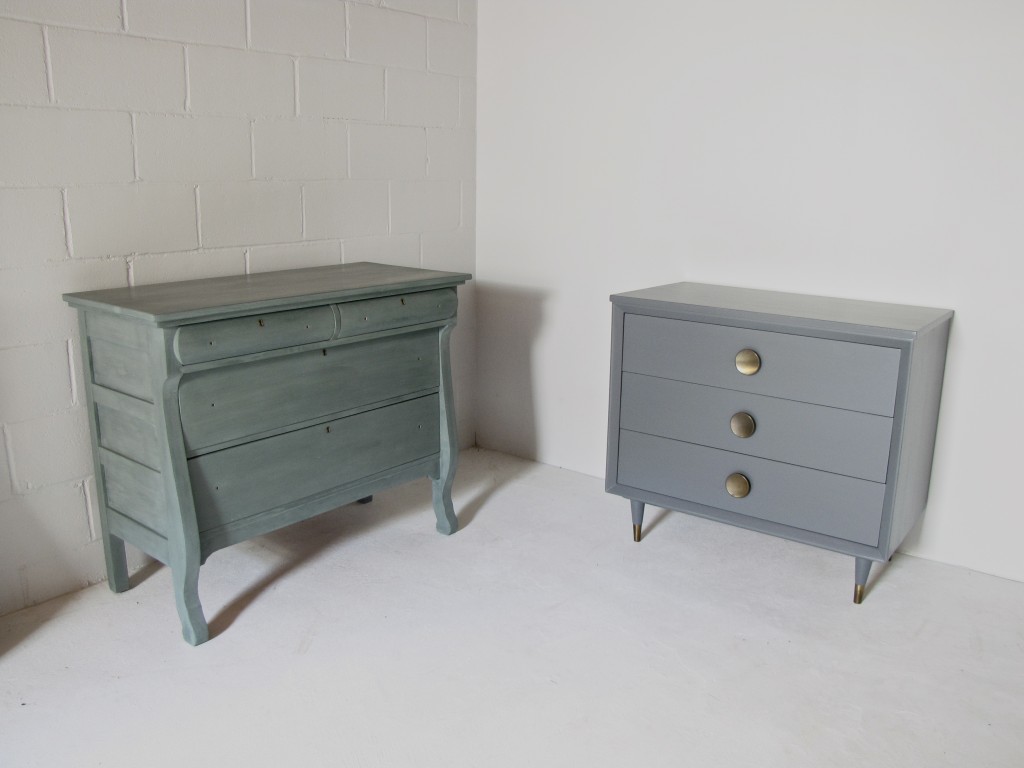 And I would like to discuss the promotion Greg received at work because it impacts our plans and goals on the house and timeline. Bittersweet best describes it. I know some were probably confused (maybe angry) when they read me state that more money and a higher career title were bittersweet. Not exactly my words. I'll explain later. It involves a secret I've kept.
Just as I'll tell you about the architectural salvage store a town over that we went to this past weekend. We've been there before but this time as homeowners. Dangerous for us-it's 25,000 sqft and 4 floors. Every turn and I'm squealing with delight. I mentioned this (and a number of other things) on our facebook page. And hey, if I ever mention something on there then don't address it on the blog and you're curious, ask me about it. I do that. Leave you hang…….ing.