You know how we were going to finally get back to the new attic entry job this weekend? Nah. That was put on hold because mama (me) wanted to set up a studio where she could take pictures, design and have an actual space to work instead of plopping the laptop on the coffee or dining table and trying to accomplish anything in a day without distraction or interruption. Henry, the sheepdog pup, requires a lot of attention, like a toddler this one is.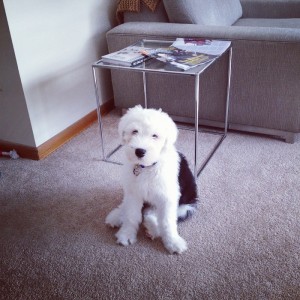 A studio in my house (because we can't afford to rent space) and heck, if you have the room in your place (in this case our basement), take advantage, right?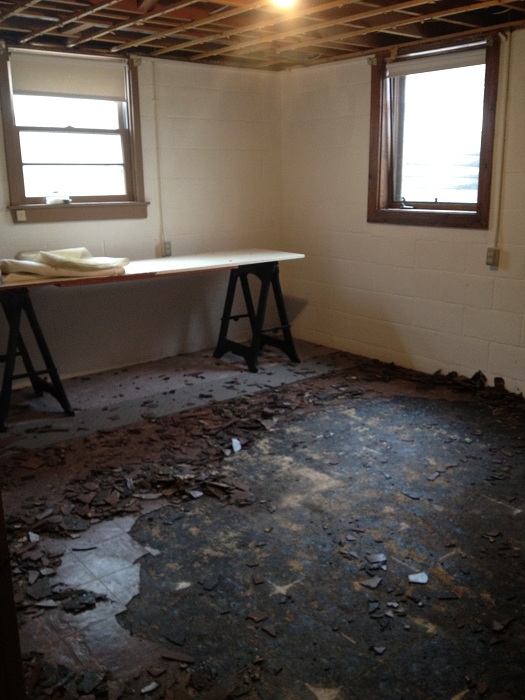 Why suddenly did I want to convert what was going to be one of our basement rental bedrooms into a studio? If you've seen my photos of the furniture you might understand how increasingly upset I'd become with the limited space (only beige carpet to work on),quality and lack of flair for our reveal photos and etsy listings.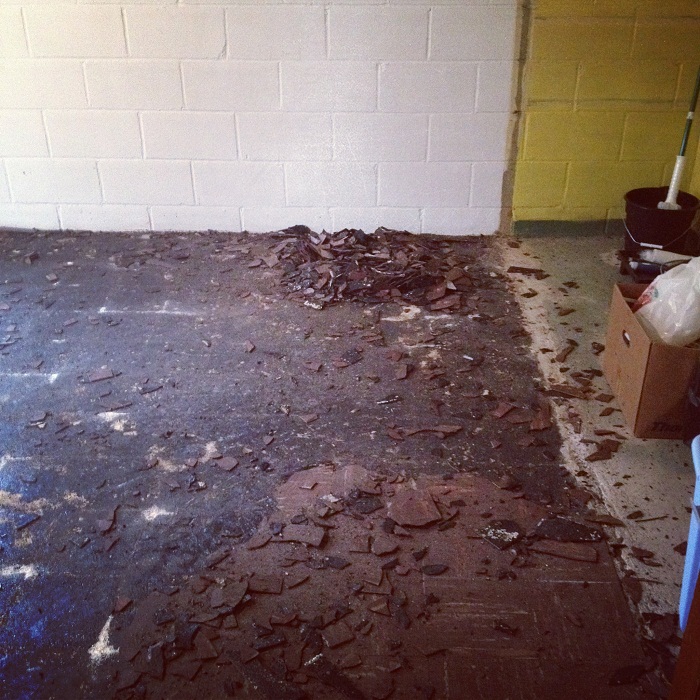 I want to take it a step in the "more professional" direction and at least try to stage my shots better. And that room is the best space for us at the moment. I mentioned before that if we can create/sell more pieces, we'd rather go that route than have a stranger in our place, renting a room. We might have to at some point but we're going to give it a go this way first.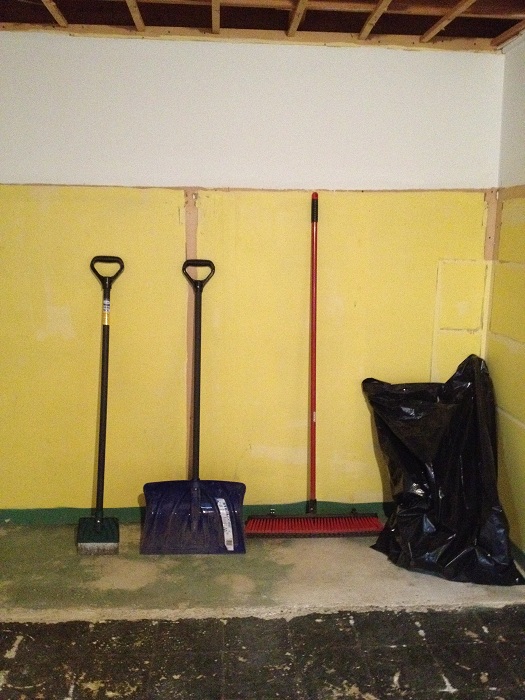 Plus I've been drooling and dreaming while reading Barb Blair's blog, Knack . I've excitedly devoured followed her DIY Basics on Design Sponge but I've spent mucho time on her personal blog over the past week. Love all of her work, her style is amazing and I want my life to be similar-studio, supportive family (got that) and fantastic opportunities while doing what she adores. She seems uber nice, talented and we seem to be sisters in style. And I am not sure where her hardware comes from but it's beautiful paired with her technique and shape of the piece.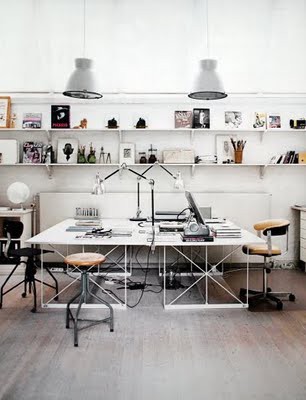 I don't have specific plans for the studio. It will come to me. I know the basics needed to get a shot so, I'll go from there. But….something happened while trying to prep the room. Let's just say there was tile that the hubs scraped up then black tar-like adhesive under that which we thought we'd remove somehow to paint the floor.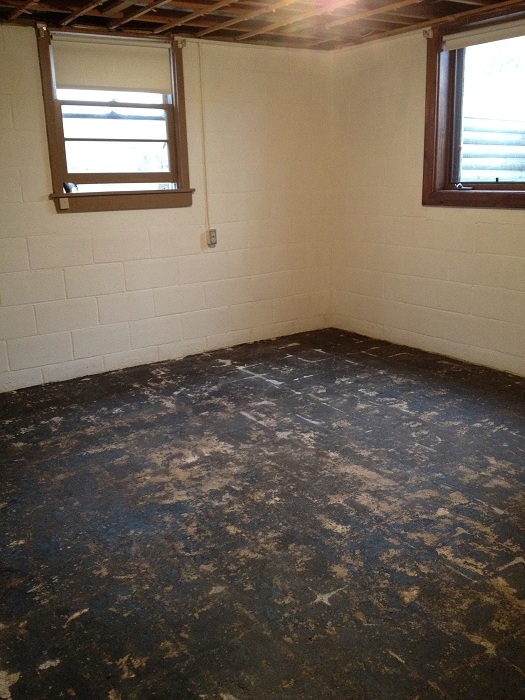 One thing I'd recommend is not starting a job like this on a whim as we did on a Sunday at 5PM.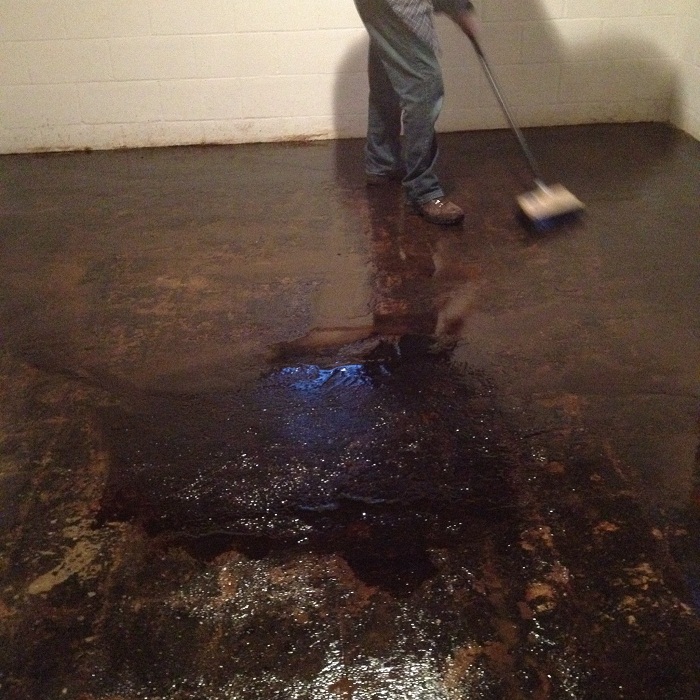 In our defense, we painted some hardware along with another dresser and prepped the room all day long. It was a productive weekend. A trip to the store for supplies took much longer than expected and we didn't anticipate the tar giving us the problems it did. After scrubbing it with degreaser/Goo Gone diluted with water (which worked the best) and scrubbing some more until our arms were about to fall off…it looked like this (i.e. not much different than before and slicker, stickier and smellier).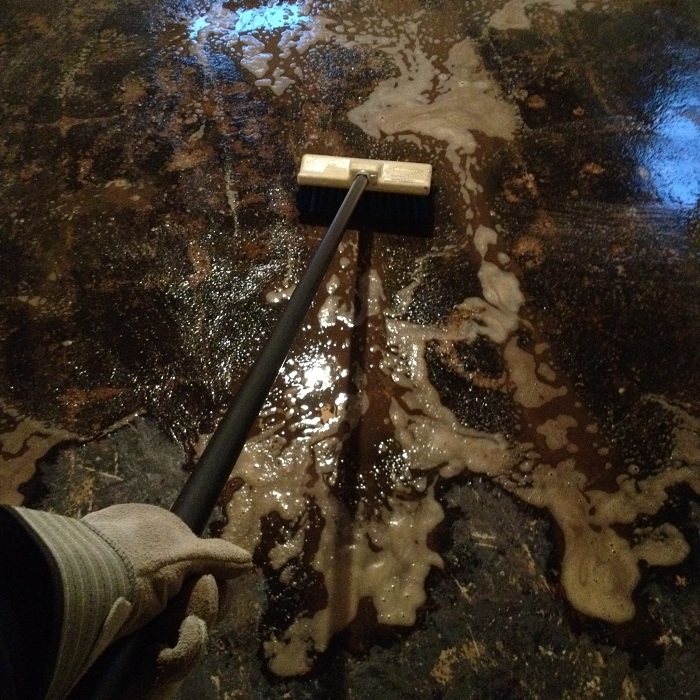 A mess. And our first, true wah-wah in renovating/repairing our first home. It was going so well. Greg began to mop it up. My shoes, socks and gallons of clean water destroyed later, we decided to go another route by cleaning, not removing, it as best we can and etching what's left so that we can adhere the floor paint.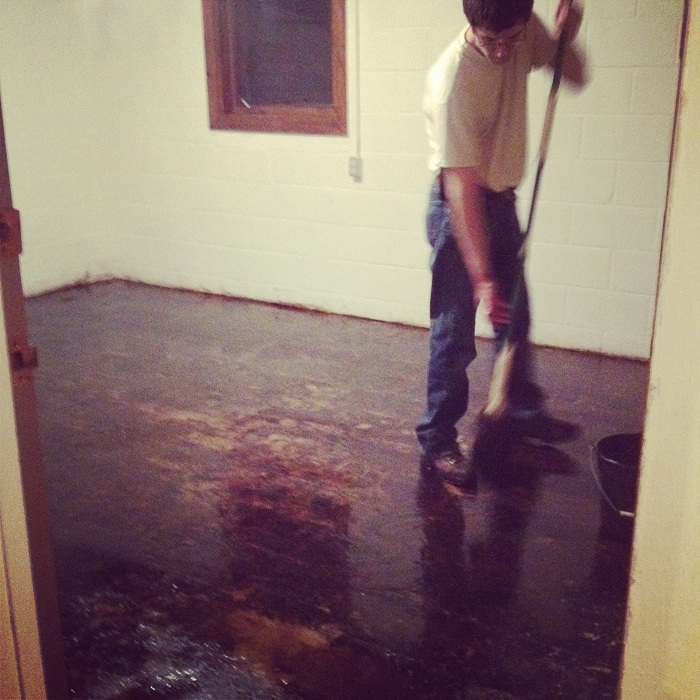 That's some of the work we'll be doing this week. Even with some windows open for ventilation, the entire house smells of tar and citrus cleaner. Lesson learned. The same tile (and most likely black tar-like adhesive underneath) is throughout the basement. We'll not be tackling the removal and instead working with the substance. Ugh. Someday the studio will exist. I'll keep you posted.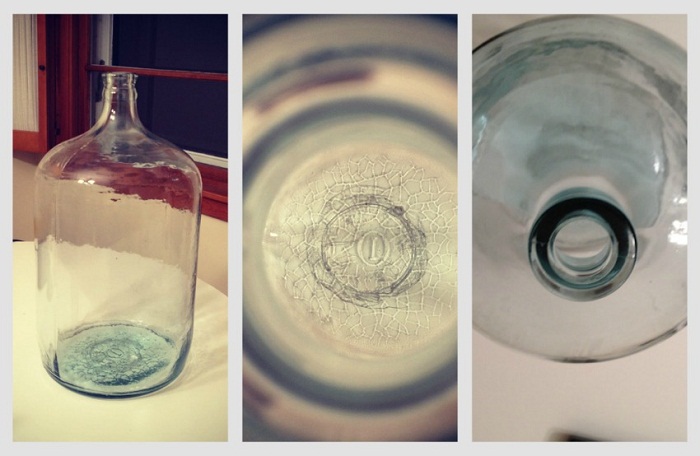 But the weekend wasn't a wash entirely because I gathered more props (frame, carboy, fake foliage and book) along with these babies.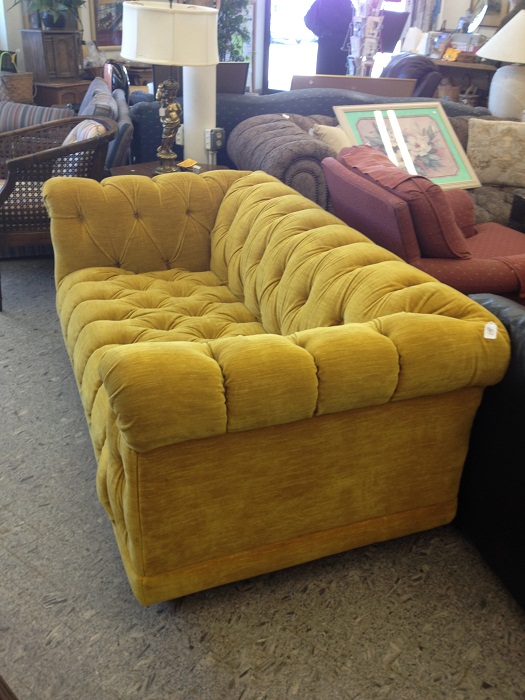 Tufted, mustard-gold, Chesterfield sofa and loveseat. We ventured to a local store (Used A Bit), a thrifty spot I frequent, where I spotted and literally ran to the loveseat. Greg approved its comfort and at $175 with a discount, we picked it up under $125. The employee told us the matching couch was in the back if we'd like both. Wha?!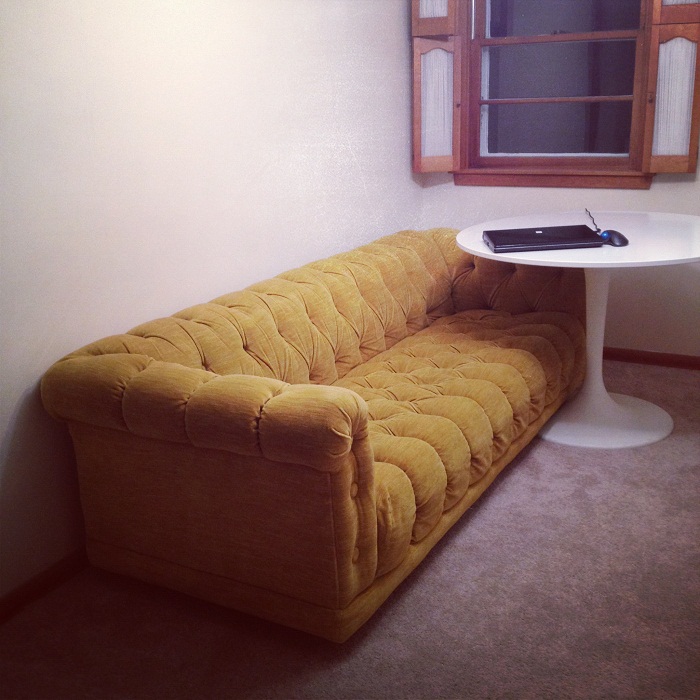 I'm not one for matchy-matchy and I knew I wanted to keep the loveseat for my dining room but when I saw the price (including the special discount) at $150ish for the giant couch, consider it sold. Actually, that's not true. We discussed purchasing it out of concerns for storage and budget. I'd be a bad furniture dealer (another thing I consider myself) if I didn't grab this up, repair or replace parts and put it back out there for someone to cherish at this price. If I could ever afford to, I'd reupholster one of the beauts. You should've seen how we got it home. Two trips in the back of our Subaru Forester across town with the hatch up. Nothing new to us but we had some gawkers.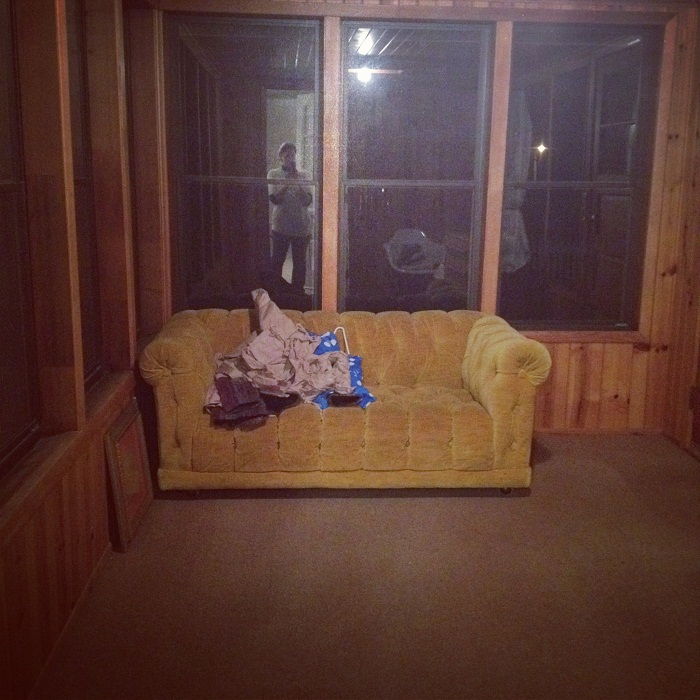 Um, they are gorgeous without major damage or a funky smell and oh so comfortable. Greg can't wait to nap on the couch. The plan is to keep one, sell the other but replace the casters with legs to give them some height. I'm using it as a banquette in my dining room and my chin rests on the table at its current height…which is a preference for when I eat, the food blogger I also am, just shovel it right in, but guests might be disturbed.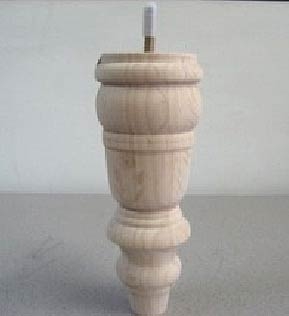 So I'm on the hunt for new legs and trying to pick which idea to green light-glossy white, dark espresso, metallic, lucite, with or without casters. I'm not sure. Good thing they are easy to switch out. I have to keep in mind that one day we'd like dark, hardwood throughout the upper floor.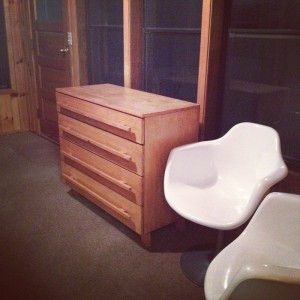 But our house is chock-full of furniture, not much goes together and while I am an eclectic decorator, it's not working. I have to trust my gut and vision for the "finished" decor. Calm that freak out in my head when I look at everything and think what the what is going on. This couch is in that vision for sure. (The scale is a bit off but we intend to open up the kitchen into the dining room and thus should work one day.)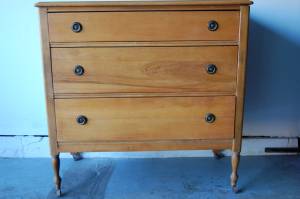 Even with the floor issue, I'd say the weekend was awesome. Forgot to mention we picked up another dresser Friday and I already have the hardware off, paint picked out (we're going dark this time with my favorite color), and hardware ready to go for the finished product. We're a few small steps away from revealing the other vanity dresser. I took it a completely different direction than I stated. Come on, studio! These pieces deserve a great photo shoot.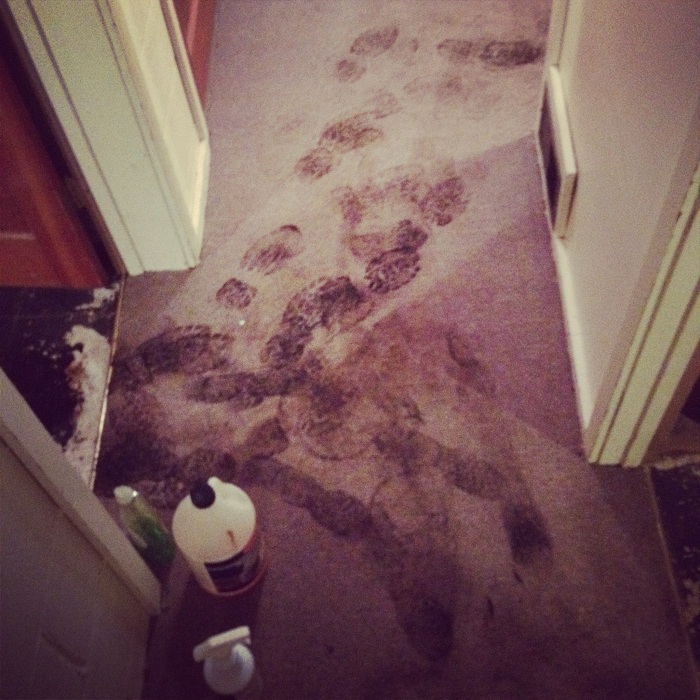 By the by, the reveal should be later this week depending on how well the making of the studio goes. Wish us luck!