Hey hey, ladies and gents.  It's been one heck of a week.  We had a new water heater installed Friday.  The water softener and Culligan filter were repaired a week before so we're sitting with some decent water again.
It was an ordeal that I don't want to go into too much.  We're still waiting for the inspection to take place next week.  There were 3 visits (2 to repair the same leak) and if the compression fitting continues to leak we'll be scheduling another new water heater installation.  It cost us quite a bit-so much we have a new monthly payment for a year.  (Wahwah.)
Through that process we found out our town didn't have us on record as the homeowner (after 1 1/2 years here) and instead had the previous owner's name on the permit.  That should be fixed by now with the call to city hall yesterday.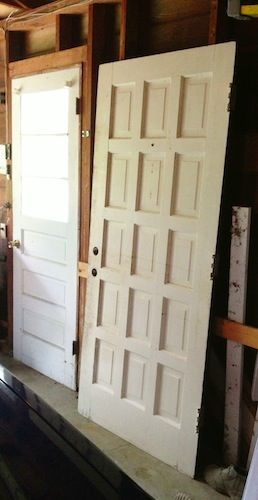 Greg picked up this free exterior door which will be our new front door.  Free!  The most expensive part will be the hardware.  After missing out on 2 other doors (not free), we jumped at the chance to get this one.  I think it will be great once we fix it up and get some new paint on it.
The before
The grass is still not growing in a number of areas harmed by winter kill so we're going to bring out a cultivator to break up the soil and hopefully grow a lawn.  More work but what can you do?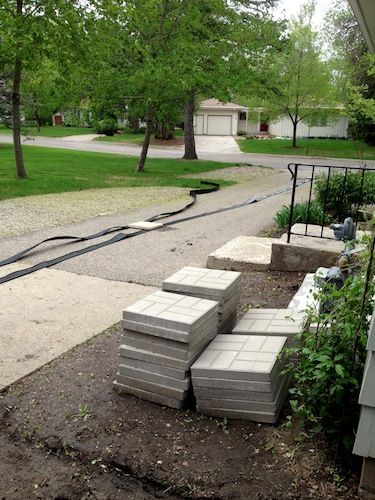 Our plans changed over the weekend due to the rainy weather and we started work on the new patio with those pavers I talked about last week just before a storm hit causing us to have to stop.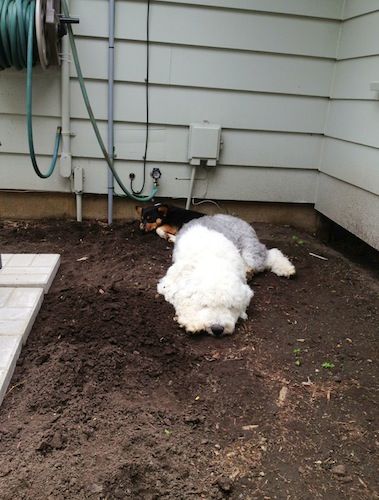 Henry and Vivi are always a big help.  
We did get in some landscape edging but have more to do this weekend.  Buckets of rain fell over the last 3 or 4 days leaving the dandelion weeds vulnerable.  I took advantage of the opportunity and pulled weeds for almost 3 hours yesterday.  While our bacon-wrapped asparagus was on the grill, Greg and I pulled some more then sat down at our new patio table to discuss the plan for the yard.  Sigh, I love when the temps warm up.
I bought more clothes than anything else at the town-wide charity garage sales last weekend.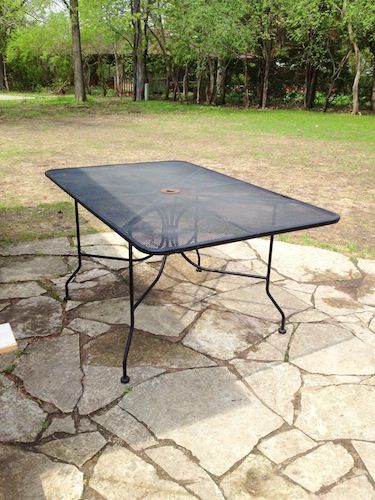 But, the best find was this $5 wrought iron patio table.  The hosts were kind enough to send a young lady to our car with an umbrella during a downpour that had us trapped in our car.  We also bought some more landscape edging from them and brand new tops for myself.  By far the best sale we visited.
Not an endorsement for Subway
Then Sunday rolled around and I spotted these wrought iron patio chairs on craigslist for $40 in our town (!).  We usually have to drive quite a ways to get craigslist items or Greg stops on his way home from work in the metro area of Minneapolis.  The woman was a few blocks away and said she probably could have got more for them (and I agree) but she just wanted them gone.  Another score!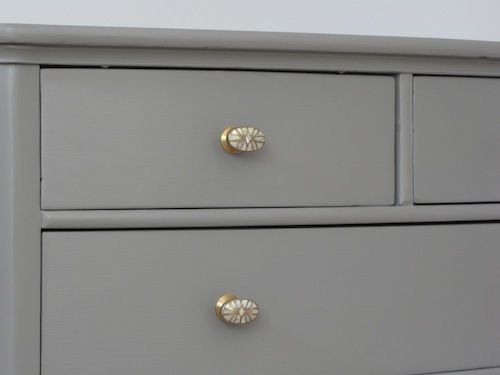 I put new hardware on the dresser we have on the market since it has yet to find its new home.  They are the exact antique brass and mother of pearl knobs we put on one of our earlier pieces.  I decided to part with them instead of hoarding these babies.
What have you been up to?