1) I created a few collages to go over our steps with dresser 6. They pick up from the last post, the "take it apart then put it back together" portion. So you're seeing a collage with the leftover shots from putting it together (including a happy Greg), some pics of sanding and filling with wood putty the dents/scratches/etc., then random moments from the long (somewhat aggravating) step of putting the drawer stops in… stops Greg made. Because you don't want your drawer to not line up and keep going deeper into the dresser body. That's no good so they are important and one of the big issues with this dresser. One more drawer to do tonight in between meeting with a client about painting/repairing her desk and showing her the plans for the dresser she'd love to see come to life.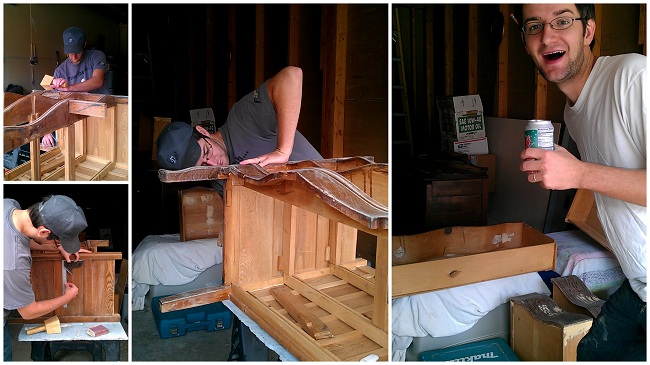 2) We are busy bees. I adore this fact. Maybe we're doing something right.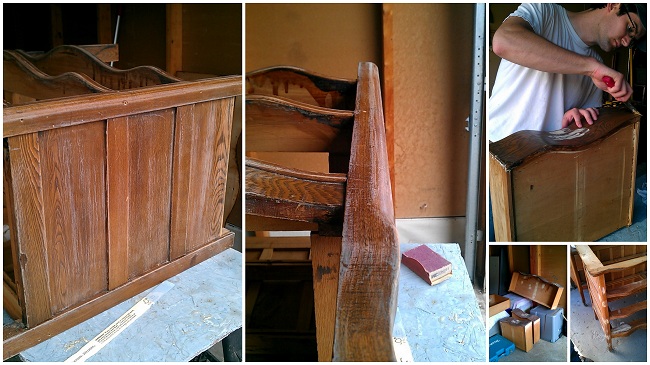 3) My birthday was great (see this post at my food blog for more info…no reason to write it all out when my words exist elsewhere in the blogosphere, right?) I will restate my feeling that I am the happiest I've been since living in Minnesota over the last 3 years. Mostly due to following this design passion and being allowed to create/share the ideas that only existed in my head before this refinishing venture. The challenge of finding the ideal dresser, communicating with others, the thrill of the deal, meeting new people, picking out the paint/technique/hardware to fit the client's perfect piece and actually getting dirty/back to basics during the prep in the garage with my husband, along with all of the small steps in there and I'm happy as a clam. (No comment about my choice of the word dirty…maybe nitty gritty is better.) Also love that this career "dovetails" (dresser joke) both Greg and I individually and together-making our already wonderful relationship that much better. (Commence gagging and puking.)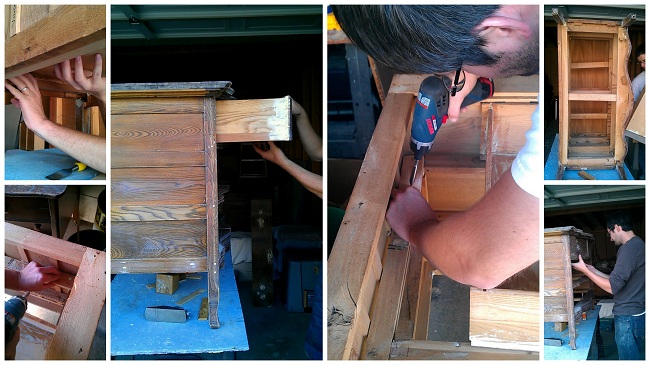 4) You don't see much, if any, of me in these shots. Just some of my handiwork (I filled the dresser body with putty and sanded it.) Someone has to take the pictures and someone (ahem me) is not a fan of being in front of the camera. It doesn't help that I look my worst when we're in the garage. I don't care but I've scared bicyclists away. Okay, so maybe it was a coincidence that the biker had a look of repulsion on his face while looking in my direction then peddled away as fast as he could. So what if he was about 6. Kids are honest.