Feeling behind today. To update you with everything in our lives I'll share the list I have going on in my head.
1) Still sick. No fever. Nothing that's infringing on my ability to do things but I'm tired of it and hoping it goes away soon.
2) Henry, our 8 month old sheepdog pup, got into a bur patch Saturday. After 2 hours of trimming, he has a short, botched job again that has received a number of comments from the peanut gallery at the dog park. We're not dog stylists.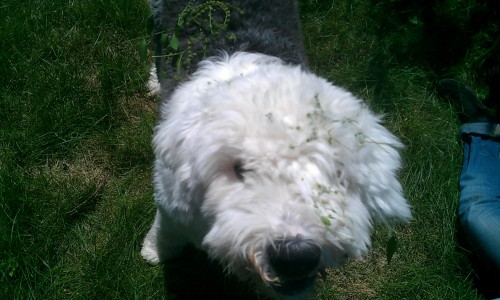 3) Greg is going to see if he can log-in remotely and work on projects for his day job at home which will help cut down his traveling/gas money. Maybe this will help my concerns about his precious time with his precious family. He begins going to the Minneapolis metro facility later this week. The raise is helping around here already.
4) Storms came through right before the weekend making it difficult to till with all the rain so we had to reschedule work on the other side of the yard until this week and next weekend. Thanks to those storms, our yard was a branch and twig graveyard. But we also have new grass popping up. A little over a week after seeding the yard and we've got this…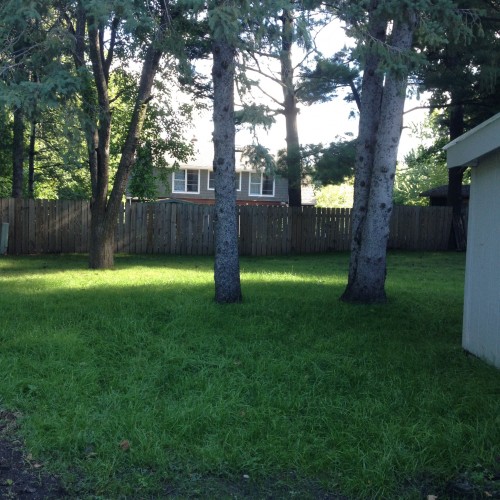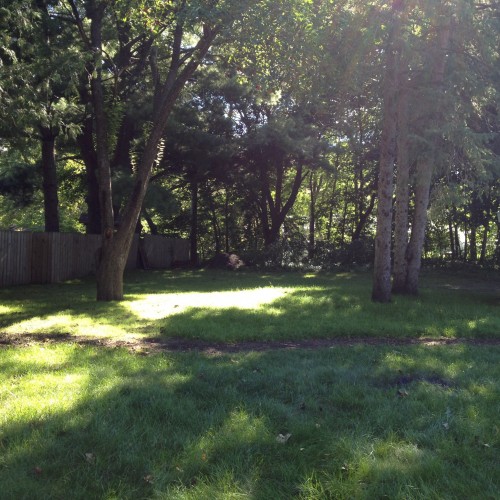 5) I decided to tell you guys about the architectural salvage store in the fall when we undoubtedly will be purchasing more things for indoor projects (yay). Plus, unless you live close to us (hi), you probably have little interest or could get blue because you may not have such an awesome place near you. I'm protecting you from that feeling. You're welcome.
6) $2 vintage adjustable brass light find over the weekend. Could be worth several hundred bucks. When I spotted it I probably looked deranged. And I was ready to body check anyone getting ahead of me or nearby before I could put my hands on it.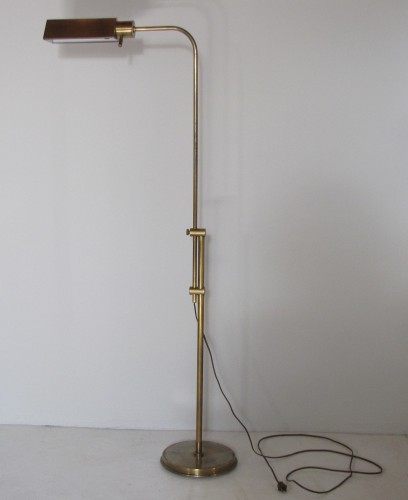 7) The window well was collapsing in on itself and not put together very well so it required digging, demo and restructuring over the weekend. Now you can open the window in case of a fire or escape like you're supposed to with an egress window. We have to put the dirt back in around the treated posts tonight. And mow. And put more wood filler on the cabinet. And sand the chairs. And entertain Henry, who is bored most of the day, by taking him to the dog park. Make some dinner. Discuss where we're at with projects, go over needed supplies and a timeline, and talk about our days. And hugs. That's required. All in a few hours. Yeah, not all of those things will be done. That's a typical evening for us.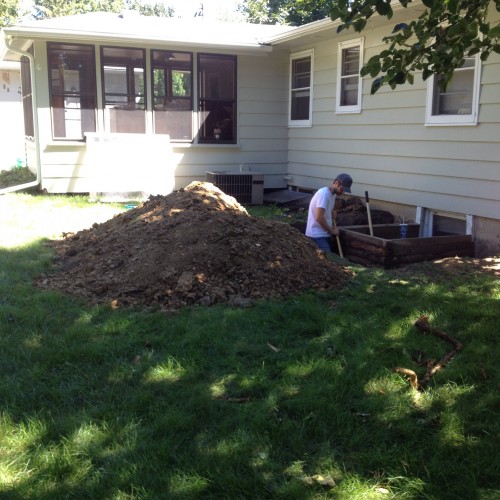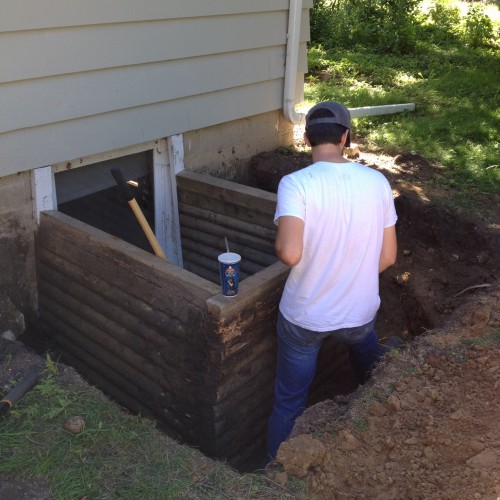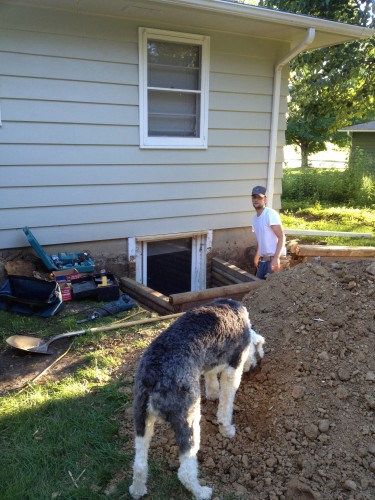 8 ) I listed the bench we found months and months ago (and the folding chair). I picked out some new upholstery from Tonic Living (awesome fabric resource) for the bench and did a little repair on the base. Voila!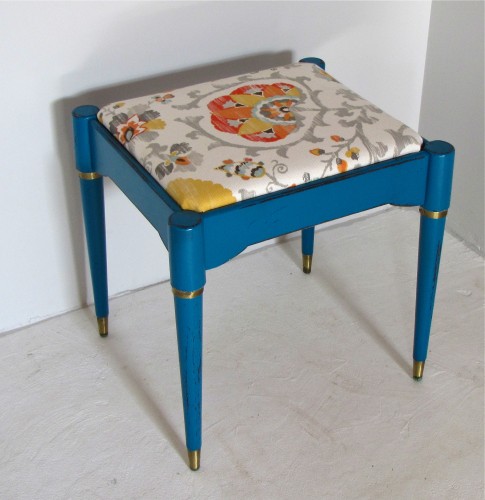 9) Supplies are ordered to finish the cabinet below. It's taking a while because it's in seriously rough shape.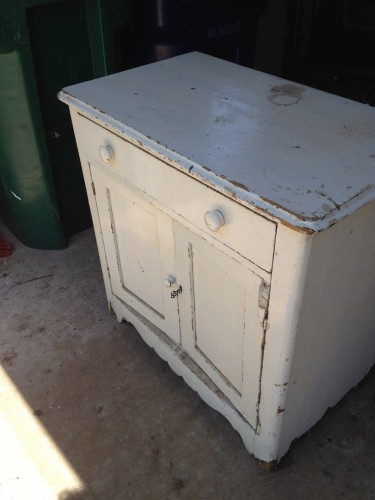 10) I haven't shared all my finds and instead just put them in our etsy shop. Bad Annie. I'm happy to say that a good deal have found homes already so I don't feel too guilty. Now someone can enjoy them as much as I did when I found them.
11) The empire dresser went to a nice, newlywed couple on their way from Brazil (her home country) to Philadelphia with a stop at his parent's house in St. Paul. Great people!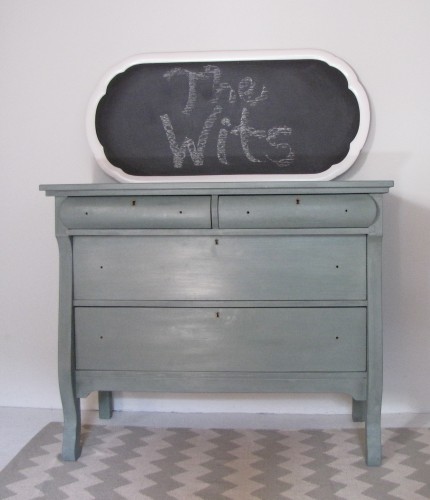 12) We sold our credenza through craigslist to a wonderful human being. Once he found out what it is that we do, he asked that we keep in touch (and he was super impressed with our lamp find). It's majorly sad in our house in terms of our own furniture. We have a couch, floor lamp and our tv on the coffee table. That's it in the largest space of the house. When people stop by I'm pretty sure they are scared. We see it as a means to make renovation easier.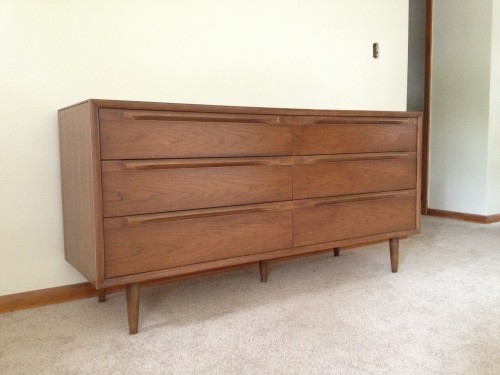 13) Holy crap, it's August. Our nephew's 2nd birthday is coming up, Greg's 28th is coming and in less than a month is my 30th. Shitballs. I mean…no that's pretty much how I feel. I'm positive my 30's will be better than my 20's. That's what they say anyway but I really believe it.