I lied. Lied to my readers on my food blog, the Dabble, about how we were going to be "toiling" over the backyard on the 4th of July. How we were going to be sweating, bit by mosquitoes and all kinds of uncomfortable things in the name of progress. But we didn't. Shame on us. It was about 100 degrees with high humidity so we re-evaluated where our focus should be and since I complained about things going wrong on that front recently, we came to the conclusion that the furniture business needs to be priority numero uno right now.
Since we've been on the same two pieces for-ev-er.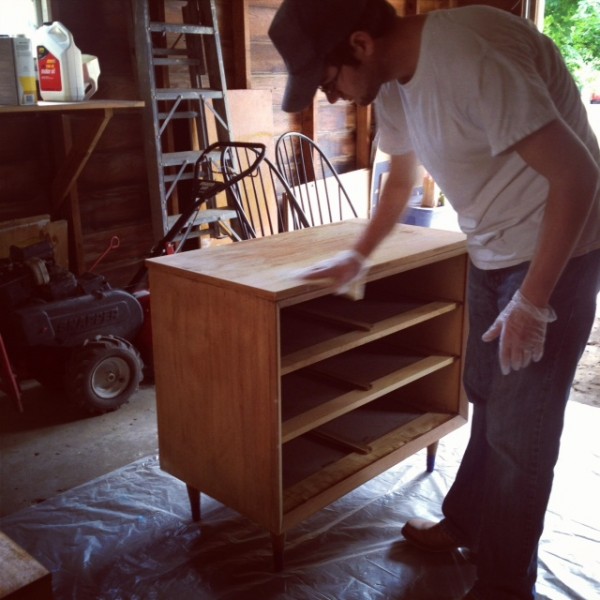 That's just what we did in our cool basement. Greg and I headed to our "furniture refinishing room" downstairs (that's seriously what we call it…so creative, huh) and got back to business. The outdoors wasn't avoided, we grilled and watered our growing grass…that's right, we Witkamps have sprouted grass in parts of our yard. Woot!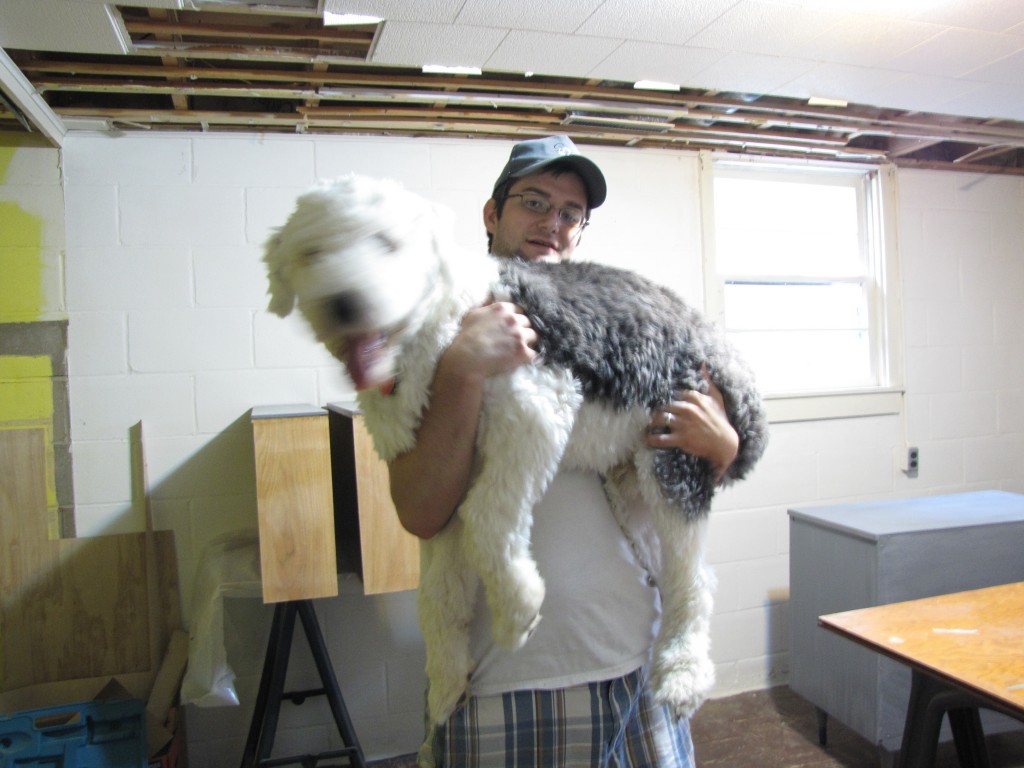 Then we took Henry the pup to the fireworks where he just wasn't having it and because I didn't realize the fireworks were not in the same spot as we saw them last year, we were around a large crowd of folks instead of our secluded spot. A bit embarrassed about our dog freaking out even though he's normally not bothered by loud noises, we left for home where there was nothing going on on our side of town in an eery no one exists any more kind of way. Went to bed around 11 so Greg could get to his day job today around 6AM. He's probably grouchy tired.
While taking the day to work on the two dressers, we encountered a few problems. A pint of Benjamin Moore paint (free…except tax with a coupon in a magazine) was calling our names after we decided that would be the way to go for the contemporary dresser. You know, after we decided the glossy oil-based wasn't going to work in the humidity with equipment not quite right for the job…we attempted to make that work 3 times with lots of sanding inside our hot garage (needs insulation). Well, that Ben (we're on a first name basis…only not at all) shade wasn't quite what I was looking for so back to the store once more. Thank goodness it was open on a holiday. We picked up a darker shade, got home to see it went on more like a purple brown which is not what we're going for. I started to think it was mixed wrong until it dried and became something more along the lines of what we're hoping to achieve. Phew. I'm not getting another color. This thing needs to be finished.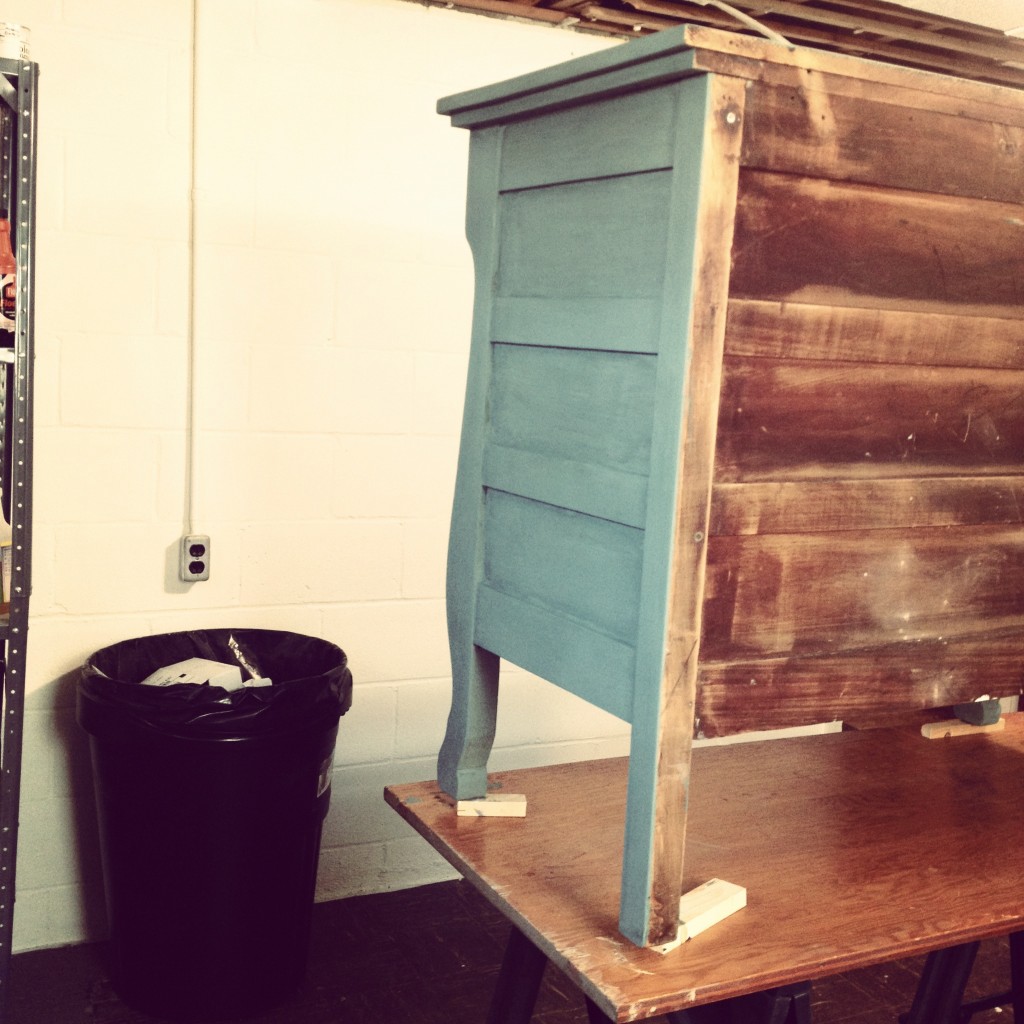 The empire dresser awaits hardware STILL. I waited a few weeks for some supposed "antique" knobs from the U.K (found on ebay) to be ticked upon their arrival. Not antique, 9 of the 10 had major damage not disclosed and the seller never contacted me back. To return these wouldn't be worth the price so these ugly things sit in the hardware drawer. I also ordered some hardware on etsy to add a little something to the mid-century dresser we have in our etsy shop and while they were lovely, the seller listed them with the dimensions rounded up which made them not work at all for that one. I waited a few weeks for those too.
I'm the kind of person who knows what she wants and will look tirelessly to attain whatever that is and the empire dresser needs some spectacular antique knobs. Pieces requiring 6 drawer pulls are easier to find hardware for but this one needs 8. I should clarify, finding one-of-a-kind, antique/vintage hardware in sets of 6 are easier to come across than 8. The majority of our pieces have had new hardware where you can just order however many your little heart desires. My little heart desires knobs you can really only find on etsy or ebay. It's proving a major pain. I dont know that I would do a similar piece without first having the hardware and building from there…which I usually do. Like I say, great hardware can make a piece.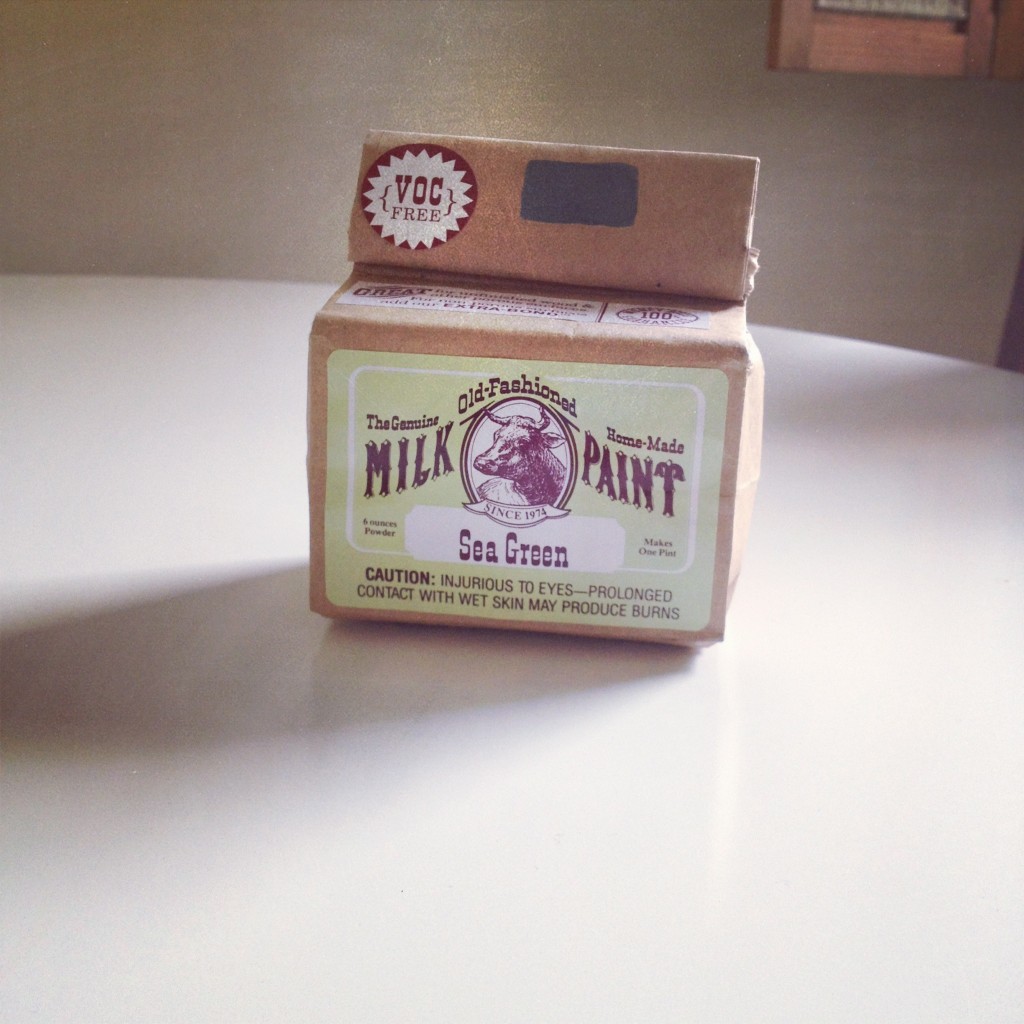 But I must say the milk paint we used is awesome. I love milk paint. As long as you mix the powder (real milk paint is a powder you mix with water) really well, you won't have problems. As in just when you think your arm will fall off, mix some more because there are sure to be pockets of powder somewhere in there. Each piece of furniture comes out unique with this paint. It does what it wants as long as you put the paint on the piece (similar to it puts the lotion on the skin) and I have yet to be disappointed with the finish.
The finish on the empire dresser reminds me of a vintage chalkboard with just the right amount of cool, understated beauty and is similar to chalk paint. As it ages, it can chip or flake adding to the character. Even though it's not required, I would put a finish, wax or poly, on it to protect it from moisture. And is this stuff durable. Greg called it a candy coated finish after we sanded the first coat which deepens the color. He's impressed and wants to use just milk paint from now on. The only drawback, like chalk paint, is a limited color range. And I can't devote myself to just one type of paint so probably not happening, honey. Check out the pieces Miss Mustard Seed has done with both milk and chalk paint for a better idea.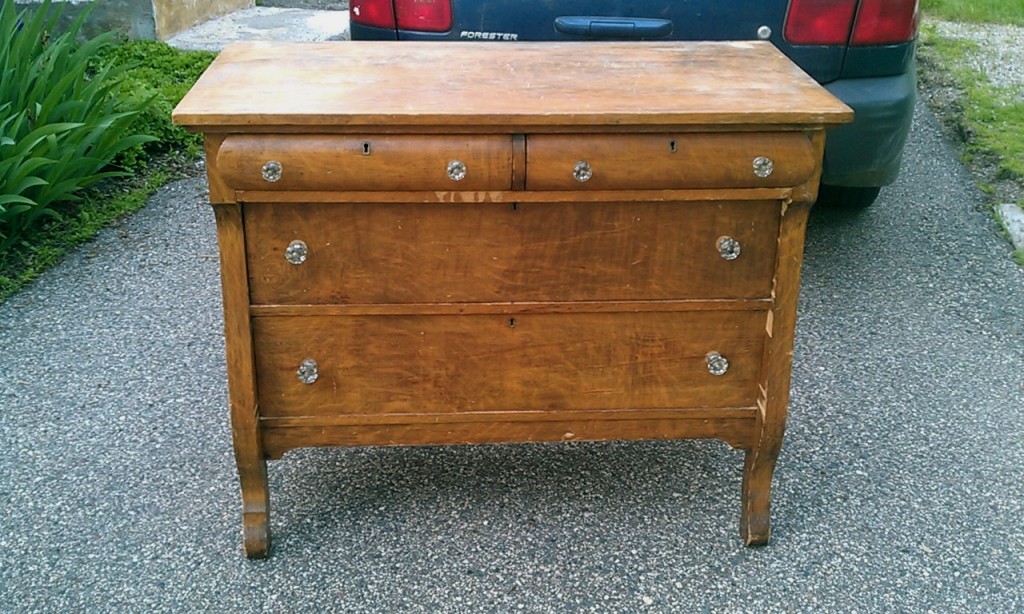 Since I've been talking about it long enough, here it is, the empire dresser (minus hardware). A good cleaning, drawer stops fixed, some filling, lots of sanding, some milk paint and wax coats, reinforced body (nice and sturdy now). What hardware would you like to see on it?