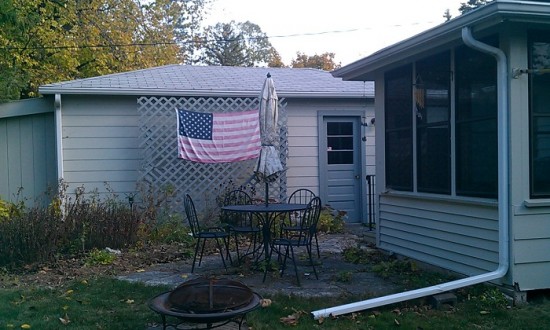 You're saying it's almost the 4th of July? Whoa. I had all these plans in my head to decorate for the 4th since it's our first in our first ever house. Flags lining the driveway, flag flying, backyard dining with traditional foods and drinks (and a cute table setting). But no. We do have the flag left by the previous owner up on the garage wall. There's also a sticker on our front door from the previous owners (the only one I left up) that says 'God Bless America' but otherwise, it looks like every other day, nothing that screams "we're celebrating our independence going on 236 years Wednesday and we're damn proud." Instead the place is kind of screaming "help me." Oh the transitional period of renovation.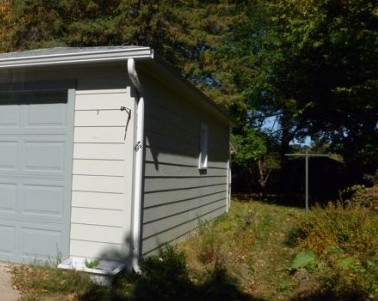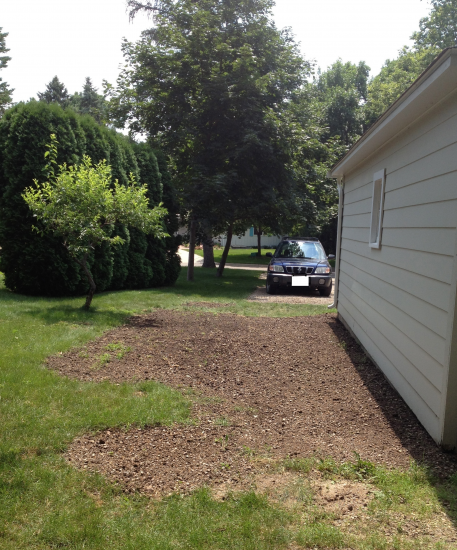 It's hectic around here right now. Borrowed water sprinklers and hoses everywhere, dirt, lots of mud, dying plants that used to be attractive landscape due to the sun beating them up. (Watering hasn't helped.) I finally pulled the weed-like plants from the front of the house because even when they had a purple flower they were ugly. The front needs attention. Plans are to rip it all out and design something new. There's no money for this right now so the neighbors will have to continue driving past with disgust on their faces. So it's not that bad but it's definitely not what we want to reflect. All the rock and old mulch is not something I'm looking forward to taking up since we're still digging up roots in the backyard weekend after weekend.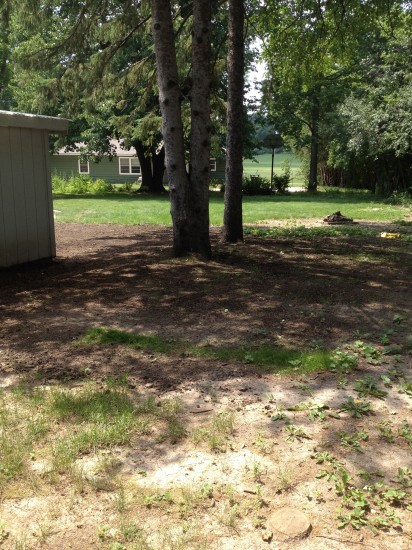 Reality check time: I had a meltdown this weekend because it feels like that's the only thing we ever do and I'm over it. 3.5 months of digging and piling rocks, bagging and ripping out weeds then going back to a spot because it has grown back had me losing my cool. Not to mention every time we get rid of the bags, trash and whatnot, it piles right back up because we have that much to clean up. And the mosquitoes are awful. I found out I have a worse reaction than your average Patty and the area bit becomes huuuugge. I itch everywhere. Everywhere. And I woke up with a swollen arm a few weekends ago due to one bite. The bug spray we bought doesn't work. I have 11 bite marks on one forearm and about 4 on my face. All this for the sake of grass and getting to a point where we can regrade the yard. But it looks better after a long day. I'll show you later with those pictures we were sent. Any work in the house has been put on hold.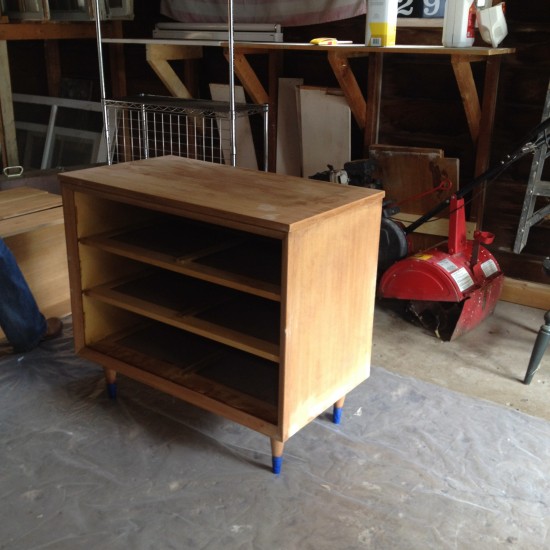 Things have not been going well for those 2 pieces we started weeks ago. With little time, hardware arriving not as described by the seller (have to start over looking for the perfect knobs for the empire dresser), the oil-based paint cured…with a ton of fibers in the finish even though we did our best to keep particles from flying around in our garage (too bad this is our first project in the garage with all its suckage) and the humidity makes curing time much longer so we're starting over on that piece and avoiding oil-based for now until we can purchase the proper equipment to avoid these setbacks. The only success we're having around the house is getting some grass to grow. And we're still focused and working hard to eliminate those 2 debts I mentioned before so we can have more moolah to work with…it's a tight, think spandex, kind of budget these days so I have been unable to purchase supplies I need to start or finish other projects. Kind of driving me crazy. I feel like I'm in slow motion. But it will be worth it to have that money.
As I've said on our facebook page, we picked up that great antique furniture from a local woman after she contacted us to see if we had interest in her pieces. We went to their barn (which was some great space) and picked out what we could afford. Might get more later. Thanks, Eileen!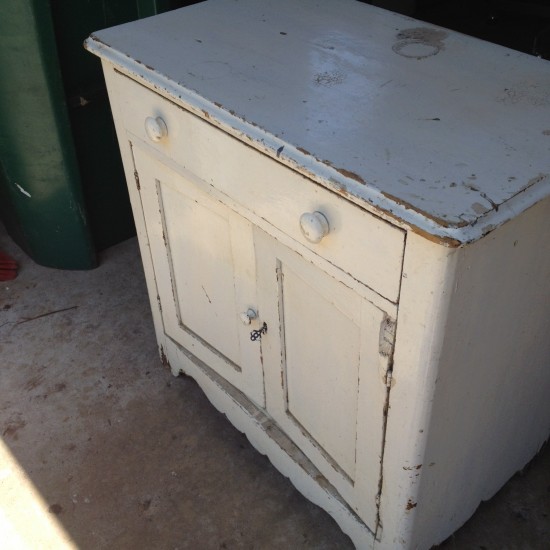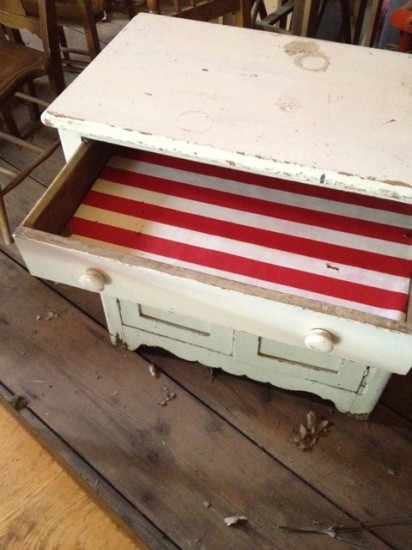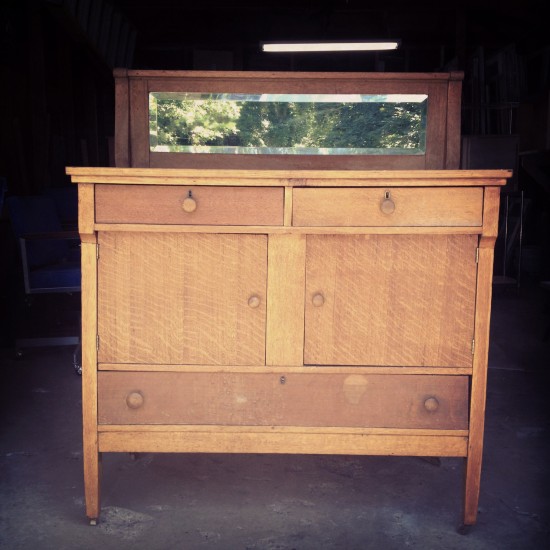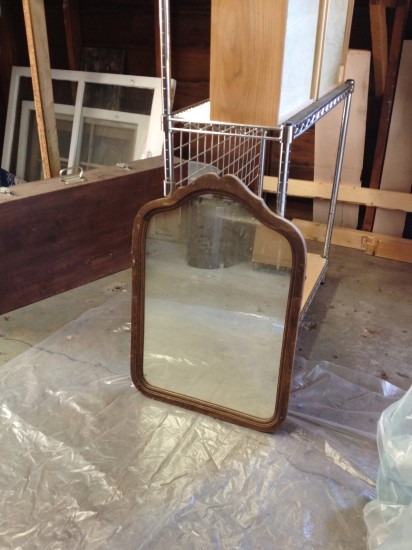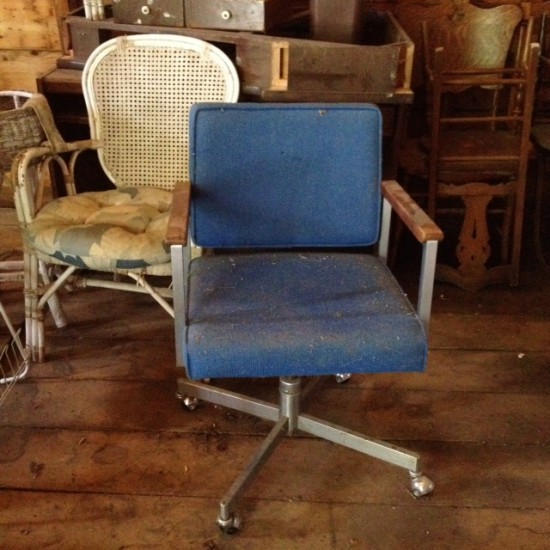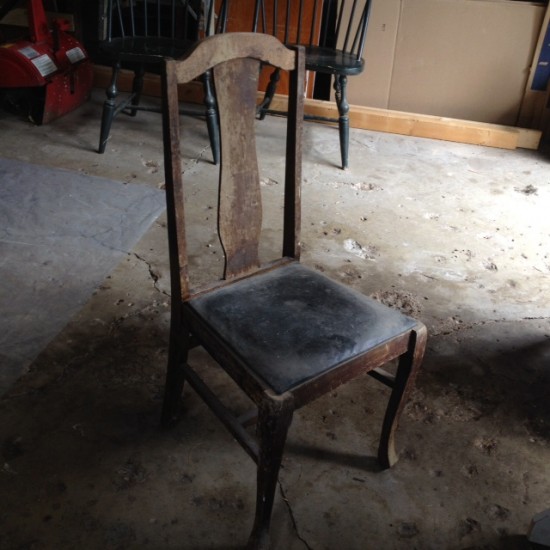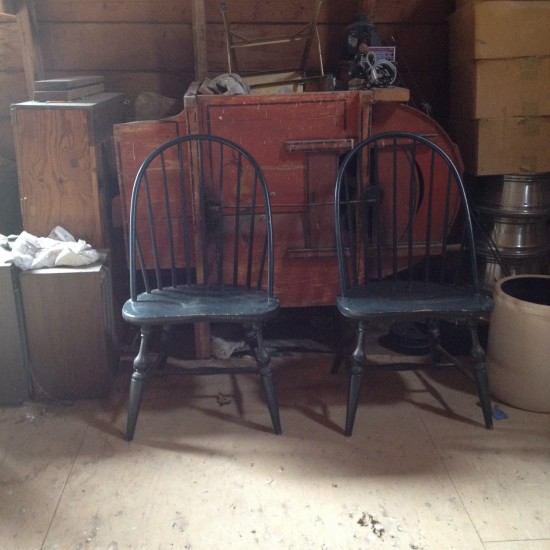 On the way home from picking up those pieces, we spotted a farm sale where I found this cute little number.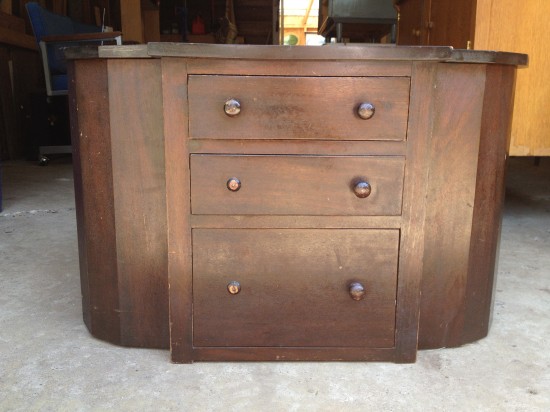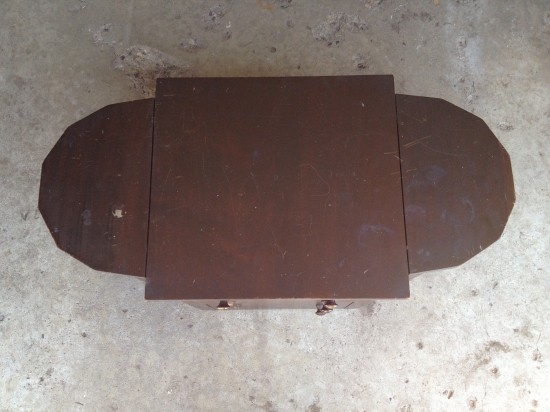 It's an antique sewing storage table. The legs seem a bit wimpy for it and one is broken so we're planning on making it more of an entry table with new legs. The sides open to reveal deep pockets that I think would be great for umbrellas. Unlike many sewing cabinets we've seen and passed on, the drawers on this one would be ideal for keeping all those whose-its and whats-its collected and the top would be a great place to drop the mail off and place your keys or decorate with a lamp and mirror above. Most of those sewing storage pieces are set up so that using them for other purposes wouldn't work very well.
We had another reader tell us how she looked at buying our place (well her parents did since she was out of state) at the start of October 2011-about a month before us-and had pictures if we wanted them. I am so glad she did. When we first saw this house it was turning more towards winter and not looking too spiffy. I believe it was raining on our first visit. Now I can show you what some rooms and the yard looked like before we attacked renovated in later posts. Thanks, Maren!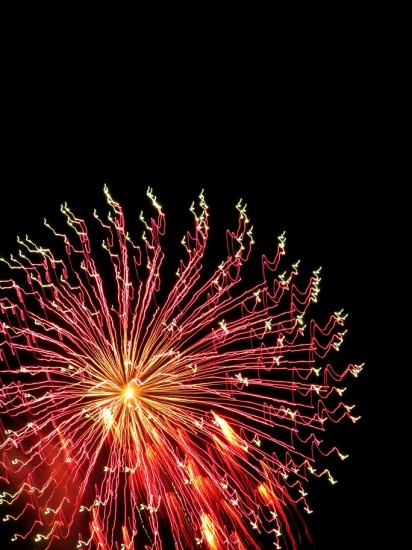 Back to the 4th of July. I'm feelin' all reminisce-y
In the good old days, we sat in the back of my dad's truck, watching the fireworks from the grocery store parking lot or my favorite way, on a quiet, lightning bug-filled country road near my childhood home. It was always beautiful from our house, out on the deck, because we could see the surrounding city/towns fireworks from a distance. Fireworks in the round. Or my hometown's best spot was right on the baseball field at the park close to where the pyrotechnics were launched. Lying on a blanket, staring at the sky, sometimes wondering if the firework debris would fall on us. You could then see the flag made of sparklers at the end, only for the close spectators.
And there was that year where a bunch of my friends came over and in good fashion, had a bottle rocket fight in the front yard and our own ground show. My old Eagle Summit car took some hits and my parents might have been upset with all the sticks left in the yard (my friends and I tried to pick them up before leaving). My dad is fond of doing his own show. It can be safe and fun. Except the bottle rocket fight. If you aren't involved it's fun to watch. Aerial fireworks are not allowed for individual use here in Minnesota (yet…a bill passed not long ago to change that…we'll see what happens if it goes to law).
There will be some grilling going on this year here, a little work on the yard and fireworks. Henry, our sheepdog, will have his first encounter. It saddens me to say many places around the nation will not be having fireworks due to extreme drought. Most of our family won't be going to a firework show until September, rescheduled due to the heat and conditions. They had a huge storm back in Indiana last week but it had more wind than rain-like 90 mph winds. Some don't have power, many didn't all weekend long, and there's a lot of damage. Large trees I grew up admiring are down. The landscape will be different next time we're there for sure. I hear they might have had some rain yesterday. Fingers crossed for more.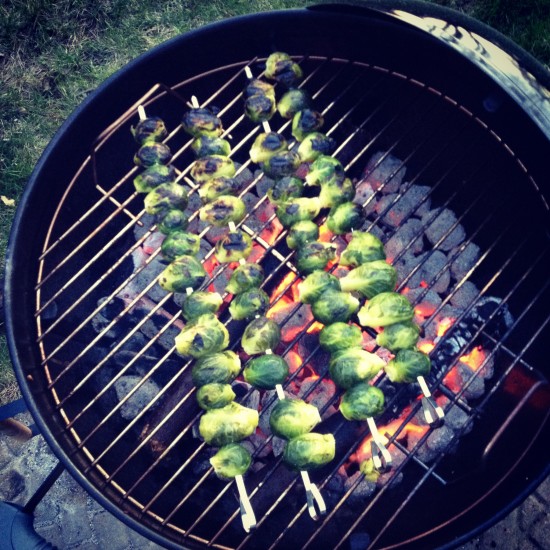 I will probably play my favorite patriotic songs from a cd I made a few years ago. It makes me cry. I am proud to be an American as Lee Greenwood sings (as sappy as that seems). But Ray Charles 'America the Beautiful' is the best. Grilled chicken, corn on the cob, and watermelon are on the menu. What are you plans for the 4th of July? What is your favorite memory of 4ths past?
I hope you are safe, cool and that you get a chance to celebrate the 4th with those near and dear to you.