I'm at a standstill with the 2 dressers we're making over. Greg has some big projects/deadlines at work which has kept him away. I've heard phrases like "my brain is broken" and "I'm too busy to think" (?) and for weeks I've seen my poor husband look mighty stressed.
However, we're basically at a point on one of the pieces that is what we refer to as "his area." I don't dare touch that part because he is much better working with the putty (a true talent and more complicated than wood filler) and we can't afford for me to screw it up. I've been trying to get the grain pattern out of the drawer fronts all week, coats of wood filler and primer day after day without much progress so we're bringing out the big guns and puttying the entire fronts for a smooth, even, non-grainy look. And I have ruined portions of projects before due to my lacking skill and impatience. Maybe moreso impatience. (Greg says I didn't but I'm hard on myself and he'll eventually admit it set the project back a day or two which drives me crazy.) Hence, "his area." The other piece is waiting for the supplies to arrive. We splurged so I'm hoping it pays off.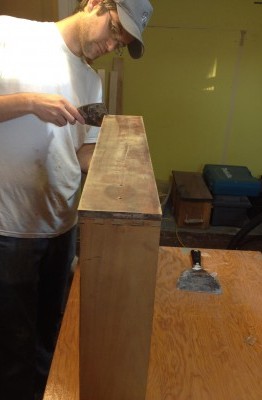 We'll get back on that this weekend. And raking. The wind showed up in Minnesota, as did the cooler temperatures, so we've got a ton of leaves from the dozen adult trees around the property. It's going to be a bit challenging to collect the leaves in the backyard where the new grass is…it will probably pull right out. Maybe we'll just let them blow away, right into the neighbor's yard. We didn't get to rake last year's leaves until spring when we started on the backyard because we didn't move in until mid-December. The only house on the lane with leaves still everywhere through winter and a wet mess to clean in the spring. Oh well, it's over.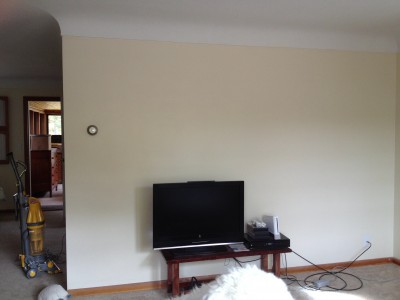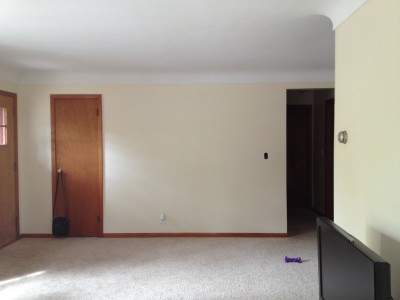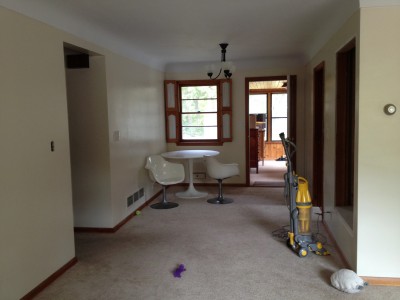 Until then, I'm going gangbusters on a project for the living room. One I thought would not be happening this fast. Mounting the tv and hiding the cables in the wall. Sounds all complicated but is pretty straightforward when you review the steps. All we need to do is go get or order the articulating mount and these cable plates (we did consider the plates with the fancy organization but they are about $35/piece and these are around $4/piece). Then I realized that we probably want to have the wall painted before this which began the search for the perfect Benjamin Moore gray paint.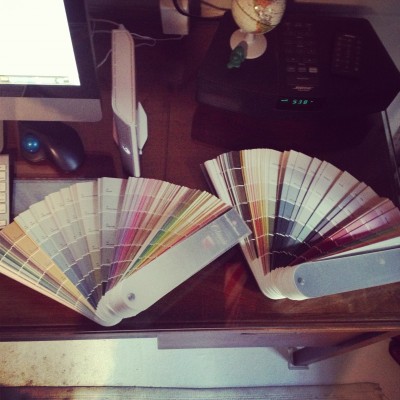 I've had my heart set on a shade of gray before we even had a house. Gray is a neutral and I think it will please both myself and potential buyers when we put the house on the market. With new trim eventually. I've been keeping track of Benjamin Moore colors through other blogger projects and Pinterest because not only is Ben Moore a quality product (not affiliated with them although we wish) but it's also at our local hardware store in this small town which is amazing. Do you remember those sample fans I picked up at a garage sale months ago for super cheap? Well, me neither until today. They are coming in quite handy. I plan, Greg doesn't know this yet, to pick up some samples, put them on the wall, then pick "the one" soon. If money weren't a thang, I'd have roughly 100 samples on the wall. (It's hard to avoid saying 50 shades of gray like that naughty book that was everywhere recently when talking about actual shades of gray paint.)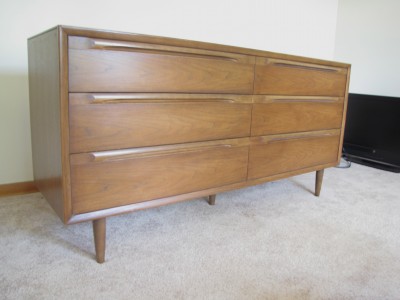 I'm also kind of kicking myself for selling our mid-century credenza a few months ago (even though it paid off the Sallie Mae student loan-I was raising the roof as I said that). That style is popular right now and you will pay through the nose, even and especially on craigslist, for such a piece. When we bought ours-with a matching nightstand-we paid $60 for the two. No joke. I'm trying to find a credenza a little smaller in scale than the last one though and anything I find is either sold immediately or way over what we're willing to pay. The tv is sitting on our coffee table and a plastic tote has been our new coffee table for months. High class living right there. Embarrassing.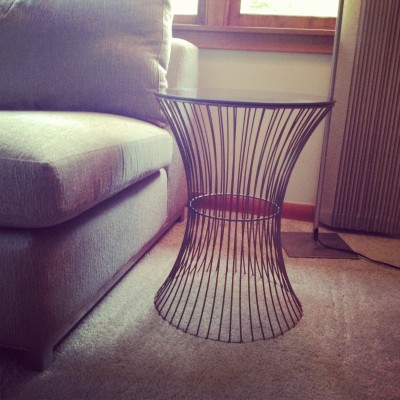 Anyway, with the paint and tv mounted on the wall (we've never had that and it seems so…umm, with the times, I guess) plus a storage piece (mid-century credenza/buffet/dresser/lowboy/whatnot), I'd feel a ton better about living like vagrants in our own house for the last 9 months. It would be awesome to attain a portion of design and decor in the house, you know, since I like that stuff, instead of having a place void of our touches. We've been making do with the bare essentials in the house, most money going to furniture refinishing and yard projects, not to much furniture for ourselves. We have a couch, lamp, side table and dining table with exactly 2 chairs. It is sad. It's not like I want to fill the place either. We are minimal livers but we've been uber-minimal for a long time. I think it has scared clients and people that show up here through craigslist. I often find myself sharing my ideas with strangers that come by because I feel guilty and that an explanation is needed so we don't look like weirdos. I think that scares people more. I've reenacted moments like those to Greg, really playing up my awkward need for acceptance and understanding, it usually ends with me grabbing the person's leg, laying on the floor while screaming "we're not weirdos" as they drag me across the floor trying to get to the door. 9 out of 10 people ask what the large hole in the wall with the "stairs to nowhere" is all about (the new attic entry that's not finished). I tend to get tongue-tied/can't find the words and come off more moron than design genius. I'd rather show than tell.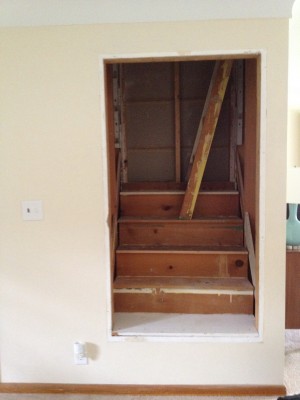 Anywhosal, the gray paint will cover the living and dining rooms since it's an open concept so it's kind of a big deal, to me, to get the right color.
Do you like gray? Any favorites? Any other color suggestions?