Call me Ms.Change My Mind but the Benjamin Moore shades of gray aren't doing it for me. At least not for the picture I had in my head of the ideal gray for our living/dining rooms. (Check out my last post for an answer to what the hell is she talking about.) I like the colors perfectly fine but not a one of the 7 tested on the wall made the grade. I narrowed it down to 9 but the store ran out of sample pints so the last 2 wouldn't happen until this weekend. A few more glances tells me they will probably be too warm too-Benjamin Moore Stonington and Gray Owl. One or two of 7 on the sample wall might find their way into other rooms though. I made a chart for future reference on some cardboard, be it for furniture, other rooms, whatever else I might paint.
So here they are…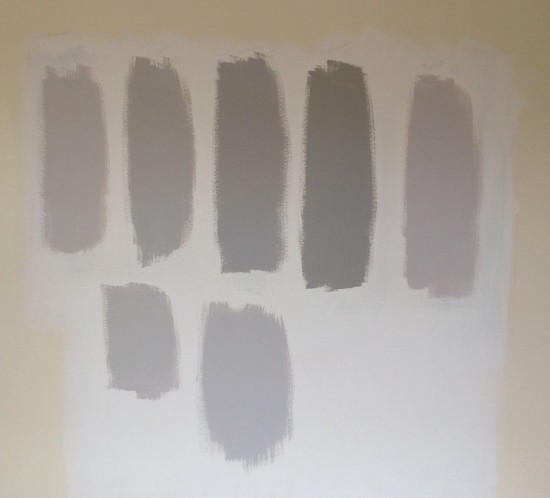 On the top row, left to right. All Benjamin Moore. 1) Cement Gray 2) Smoke Embers Gray 3) San Antonio Gray 4) Platinum Gray 5) Metro Gray. Second row, left to right. All Benjamin Moore. 1) Silver Chain 2) Harbor Gray.
Lovely but too warm/too dark/some too purple. I seem to be having a hard time finding a gray gray without much undertone of green, blue, beige, purple. Just a light true gray will do the trick. And I won't quit til I find it. The guy at the store asked if I was doing stripes or something.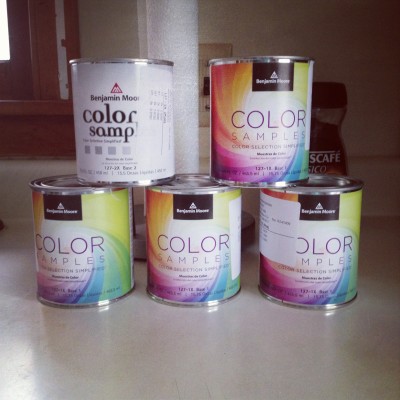 I did use some of those colors on the "stairs to nowhere" aka the newly-made attic entry in an ombre/gradient way. Still working on second coats and priming parts. Not too pretty yet. I figured the only area I could do one of those looks that's been popular for a while now to keep resale in mind is somewhere that will not be seen very often. I thought I could toss all of those looks in one area to satisfy my urge so maybe add the numbered stair idea and some chevron stripes. Too much but it would get the idea out of my system.
The entire house needs to appeal to buyers unless we want to go back and fix something. Which we don't. We've learned it sounds do-able but when it comes time, it will be a huge pain to add to the list. That's why I'm avoiding those DIY stripe jobs and painting one wall an accent color that pops or all those great ideas on Pinterest to add more visual interest. Bor-ing but safe.
We're moving on to Behr which means a trip to Home Depot. I have 9 more colors picked out and plan to bring home 4 or 5. The samples are cheaper than the Ben Moore samples. But I was lucky enough to have free pint coupons for the Benjamin Moore colors. They have been in my Sunset, Real Simple, maybe Better Homes and Gardens magazines I subscribe to and adore.
Also, I'm Ms.Change My Mind because we are not putting the white picket fence up. I'm trying to sell it on craigslist instead. The 36 feet is not long enough to do the job by a few inches. We knew that but thought it would suffice anyway…on second look, it just defeats the purpose and does not fit the look we're going for in the yard. After all that work we just didn't want to settle and it does a poor job of keeping our dog (who is currently sick) away from the neighbors. He could just go around.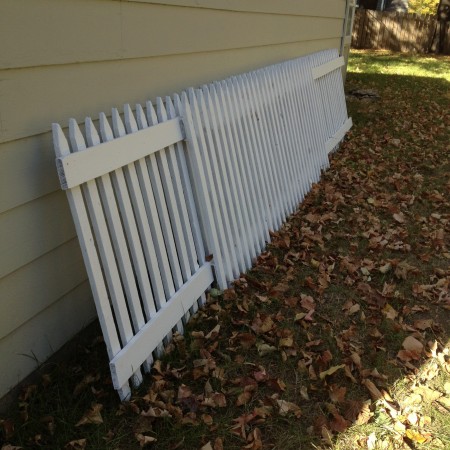 Add a third to the change-my-mind topic because…well, to be fair it's not a "mind change" situation it's more an "improve a previous idea that we hadn't settled on/were confused by because we weren't sure what to do with the ductwork" situation. It's a game changer. Came to me at 4:30AM Sunday. I brought it up to Greg and he thinks I'm a genius. It involves moving some rooms around in the basement. And it solves a lot of problems. If we can really do it, we think it will make the area function and look a million times better. I'll tell or tease you more about that later. Til then, we're heading to the vet for our poor, sick pup.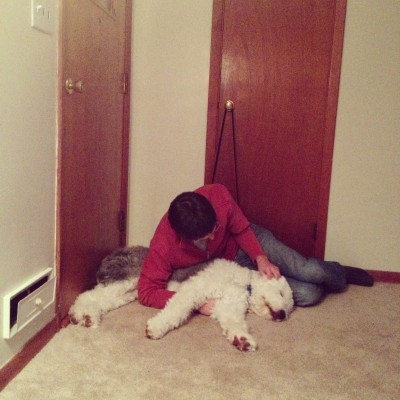 *Update: Our pup probably ate something that caused inflammation in his stomach and after a few days of a bland diet should be just fine. We hope.