Greg and I have been a tad sidetracked by the unexpected "early summer" here in Minnesota. We hit 80 the other day mid-March. Crazy.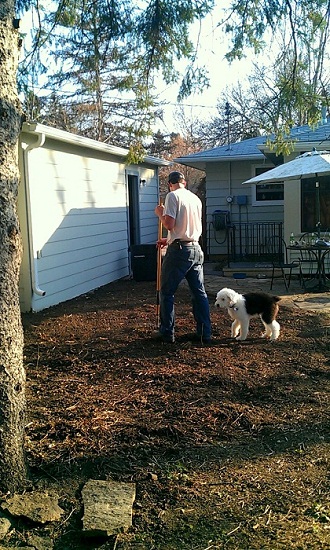 We get to enjoy the joys of our first home in warm weather. That's meant grilling, outdoor projects, taking long walks with our pup, the dog park and driving around with the windows down. Oh yeah (in bursts the Kool-aid guy)!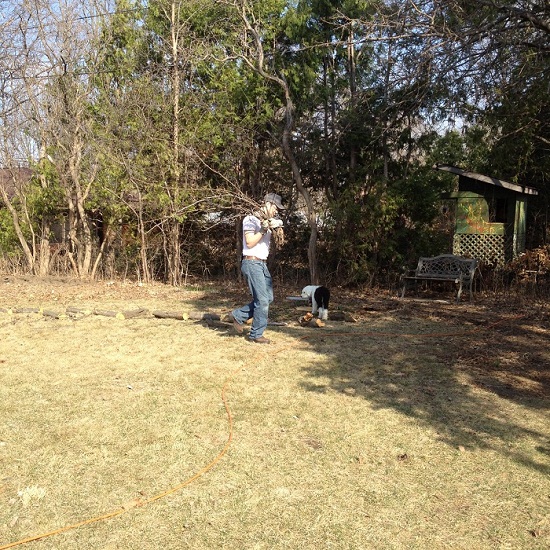 It also means we have purchased a number of things earlier than expected and our tax return is already gone. Of course. We bought rakes, shovels, a charcoal grill, ordered a rain barrel and rain chain (partially so we don't have to step over our downspout in the yard and because I've wanted one for some time), 2 compost bins (not nearly enough for our yard waste) and about a dozen or so other things. Oh and I upgraded my treadmill to a Schwinn I found on craigslist for $100, the best part was that it was in our town, no long distance driving for once.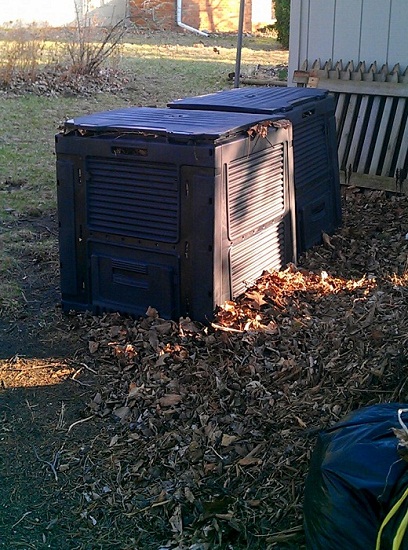 It's put a damper on the studio budget for things like a new desk/workstation, storage system and area rug. I'll be using what I have to make do until I can both find and afford better pieces. But, I know I've been saying it, the studio is nearly ready to move into. Really.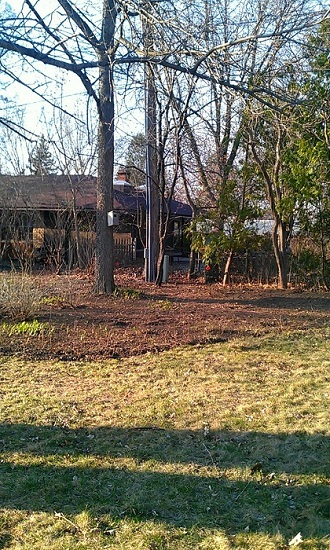 So what went on this weekend? What we call "weekend 2 of backyard overhaul" which equates to us taking things out (even more rock!) and raking the never-ending leaves, trimming some branches, taking down a few dead trees. That kind of thing. Being the sorest we've been in a long, long time. Catch up on the first weekend here.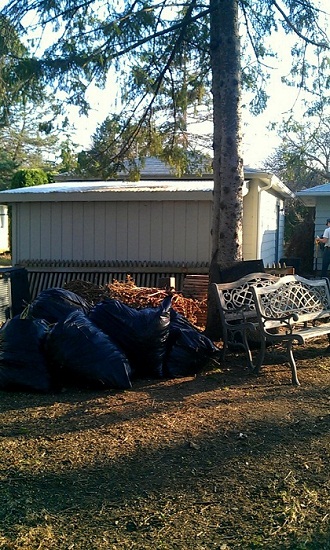 I wish I'd taken more pictures of the outside of the house when we bought it but since it was mid-December, you probably wouldn't have had a good idea with the snow covering some things and blah, drabness of winter. Of the pictures I do have, which now that I think about it, are from the listing agent…when it was first put on the market in the spring of 2011…anyway, they make the yard look much cuter and nicer than it was when we bought it. I'm purposely avoiding putting them up but am kicking myself with the lack of before shots.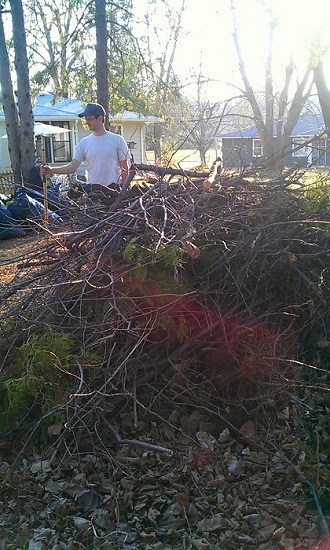 The house was on the market for at least 6 months, it took us 2 months to close and no one was caring for it during that time. So, of all the things we hear around our neighborhood regarding how nice the previous owner kept it, we try to reserve our opinions because it was not in nice condition when we finally got it and many things were left to fend for themselves in the plant world which equated to weeds, dead trees, broken decorations blown all over the landscape (and trash from the neighbors ahem) and overpopulation of saplings (hundreds of them). Don't hate us for not being trellis people. That's not right. We're not "broken trellis" people which is what the two were that were left for us. Did I mention the lumber wasn't treated for outdoor use and rot set in and many other supplies used outside are not going to hold up to the elements?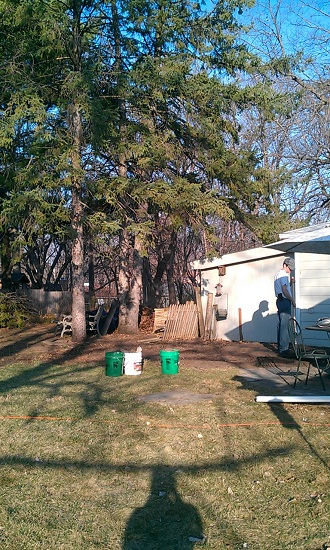 Fourteen hours later, just over this past weekend, and a good portion of the leaves are gone from last fall, most weeds and dead plants are gone, the brush pile is organized and the compost bins are full, as well as, about 10 bags of leaves and debris. The front and side yard still need attention though…next tasks on the list.
It's a work in progress.