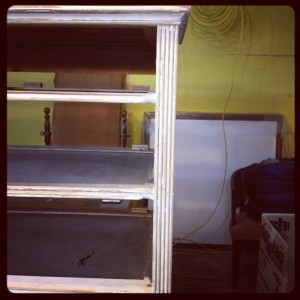 The current client dresser-going to a nursery for twins-is moving along. Being able to use power tools once again, having a heated workshop and running water nearby for clean up plus light for work in the dark, winter evenings makes the process that much more fulfilling and pleasant. I have a hand sander and shop vacuum that have become my best friends-next to Greg. Our family provided most of this necessary equipment so our thanks goes out to them. Since we can use these tools, we can now address more issues or issues in a different way.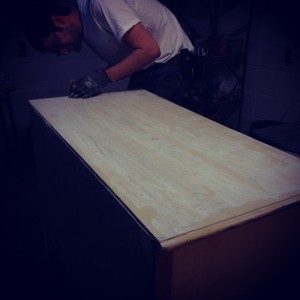 We bust out Pandora on my iphone and get to work an hour or two at a time. This dresser could be my favorite order to date. It has such great bones. The legs (what is with me and dresser legs these days) and the little details rock-a raised portion in the center and some bead work on the upper drawers. Plus the client and I have similar tastes and she communicates well which makes the order feel pretty smooth sailin' so far.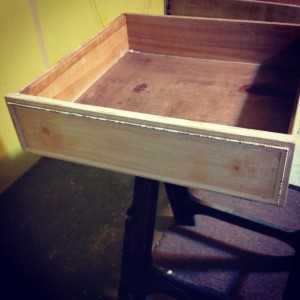 The house work continues. The trailer is ready to go. Our real estate agent was kind enough to let us use his. He is also hauling our junk and helping unload everything at the local dump later this week. This will cost us maybe $70 for demo disposal. Hmm a $450 dumpster versus $70. Big time savings.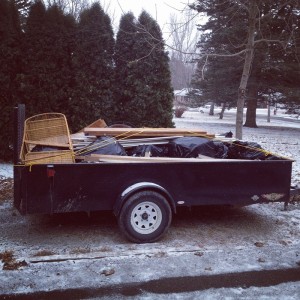 Some rods (we cut ourselves with a handy sawzall), support brackets, storage shelving and a little drywall/paint work brought us to our bedroom closet for about $220. That's a third of the cost of similar closet systems we found on the market. My thought is that I can increase the custom feel and value with thick, unique shelves over the rods. Since we salvaged a lot of lumber during demo, we'll use that material. More savings.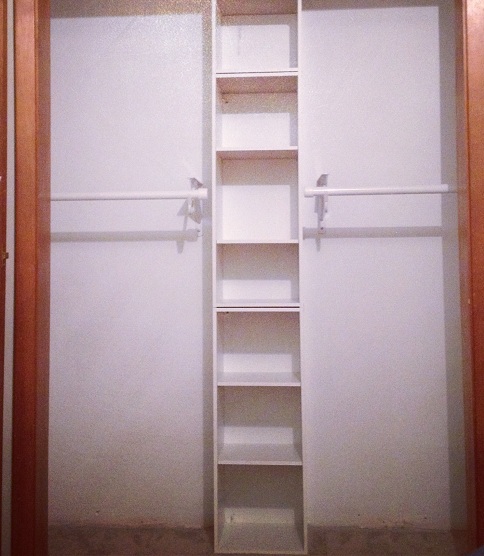 The original plan was to place some kind of shoe storage under the bottom shelf but I couldn't find a unit with dimensions that would work and at a price we're willing to pay. The new plan is to get white storage pieces that fit almost perfectly alongside the center shelving which will add another $100 (unless I find it on craigslist). They are not necessary but I like having my shoes sit on that instead of the floor/carpet. While I'm not picky about my closets-I came from years of apartment living with limited space and storage so almost anything is an improvement- we think the next owner will be pleased with this arrangement.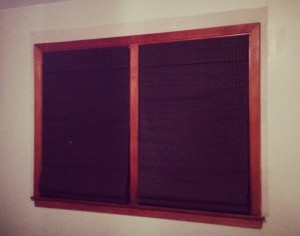 We also put in new blinds. The ones most likely original to our 1952 house weren't cutting it…although I like the design. Am I crazy or does it appeal to you too?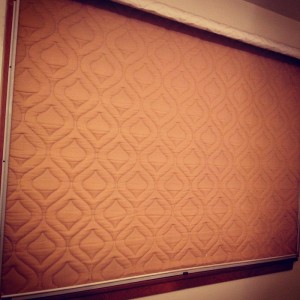 I forget what they are called but my grandma knew and I guess they were popular back in the day. They made everything crazy dark though. Our bedroom now has the natural woven, roman blinds in espresso while the second bedroom has white linen, roman shades. Both allow light in (waking up is so much better with some light in my opinion) but also give privacy.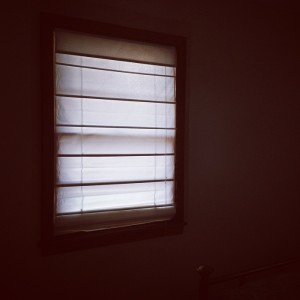 I had a few 10% off coupons. One from our moving coupon package received through USPS and the other when I signed on with Lowe's website. Two checkouts allowed the use of both in one trip. I rarely pay full price for something and I'm a stickler for free shipping. Retail Me Not is a source I often turn to (I'm not affiliated but I'd love to be-they are awesome). I'm not affiliated with any of the brands and stores I've mentioned in this post. I just like them.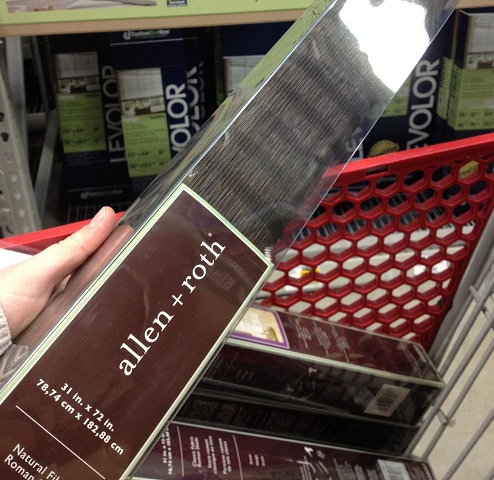 The blinds didn't come without scandal. One package came sans hardware so I called the company, on hold for 20 minutes, to be told they don't have hardware to send out. Thinking we were in trouble since the closest Lowes is 45 minutes away (we just happened to be in the area for other reasons the day we purchased these so we didn't waste a trip and negate our discount), I began to wonder if the savings was worthwhile since it looked like we'd have to go back to fix this issue.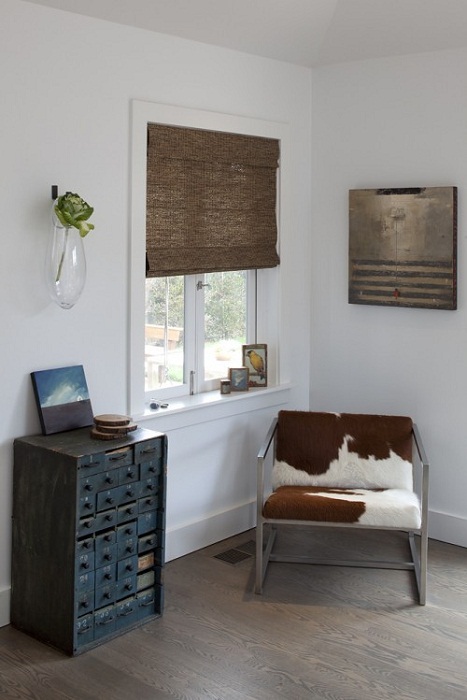 Just as I began to fret, Greg called me in to show me that using the hardware actually makes it look tacky. You could see the plastic attachment at the top. Beforehand, I debated whether to have the shades mounted in or outside the frame and in won-both for ease of finding a standard size and because of the large windows since we're practically on the street and quite close to our neighbor. Greg simply attached the blinds to the woodwork and it looks seamless. I recommend it to others if you find yourself with similar blinds. I think it will look better when I add curtains…another someday project. Along with repairing the walls, painting all the trim white, repairing the ceiling, painting the ceiling, painting the walls, adding closet doors and replacing the other doors. One day at a time.
We started on the new attic entry as well.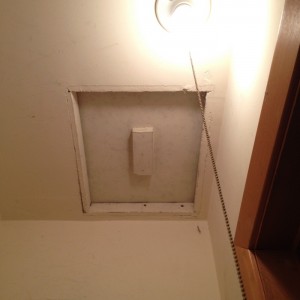 The picture above is the current attic entrance. In a tiny closet (that will soon go away to make more room in the bathroom). I'm a bit claustrophobic. Greg swears he can wiggle his way in. I am not looking forward to this but to move forward with several other projects (electrical and insulation are just a few), this needs done. Greg will need my help. Panic is already setting in. If you don't hear from me in a week, contact the authorities and check my attic.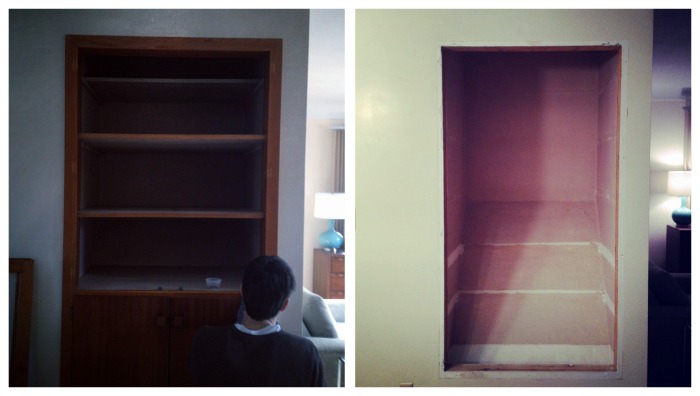 The new attic entrance will be in here which happens to be in the open space between the dining and living room. The area needs to be reinforced so we can mount and build the steps inside.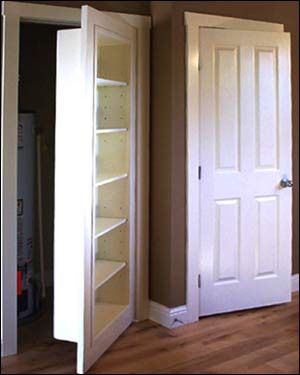 How did you build your closet or storage space? What do you think a closet should include? I'd love to know and be inspired for the other closets yet to be done. Any suggestions for window treatments for large windows (at least 110 inches wide)? The living room still needs new shades.