I'm going to warn you that these photos are not only bad but the rooms are not styled to any extent I am proud of or remotely chipper about and instead are "functional"…and they won't be truly styled during any of the remaining time we have in the house.
The paint is Benjamin Moore's Gray Owl which you can see has a hint of green but is in the gray family.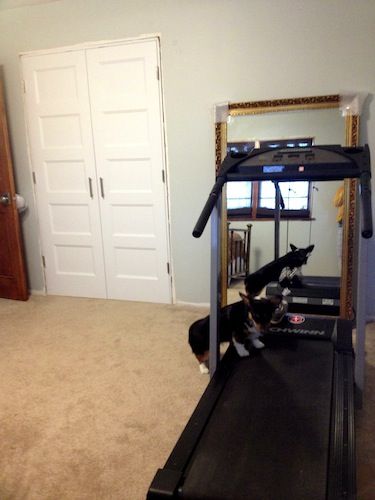 I'm serious about this whole don't mess up the walls thing that I added some cushioning to the mirror which leaves a mark on the wall otherwise.  Vivi is about to get her workout on.
I'm at the point where I could move to Seattle next week but we have at least 10 months left here in Minnesota and lots of updates to make to the house.  But here's the master bedroom that we've turned into the guest room/workout/office for now.  We're still loving the small second bedroom and won't be leaving it anytime soon.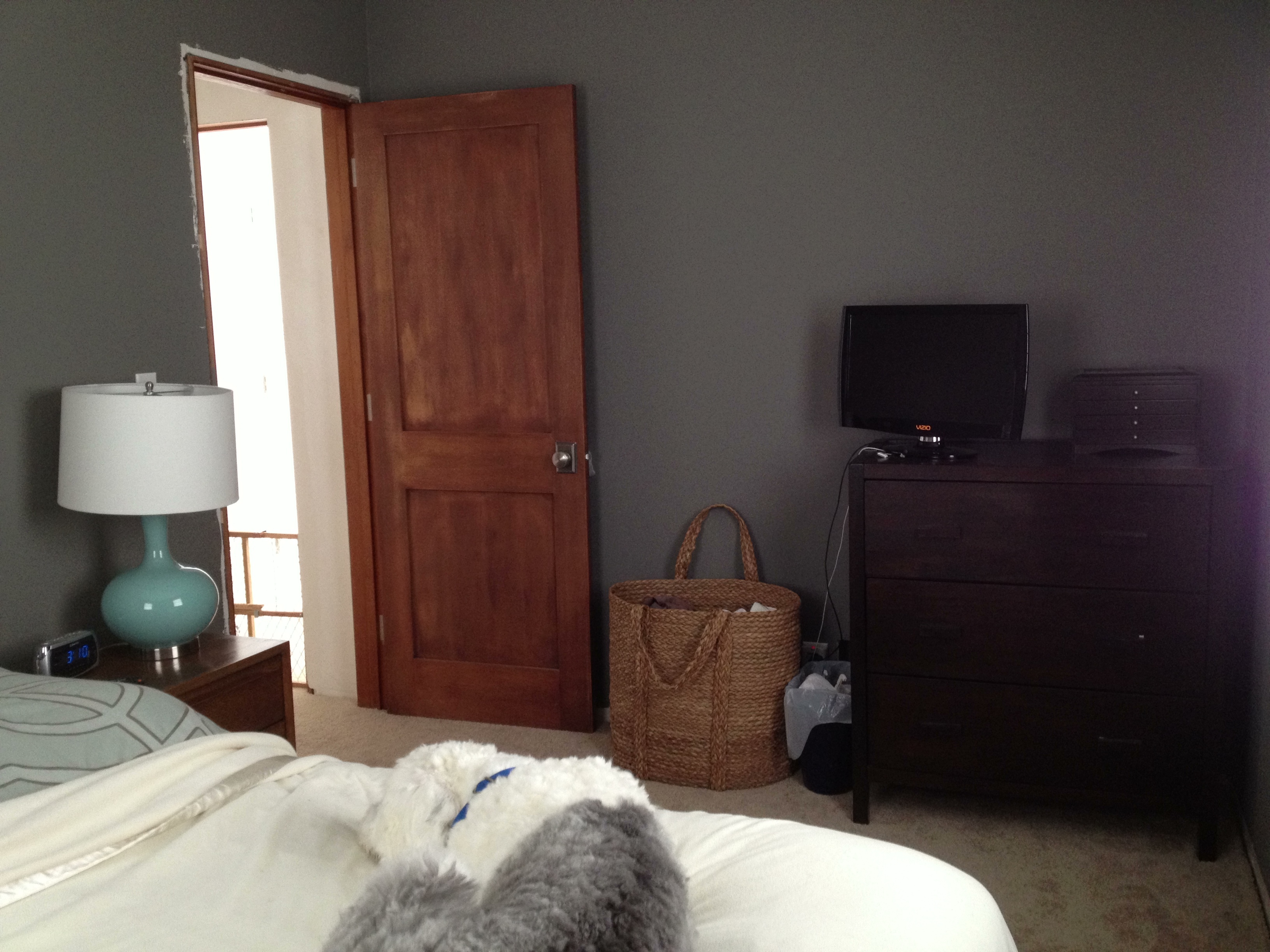 I'm so eager to get going in Washington. To design, create, continue the path to a life that suits who we are with a fresh take, see and experience new things with the knowledge we're going to fully "nest" finally in our adult lives. Maybe I can get out of the temporary/renter lifestyle mode completely and for good-something I've only partially experienced in this house. We came in knowing it was temporary, an investment.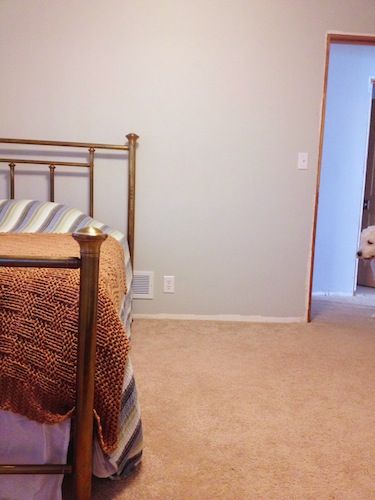 This brass bed is coming with us and we're seriously considering going from a queen to a full size bed as I brought up on our facebook page.
Besides getting things out of the house through craigslist, I'm trying to collect pieces of furniture for ourselves that I can visualize in our next home (most have been "the ones that got away" because I was too late and someone else snagged them)…a place we haven't even found yet or are able to really think about. I'm avoiding getting anything that I don't want to take with me for both furniture and the smaller things which means the plan is to not bring home as much as I did last garage sale season. We shall see. A garage sale of my own is in the works.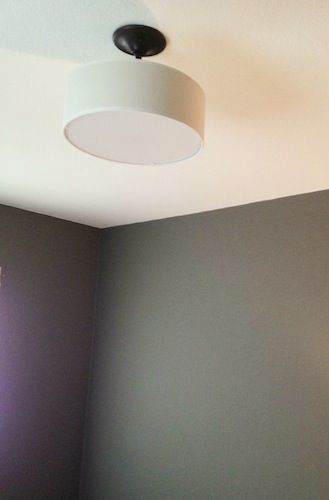 We changed the light in the second bedroom.  Much better.
I don't even want to put pictures or mirrors on the wall because I'm declaring them finished (except trim). They are painted, they have new doors and lighting. Maybe a little wall touching up before we put the house on the market but none of this fill the holes we've made stuff even though it would be a tiny fix. A million tiny fixes add up says my brain.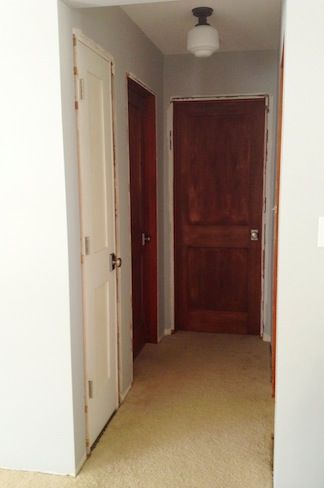 The hall is painted Passive gray like the living and dining rooms and all the new doors, minus the kitchen, are in upstairs but need to be painted.  
My desire to move is far greater than the one to share my design and decor style. I would really like to. I have ideas for the place I can picture in my head but no, keeping it simple so we don't add more to our plates. It hurts the decorator in me to say this. I am halfheartedly putting the rooms together but you won't see much for inspiration and definitely nothing to brag about. So, don't count me out on that side and let's all be patient. I'm telling myself this to ease the guilt of being all about design with a decor blog and not showcasing it. A big part of it is money. I put money towards decorating the house and money won't be there for another project that MUST get done. Therein lies reality.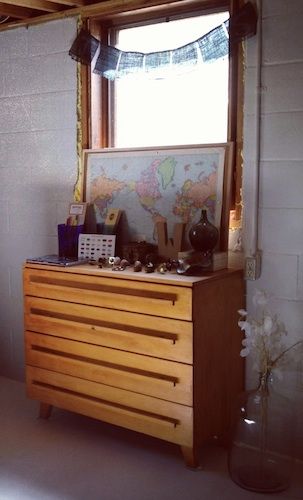 Then there's the dresser I told you about in the last post that is coming upstairs. I've never seen one like it and therefore have this intense urge to keep it for myself and move it across the country with us…which might sound weird but when you've rented/lived in 13 places (one required a 600 mile U-Haul move) in less than 10 years you learn to bring the necessities and get rid of the other things that are not absolutely needed. Overall, it leads to a minimalistic lifestyle which is why we have little furniture of our own in the house. Anyway, once we started sanding the dresser top of its water and coin marks (which took forever), we decided to sand the entire dresser and give it a few fresh coats of Danish oil. It will be ready to come up mid-week.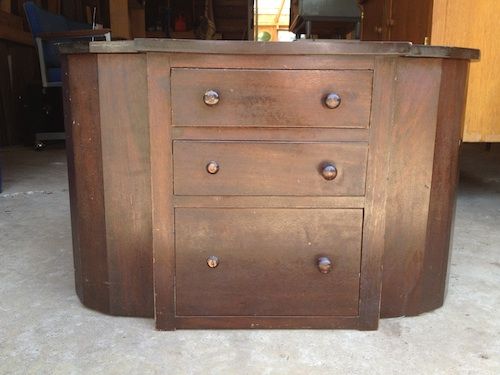 This antique Martha Washington ( I typed Stewart in first) sewing stand needs some attention (1 of only 2 things left to repair around here…minus our own furniture).
That was the case with many of the pieces I said we were just going to slightly repair and pass on to someone else who would hopefully work on them…I just couldn't let some of them go with such little repair. Who knows if they would ever achieve their potential. I couldn't bear that thought, especially since most of them have been with us for at least 6 months, waiting their turn to be renewed (I know they have no emotion and I'm a weirdo).
This bowing gentleman, Lieutenant Dan, is the second piece we have left to finish then we're all out of piddies pieces to refinish.
Working on those 4 pieces over the weekend (yeah, we added another dresser to fix that wasn't on the original agenda) reignited my wanting to work on furniture. With any luck, a few pieces might be finished in the coming month.

I mean, geez, I chipped old veneer from the sideboard for 3 hours and am trying to fit expensive new quarter sawn white oak veneer in the budget since we need it for the sides, a few drawer fronts and cabinet fronts.
The entire thing needs sanded and stained. Had we decided to paint it, we would have skipped removing all of the veneer and only cut out the damaged spots, filled it with a few coats of wood putty (with sanding in-between), gave the whole thing a good sanding then painted it which is a lot of work but the non-painted job takes even more work. So, you know we're fully invested in this sideboard now. I've seen these used as bars and in entries for catch-alls and can't stop thinking about them for that use.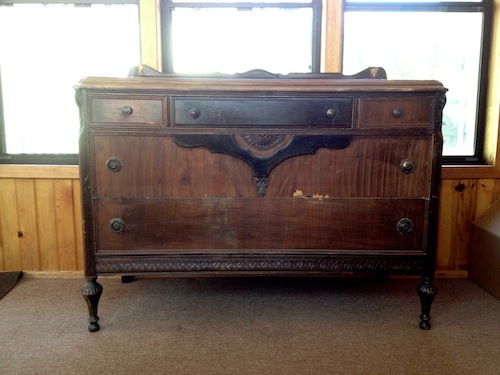 Drawers put back together (still has veneer issues obviously)
One antique dresser is ready to go and functioning quite well with little effort. We had an offer from a craigslister the same day which was awwweeesome (when I say awesome I sing it).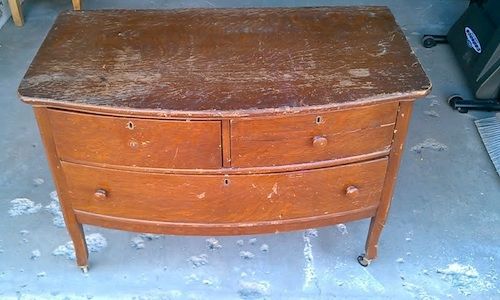 Another dresser we started on long ago and left literally in the dust of the house projects got some more attention this past weekend and will continue to throughout the week. While browsing Etsy, I found some knobs someone could easily make themselves (a brilliant idea on the part of the seller though) and so my hardware plans for that piece have changed. I just need a decently warm day to get outside and work on them. Oh, and to place the supply order.
If you'll excuse me, I need to go wash the paws of my sheepdog Henry and corgi Vivi who seem to find every bit of mud now that the snow is melting. If you want to imagine the act, picture 5'3″ me carrying a 70 lb. sheepdog then a wriggly 20 lb. corgi to the tub where both try to escape any chance they get wherein I end up wet and dirty. Sweet, muddy spring is here!