What's up with us over the last 2 weeks? Some of those updates have been announced on our facebook page (which was the only way I could connect since the site has been having technical issues…one right after another).
1) This blog (and my other blog) have been working screwy. All part of the joy of switching hosts, I guess. Actually it was a matter of changing some of the settings so that things play well with one another. Again, kudos to my bro-in-law for taking the time to make it not screwy. Huge thanks! On that note, of course I had a number of ideas to change up the blog look while this happened. It was actually how I found out things weren't okey dokey and now other issues have my attention and I can't even remember some of the things I wanted to do and the others will be put off. Priorities have changed. Still bugs to work out. A bit of a new look though, huh?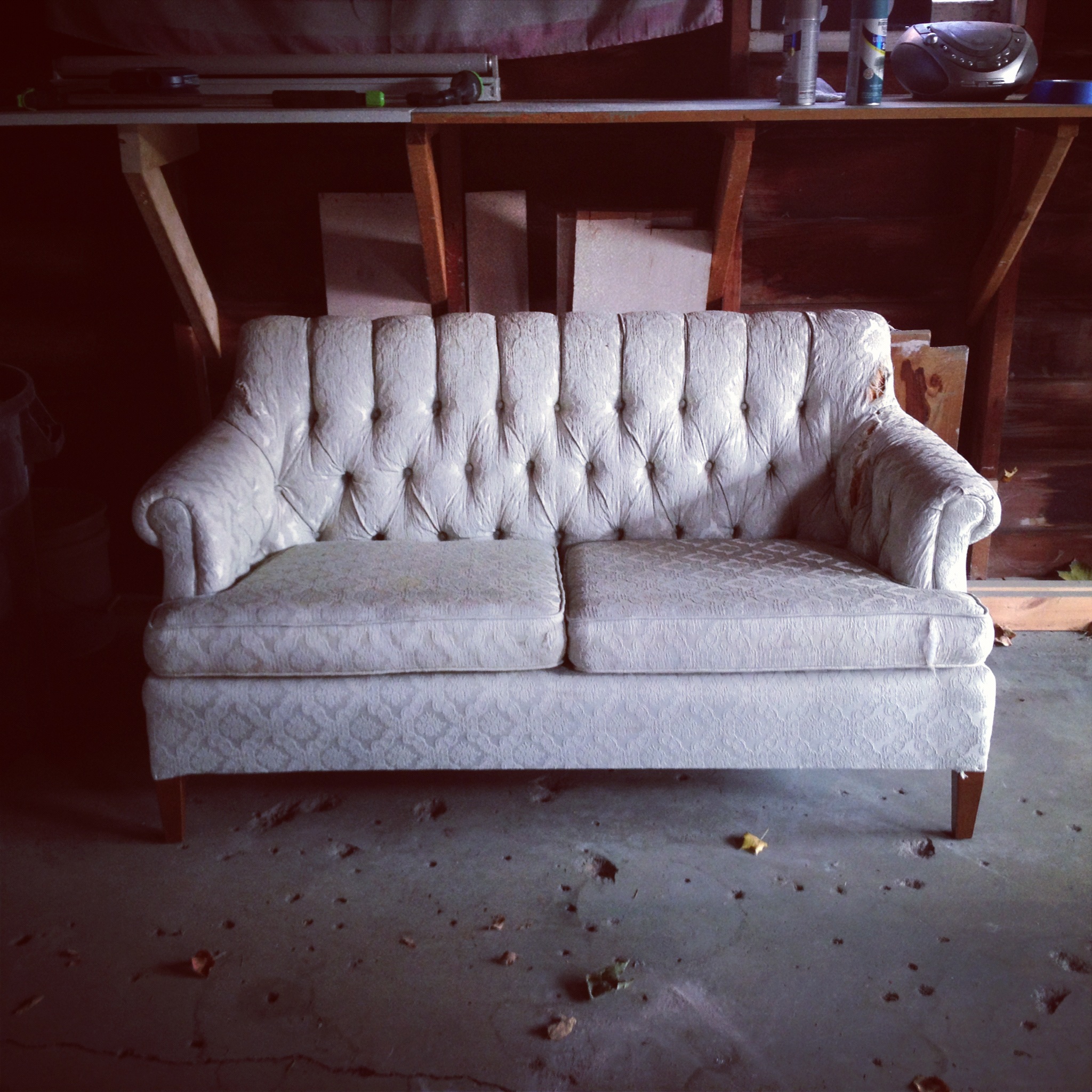 2) We got another curb couch. More of a loveseat really. And since I decided the other couch would be too expensive to reupholster and biff up with my non-skills of upholstering, Greg and I feel that as long as we get some cheap fabric, this size of couch might be easier. Anyone want that other couch?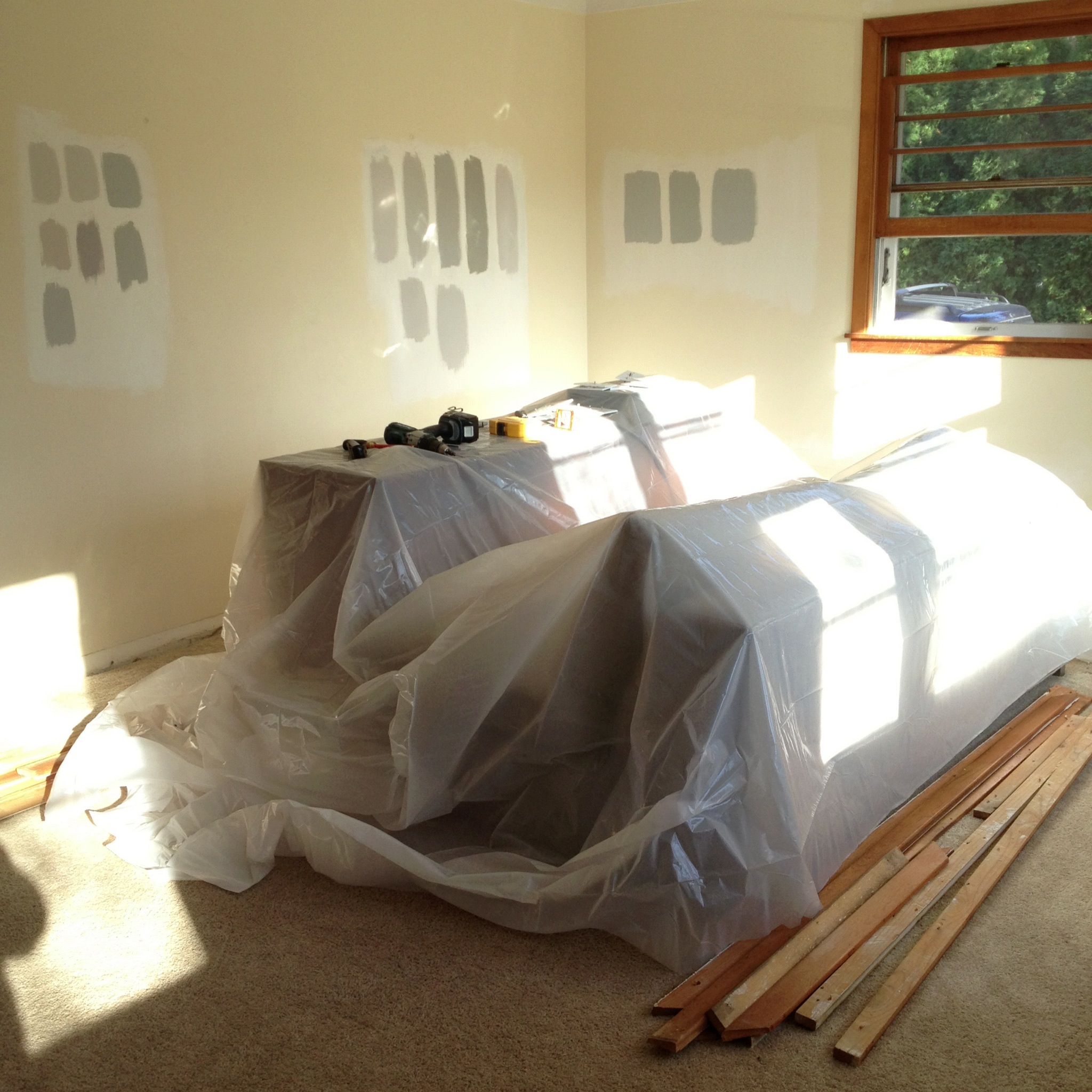 3) We are still working on patching/repairing the drywall in prep for painting the walls that glorious Eternity by Benjamin Moore. Yes, still. And part of that delay, besides having the money for all that paint, is this…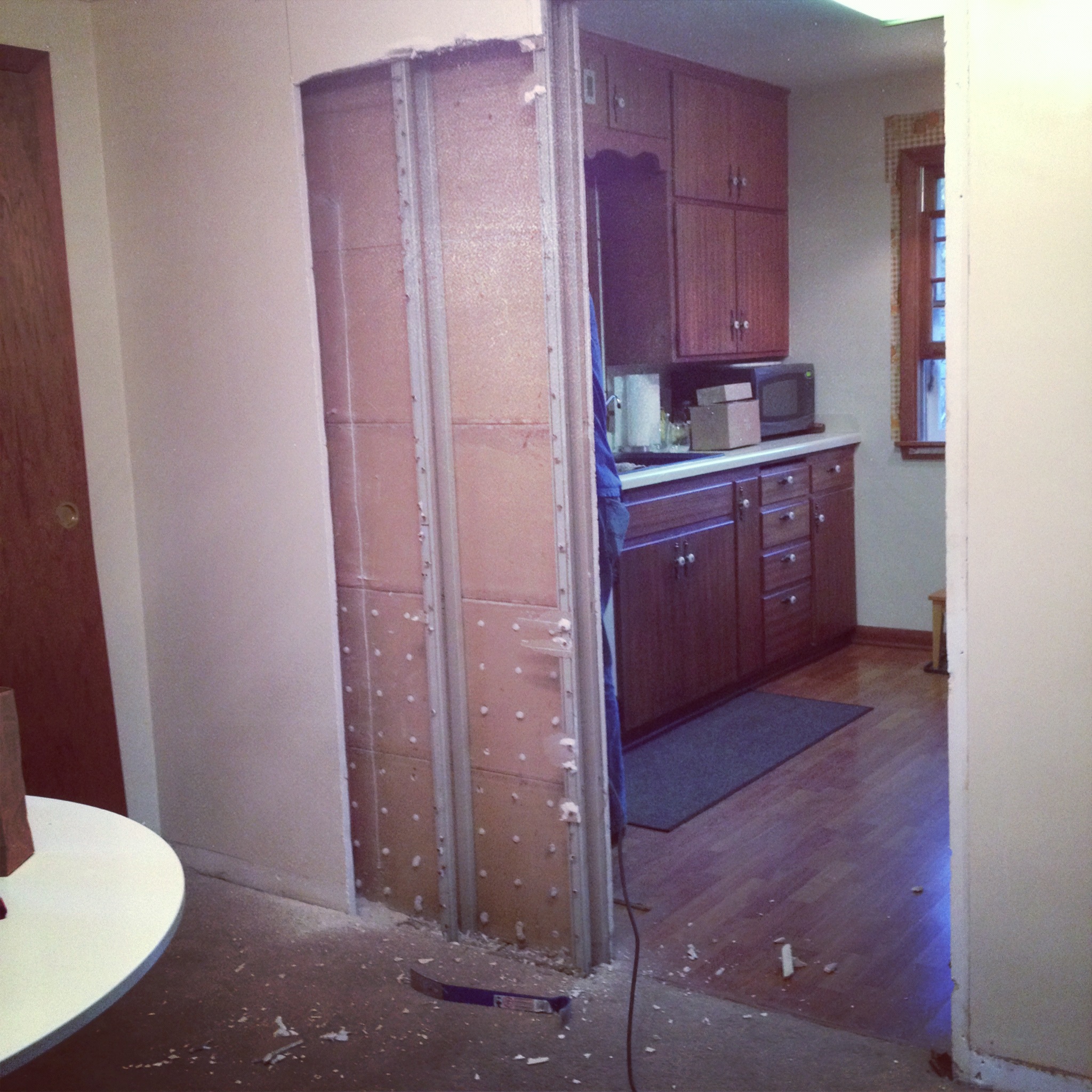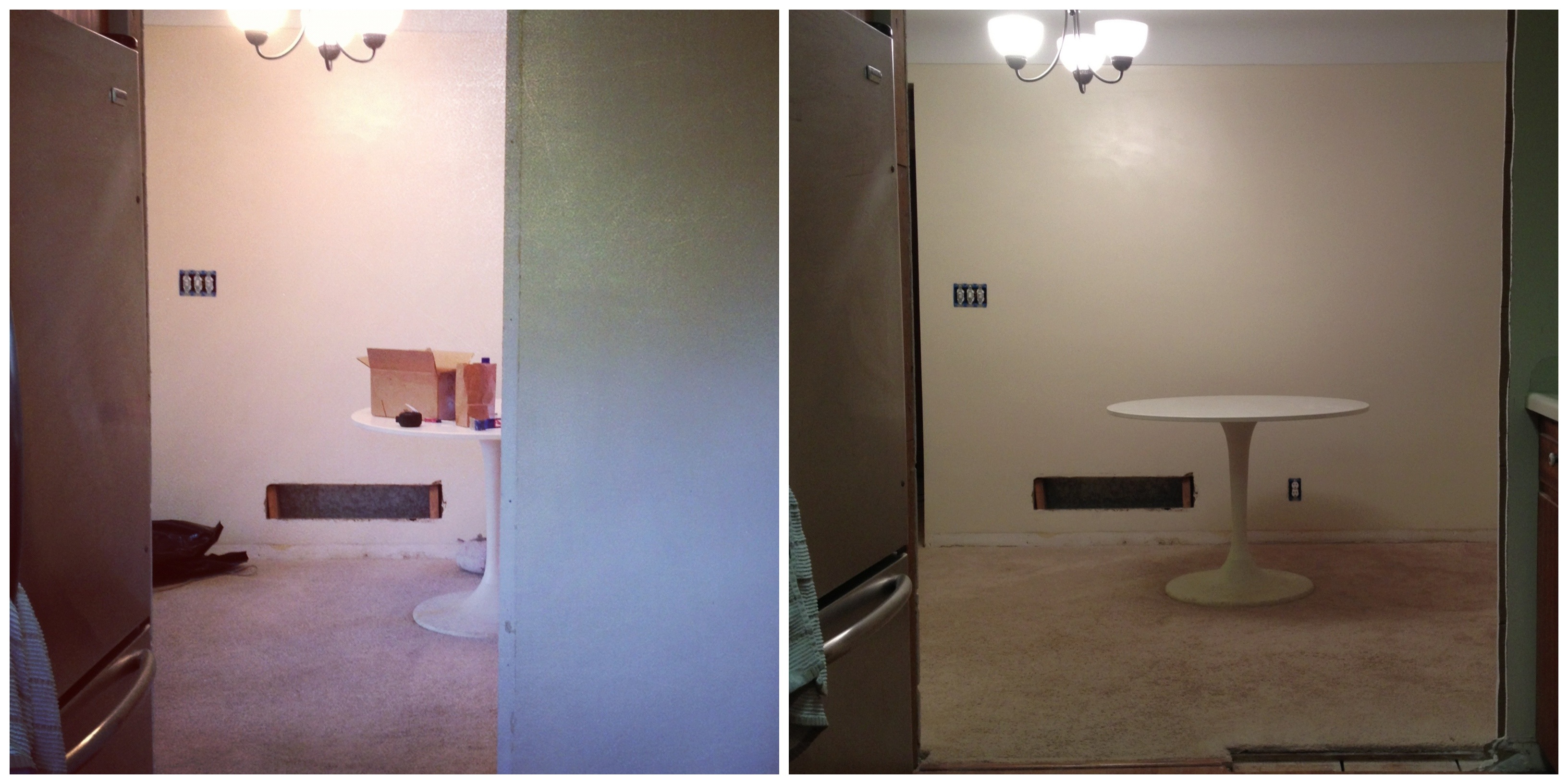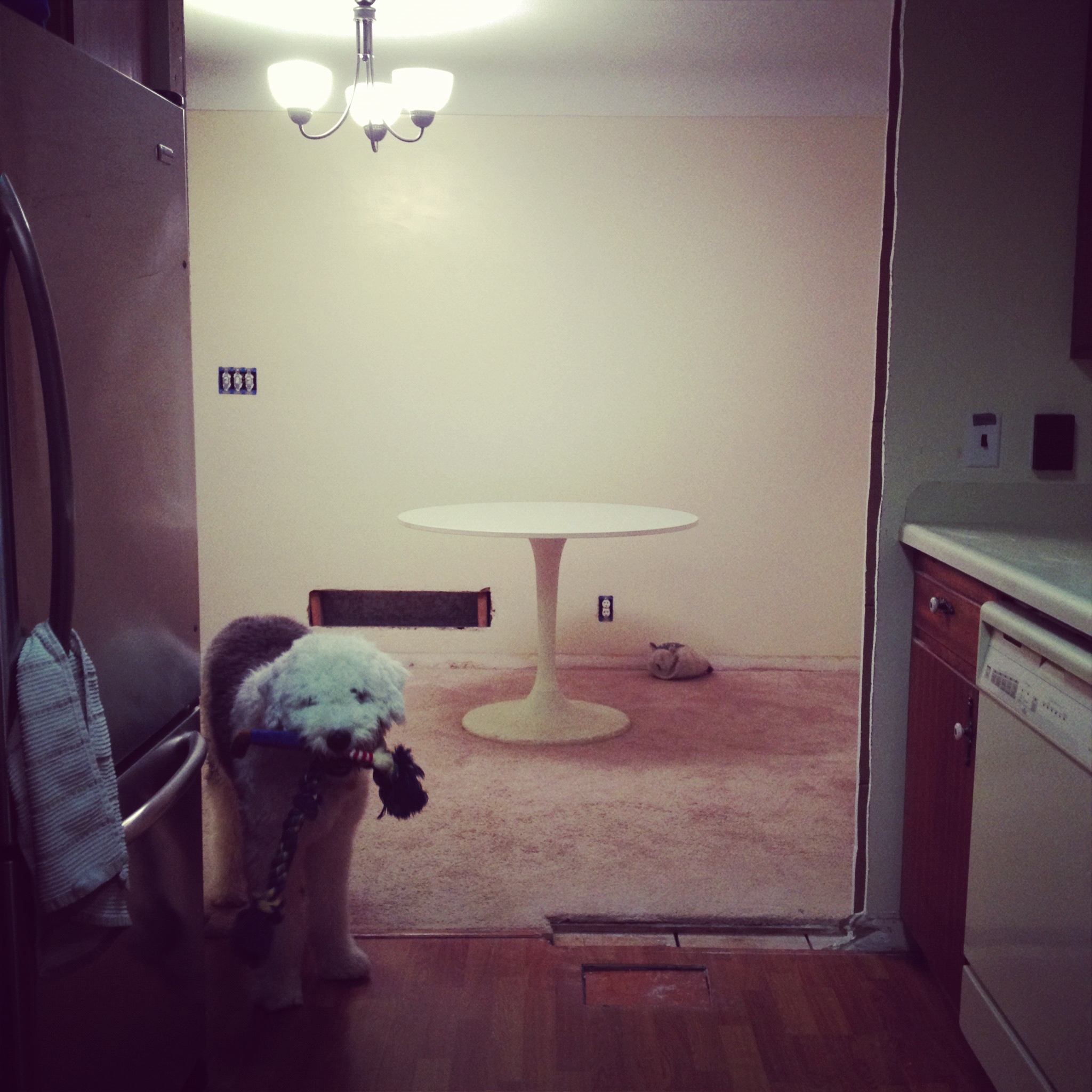 4) We took out part of the wall between the dining room and kitchen. What? You don't just take out walls? We had the idea before we even moved in to open up the small kitchen with the dining room. Greg was tired of conversing with the wall while seated in the dining room while I would be cooking in the kitchen. The wall housed the pocket door that no longer functioned and we couldn't get to the mechanism to fix it. Many a battle with that thing. Now imagine the space with engineered hardwood flooring, white trim, an updated kitchen, new lighting, a banquette with farmhouse table and a mix of eclectic chairs for the dining room. Oh, and a collage of frames on the wall or something equally cool. Can you see it? Because I can't get it out of my head.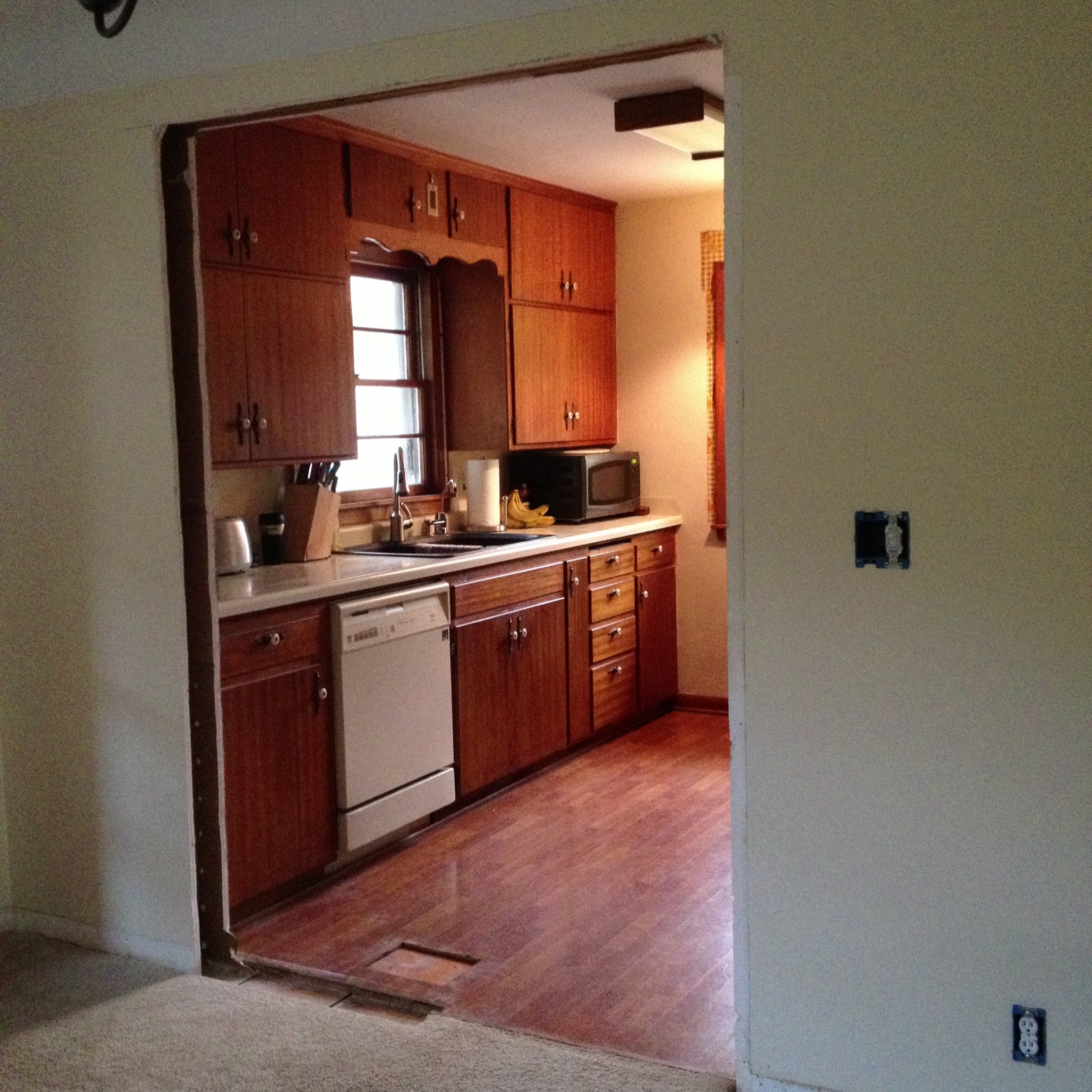 5) Along with the wall, came out what we believe was a laundry chute (shoot?).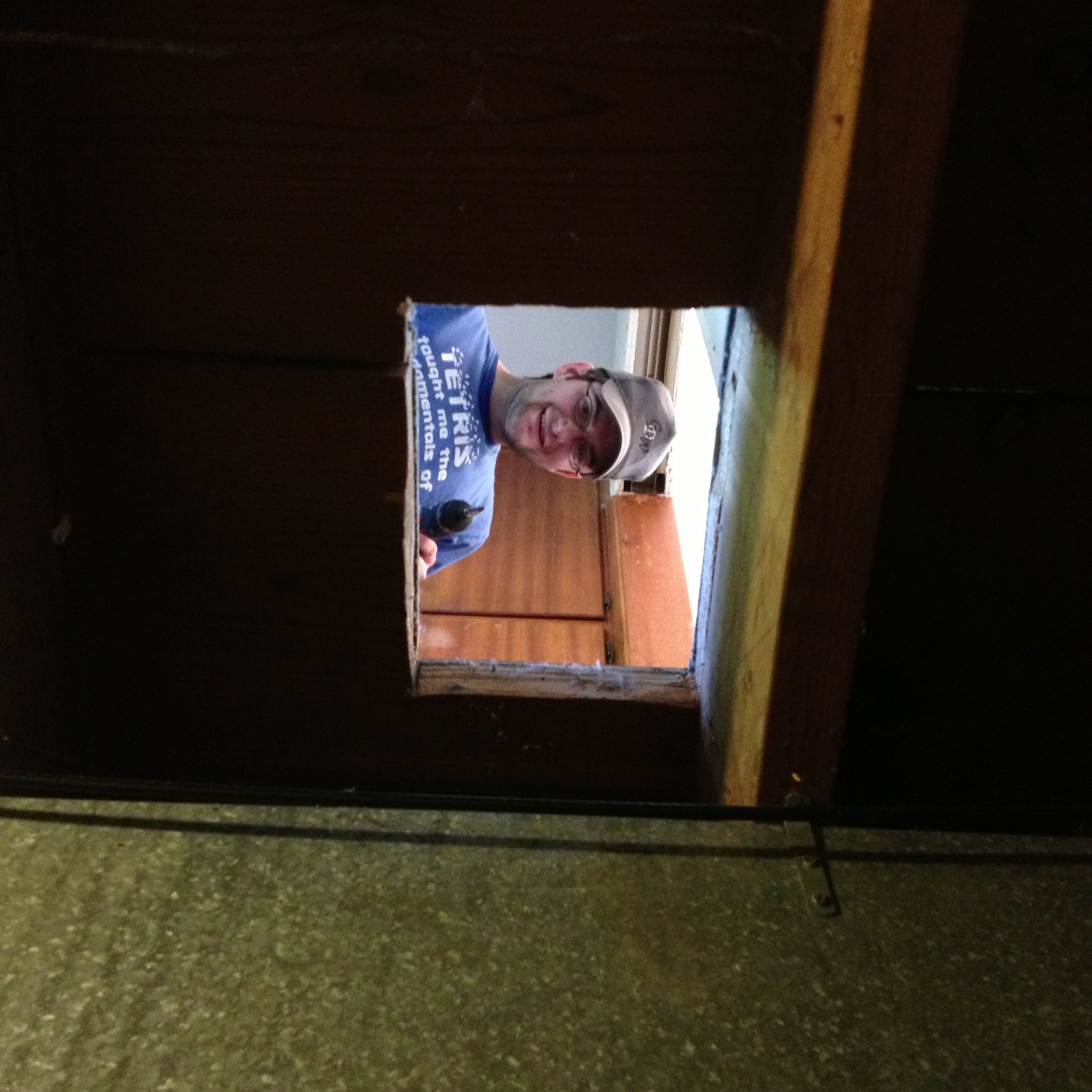 Yes, someone cut a hole in the kitchen floor, put a duct that made the items fall to the utility room, and to hide the hole, placed a wobbly, horrible cabinet that they had to cut a hole in and fit over the duct. Nice, right? It stuck out from the doorway just enough so you had to be careful not to run into it. Many a day wasn't over until I rammed my leg or toe into it. 3 times was the charm. Greg patched the floor for a temporary fix until the hardwood floor can be put in. Which is not on the menu any time soon. Wahwah.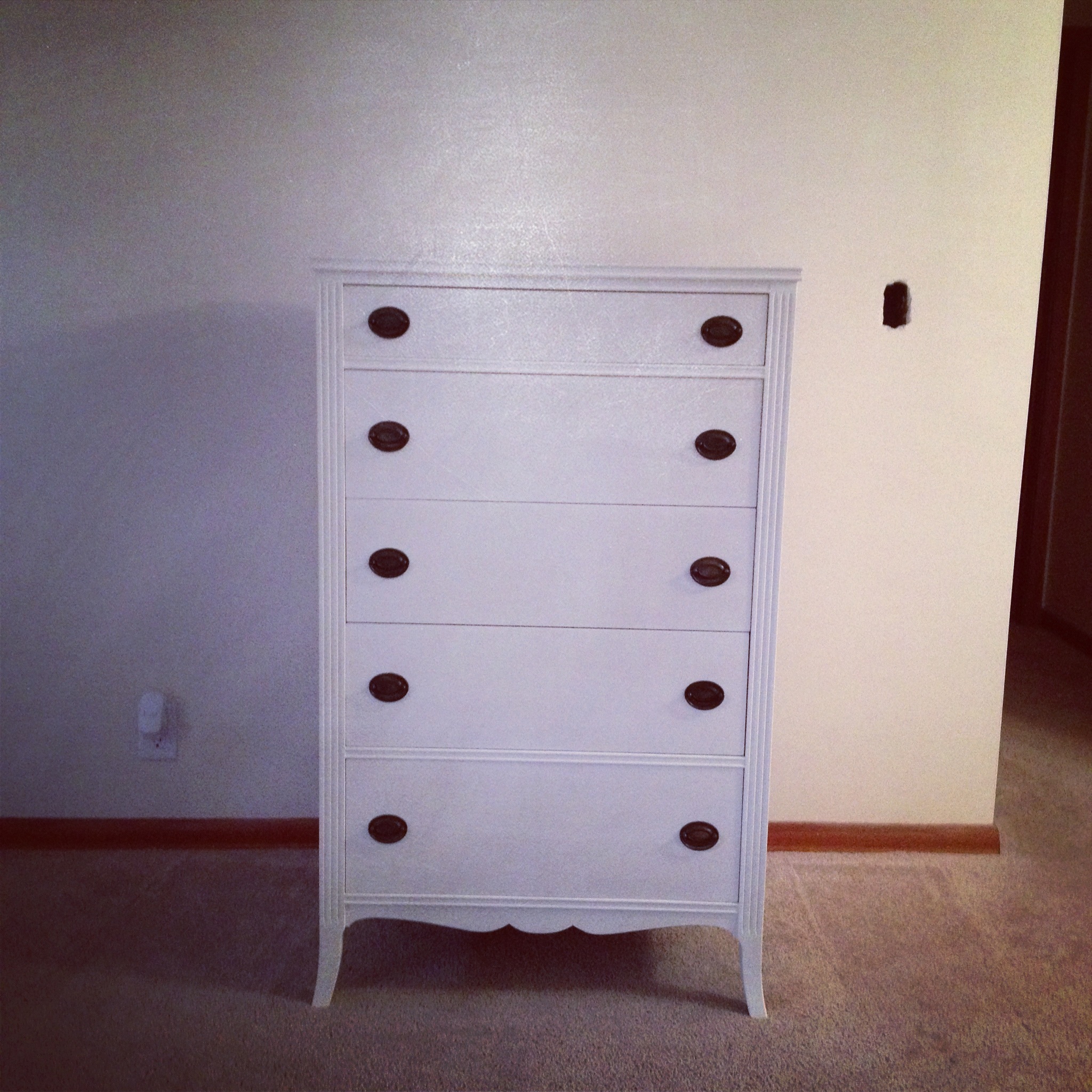 6) One of our pieces, the antique white tallboy dresser, sold in record time (under a week) to a nice couple in St. Paul. We delivered it over a week ago. Then we hit up Trader Joes where I'm sure the crew thought we had a drinking problem with the amount of wine we picked up. It's for the holidays and special events-Thanksgiving, our anniversary, Christmas, a horrible day made better by a glass of wine. We don't get up there much so when we do, we go all out on some of our favorite items. Dark chocolate covered caramels, anyone?
7) We're still working on the credenza/dresser. Turns out the drawers weren't up to Greg's snuff in terms of fit and he didn't like some of the gaps….we're picky people. It's our job and names attached and we just really like to see each piece be all that it can be. (Did anyone else finish that with "in the army"?)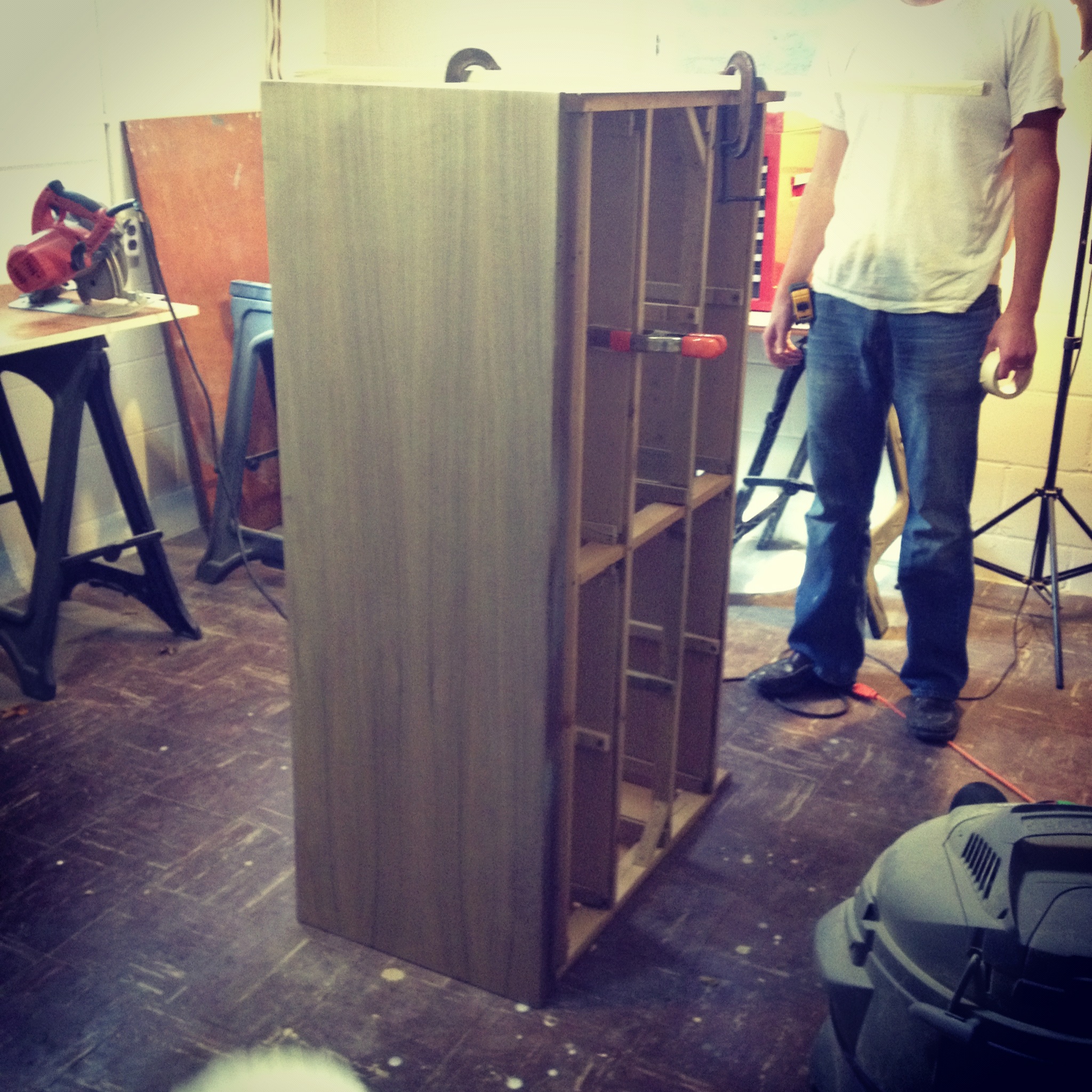 8 ) Things have been selling like hotcakes. It seems like when we sell one thing, it starts a chainreaction and we get 3 or 4 (or more) orders at once which makes mama happy. But then there are those items where someone makes the plans to purchase and then it all falls through and sometimes those same very interested people think we live too far away to get it and sometimes those people don't show and don't communicate and we're left twiddling our thumbs because we scheduled an appointment. That happens almost as often as the simple, "I want your creation, I'll buy and pick up that creation and I'll go home happy" events. Yeah, that happened twice recently and I'm a tad sore.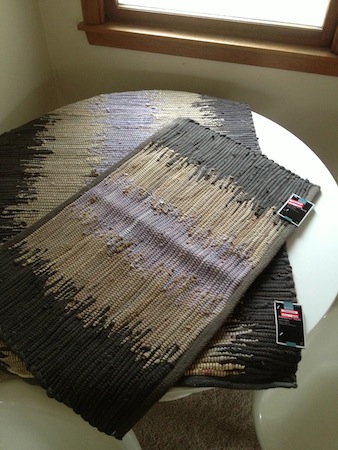 9) We're cleaning out the house and garage before winter hits so we've been giving away a lot of things left by the previous owner we no longer need-the blinds and small things in the garage.
10) Most of our leaves are raked and plants trimmed down for the cold seasons, windows in (I accidently spray painted one when refinishing the side table that used to have the lace front…I changed my mind…of course a day before someone showed interest in it I completely destroyed the look…those are the kind of days I've been having for weeks and the spray paint is not going on as it should which is making me want to just throw the table away or throw it as far as I can).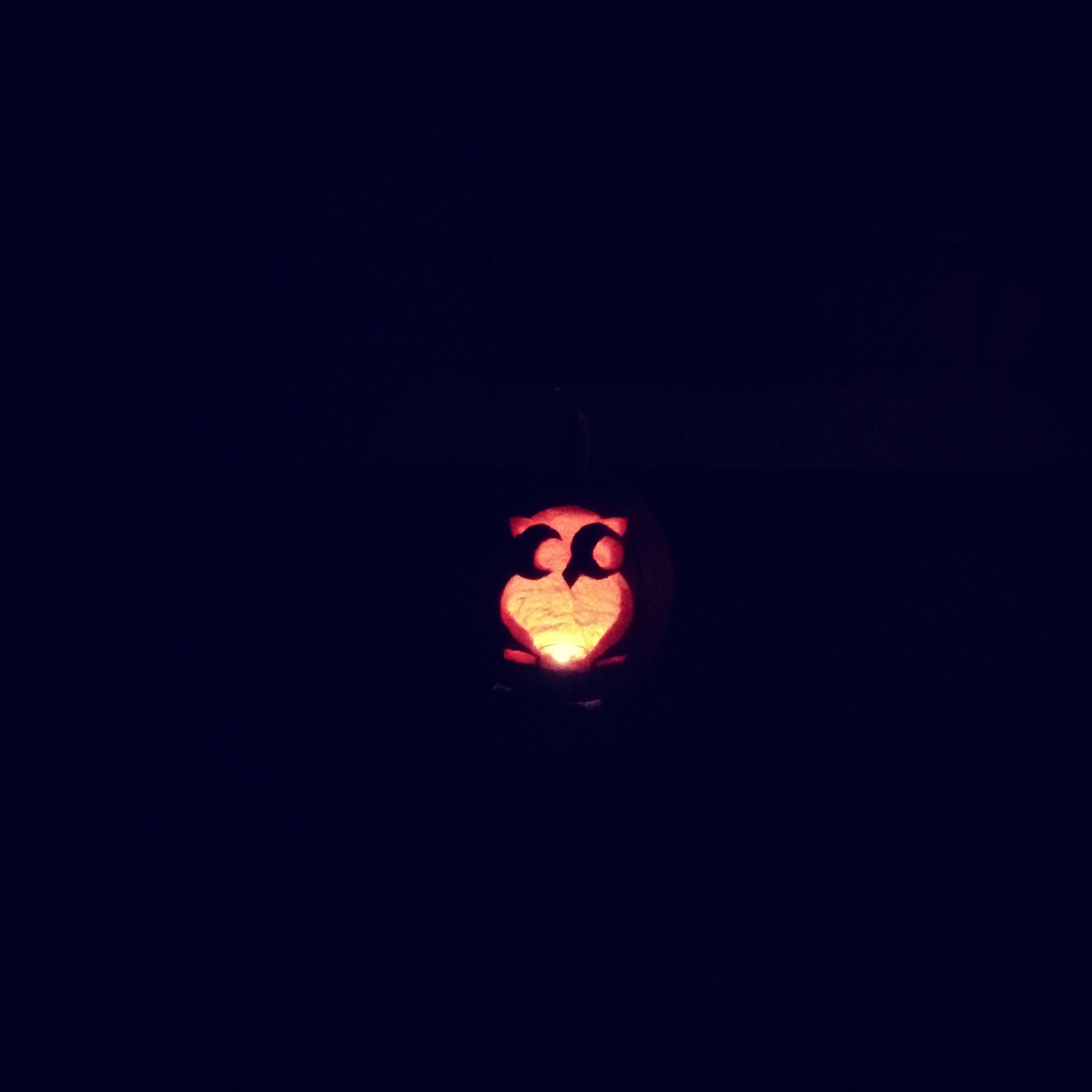 11) I am finally allowed to talk about the fact that Greg's company purchased their competitor near Minneapolis. They have hired many of the workers from the other company along with attained their equipment (which pleased Greg) and of course, their customers which are restaurants. They design/build restaurant furniture-that's what Greg does at work then comes home to do much of the same with me at home. Our lives revolve around furniture and we love it. Most days.
Since the blog wasn't running, I put it out there on our facebook page. As I did much of this info. The process began early September, I think, so we've known for a while. It was right after Greg got back from his vacation (the staycation where we did the yard) and right after his promotion (which was the week before his vacation) and announcement that he'll be working in the Twin Cities metro. Well, it's been hard to hold back and a lot of emotions are felt on this one. An impact will surely be made on our furniture salvaging, working on the house and lives together in general. Greg was also asked to be an admin for the system-one of two people that came along with the acquisition news… adding more things on his list. With all of this will come more responsibility and longer days for my main man. (Not that I have a second man.) They are planning to move the facility he was just placed in to the facilty of the company they just purchased. The two are close but a big job. One good thing is that it's a little closer to home, a little.
Another positive thing is that a company near Seattle was included in the purchase. So…we're really hoping that we end up going out there so Greg can keep working with the same company and it would make life a lot easier going out west like we want. You readers know how we would love to end up in Oregon and well, Seattle is pretty darn close. We like Seattle. I expect to find Seattle Grace Hospital and hang out with the characters of one of my favorite shows, Grey's Anatomy. Cause it's real…in my mind. Fingers crossed-it hasn't been discussed with his company and there is a lot to do before it can be a reality but just maybe this is how it was meant to be.
Many of you have asked how this will impact our furniture business. It's true, it will but it already has during the 6 or 7 weeks that I hadn't announced this news. Things will be even slower, his hours will be longer. I'll continue to do what I can and then have the piece be put on hold for the portions of the projects that are "his territory." That's where we're at now. He'll continue to get calls on the weekend or late at night when he is sound asleep and he'll continue to still not have enough time to work on all the things he needs and/or wants to and he will continue to come home and say his brain hurts and people will continue to expect the magic fix-it man to come to their rescue and have him run in circles between the 3 facilities. And I'll continue to be without a vehicle until he comes home and continue to think he doesn't get paid enough for all of this and continue to dream about the day it won't be this way. Much of the same to the nth degree. There's a part of us that really thrive and secretly cherish aspects of this. Just a part. But only because we know it will bring us closer to our goals and we don't like downtime. There could be complaining but it's almost always alongside pleasant thoughts and I don't think that is conveyed by me enough.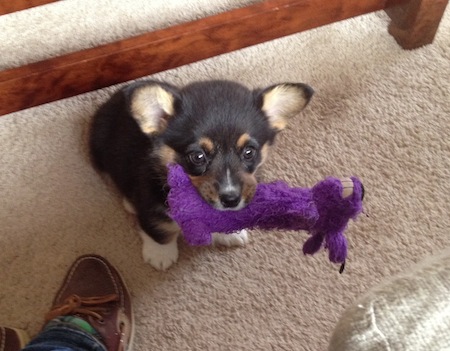 12) We got another puppy. She is a tri-colored corgi and we named her Vivi. All kinds of cuteness running around our house with our two pups. Henry our Old English sheepdog turns 11 months old soon and Viv is 9 weeks old. Yeah, we're crazy and thought hey, we don't have enough on our plates. Look at that face though…don't be fooled, after a few days with her, her true form of screeching pterodactyl in puppy body has come out. What did I do? But seriously, her and Henry finally got their play on and she helps make this family. Now to break her of constantly wanting to be picked up.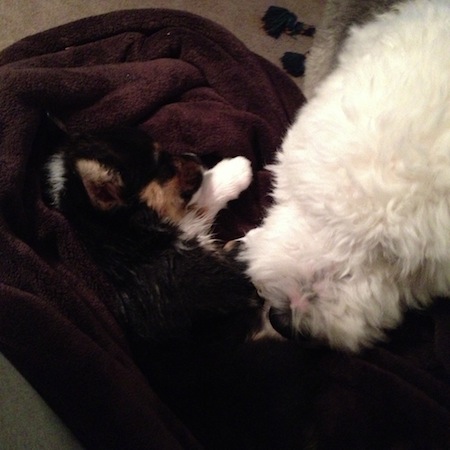 13) I'm going to be switching the house around with winter coming and Viv's inability to do the stairs to the office and my not wanting to constantly check on her nor keep her crated all day and night long helped me reach that conclusion. I think the office will be moving upstairs to the second bedroom, maybe even the dining room for now and the studio office downstairs will be purely "showroom" or more storage of finished pieces, pieces in line, supplies and some photoshoot space.
What have you been up to?