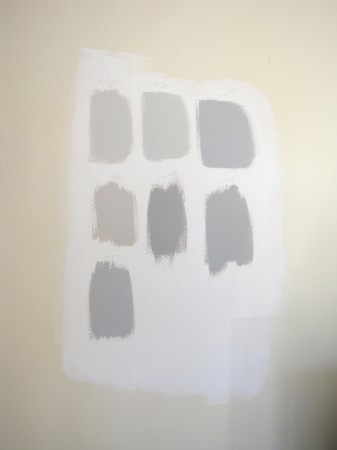 Whoop there it is on the bottom left. So it's supposed to be "whoomp" but I don't want an m amongst my w,h, double o and p. I grew up thinking that's what that word was from the song. Add a shaka laka and you've got a glimpse into one of my go-to phrases that makes an appearance almost daily around here. If it's a really good day I do a little dance with it. But I was trying to share that I picked out the paint. It's as close as I'm going to get to "the one" and we were almost in an accident getting it and a few more samples (for a total of 14 samples…). Some idiot almost plowed into my passenger side in the parking lot going about 50. I braced myself and all but once Greg saw him, he sped up and he just missed our bumper.
It's Benjamin Moore's Eternity. See it at this link. I know, I know, I said I gave up on ol' Ben or I gave that impression on the gray paints but we did not get this from our local store. Oh no, this one took a 30 minute trip to another city where I was supposed to be checking out the samples at Home Depot. I will get it at my local store now that I know it exists-an online and in-store search and I never came across it. The important thing is that I found my ideal gray, not too purple, not too blue, not too dark or light or warm. It's just gray.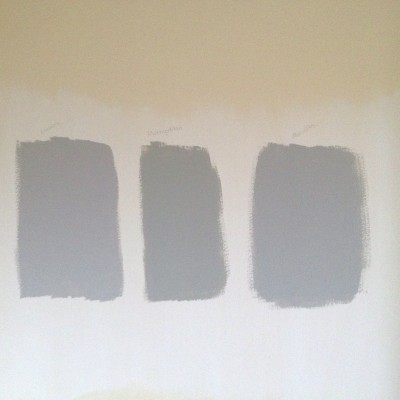 Before we took the trip, I did my research online, picked out about 15 colors to see on the card and from there I was going to pick 5 or 6 more to sample then pick. Got to Home Depot, couldn't find most of the ones I had picked out, went to ask for help and the woman was probably one of the least helpful people I've ever met. "Those will be on cards," she said when I brought her my list with names and numbers. Then she walked away. She had been there the whole time I was looking for myself to produce 3 of 15. The part that got me was how rude she was too. So, I just left the store, phone in hand trying to find other paint stores. A Sherwin Williams was nearby so we stopped in and I found 2 grays, went to get a sample but when I came back the guy had made 2 entire quarts. Maybe they don't do sample sizes? I'm not familiar with Sherwin Williams.
Not pleased with the big trip…any time away from the projects at home seems like a big trip (I know it's not), I knew of a store that exists only in Minnesota, parts of Wisconsin and North Dakota. It's called Hirshfields. They have a few different paint brands-Ralph Lauren was there, along with Benjamin Moore, Glidden, their own line and a number of others. They not only sell paints but wallcoverings, blinds, help with design/decor and seem very knowledgeable. It's a cool place.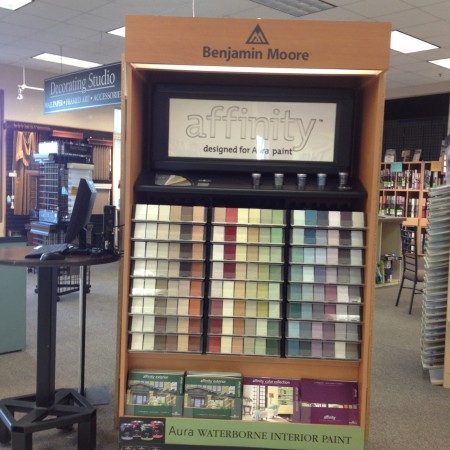 I picked out one Hirshfield sample and four tiny Benjamin Moore samples. The Hirshfield shade was almost identical to the Benjamin Moore color. But since I have a Benjamin Moore supplier nearby and it's cheaper AND I know I like how the paint goes on (amazingly), I went that route.
Greg has been prepping the wall, doing a little patching. I think this is a great picture capturing this event.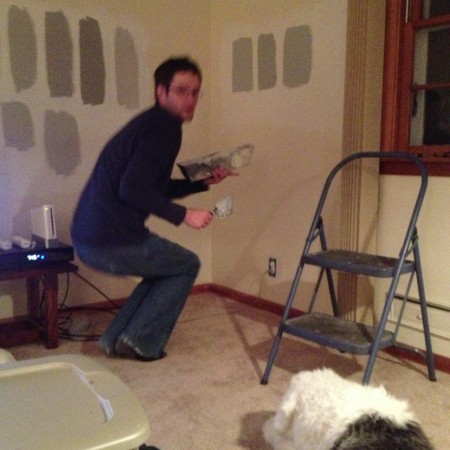 I made a sample board for future reference. We have 8 more rooms to paint and I will not be picking 14 shades of one color again. And in true Annie and Greg fashion, we didn't accomplish much of what we said we wanted to last weekend so we hope to do more this coming weekend. But as you probably know, I posted about the finished chalk painted tallboy that was completed last weekend so it wasn't a total bummer. I still have a ton of tasks on the to do list-I'm setting us up for failure. And our favorite Indian restaurant is closing so I have to shove as much paneer as I can in my gob this weekend.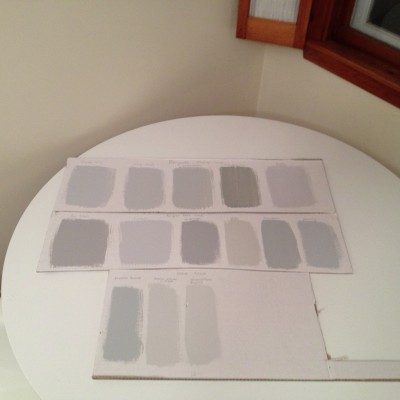 And as you facebook followers know, I found a vintage Bassett credenza and matching chest of drawers a few days ago (for $75 for the two) that we are now using for our own storage until we can work on them.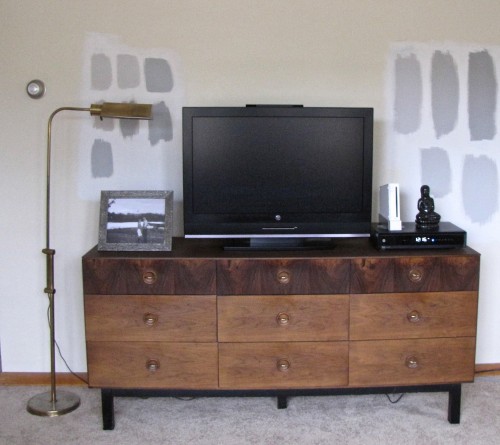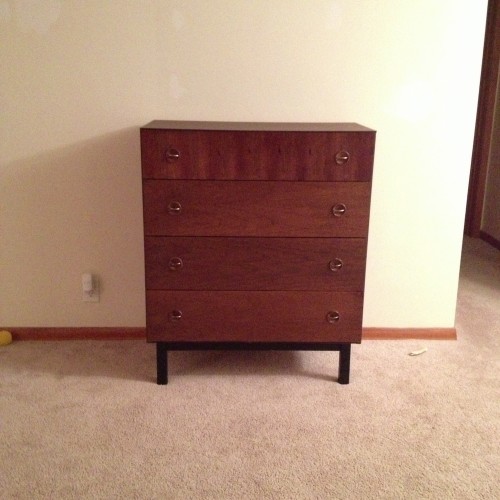 They do have laminate tops (I didn't know from the picture) but a quality one that even I can't believe I like and walnut drawers. There are marks on the top, perhaps marker, on the chest of drawers. A little veneer work and these will be beauties once again. I happen to think they are already and unique. We like unique. Total surprises this week. Never know what you'll find on craigslist and what could be in your home the same day.
By the way, a year ago today we put an offer on this house. A few days later it was accepted and the rest is history.