Happy birthday to my dad today! And we're excited to say we're having visitors for Thanksgiving this year or around that time anyway. Greg's sis and her roomie pal are coming to southern Minnesota from Bloomington, Indiana (IU territory which is scandalous for us Purdue Boilermakers). Her friend wants to do a short documentary about our furniture refinishing. How cool is that? Super. How nervous does that make me? Very. But we're happy to have them. We're hoping to get in some theatre tours in Minneapolis, maybe a museum or two, a tour of our town, maybe hit the trails. This also means that we want to get some things done around the house before the visit in a few weeks.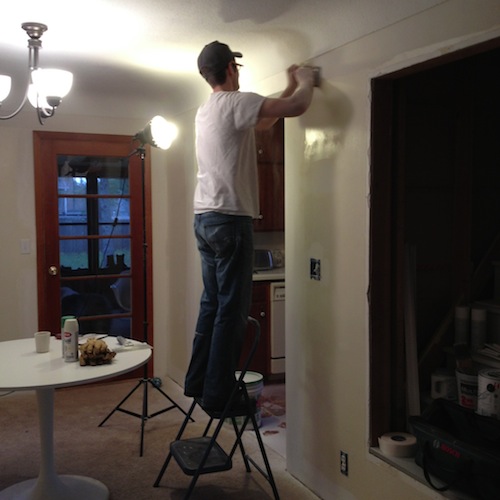 This weekend we worked on mudding/sanding the living/dining room walls (they are pretty much one open room). Soon Greg will do the skim coat then paint which I will talk about (again) soon (….I sorta changed my mind). It took us almost an entire day to remove the old bathroom fan/vent that apparently never worked in the upstairs bath before we can get to the ceiling and wall repair in the bathroom…since we attached that task to the list while we happen to be doing the living and dining room work. To make it easier. I say with sarcasm even though it was my idea and mutually agreed upon. Oh well, now is as good a time as any. Which really isn't a true statement in this case. Greg has a 14 hour day today and he's facing a few weeks of those kind of hours.
Sooo, in 60 years the bath fan never functioned. Maybe it wasn't required back then but we thought geez, after 8 months of just the two of us using the bathroom and we have this much moisture damage, you'd think the previous owner, who lived here for over 20 years, would have become sick of repairing the bathroom and said I think I'll fix this. But no. The ceiling and walls must have been repaired before they put it on the market because there's no way it didn't have the damage that we've seen. Just like the water issues with the basement-no way in 20 plus years did they not have issues when we lived here for 6 months and had standing water 3 times. Makes us wonder how it was rented to students because the living conditions, once we dove into the house work, would have been awful. And we know awful from our years in college, seeing what our friends put up with and what we put up with ourselves. Blech.
No kidding, the fan was not even venting to the attic (which is a no no but we've seen it). It wasn't going outside, it was just stuck in the bathroom with the noisy, ugly fan whirling for no reason.
I'm going to show you the disgusting pictures of the bathroom. Embarrassing. We've lived here with the bathroom looking like that. Yep, it's small and cramped but spacious compared to the layout of the downstairs bathroom. We have plans to open it up a little bit but it involves "stealing" the closet in the second bedroom. It's controversial. Is it a dealbreaker not to have a closet if you can fit a wardrobe in there? Keep in mind it's a small room, best used to house guests who aren't staying long, a nursery or an office.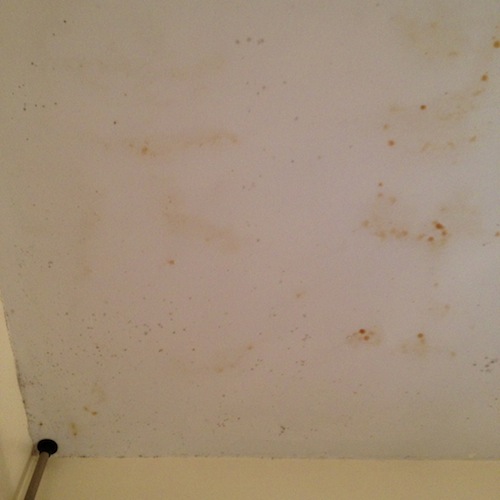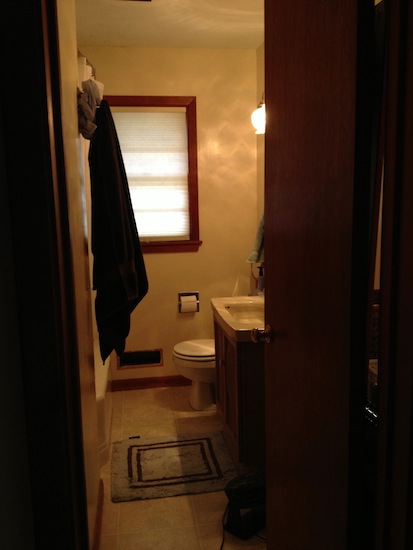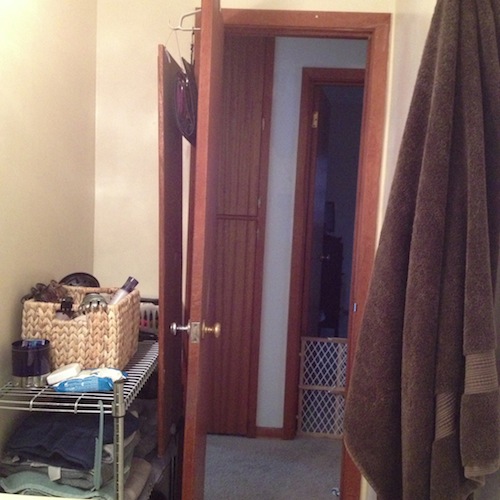 I can't tell you how upsetting it is to look up in the shower and see that. It's worse than just seeing that because the tub slopes and is slippery so that we had to buy those anti-slip petal stickers to help us not injure ourselves and only make it slightly better and there are tiles missing that were broken when we did some aesthetic changes when we first moved in (took off the shower doors, added some satin nickel hooks/fixtures and brought in a shelf for storage). We just put caulk in the place of the damaged tiles for a temporary, not lovely-yet-not-cutting-us look. Needless to say, I do not enjoy my shower time and it's a shame because I love a relaxing shower.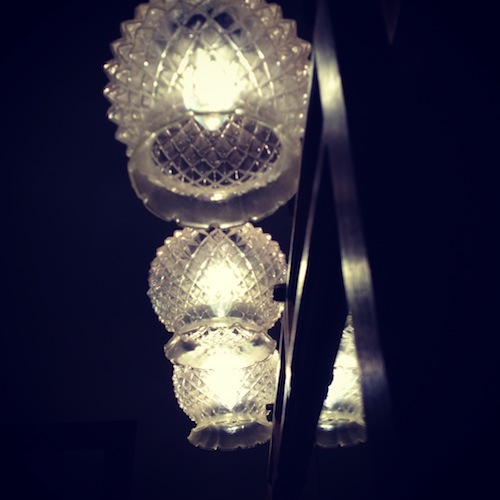 Here's a tip I learned Saturday night: don't use nail polish remover as eye makeup remover. I was thinking about something else, reached in the medicine cabinet's usual place for my eye makeup remover (on the rare day I wear makeup), started thinking about other things when I not only got the polish remover out, unscrewed the cap, dipped my cotton swab in it, put it towards my eye, started to think something smelled bad, realized it was wrong but my hand had already swiped the under portion of my eye. Horrible pain and burning followed along with lots of flushing with water. Don't confuse the two or start thinking about other things during your bathroom routine. Once I put hairspray in my naturally thick and curly hair instead of detangler. Yeah, that was also fun.
But why does the tub slope? Because someone took a notch out of the beam supporting that area. We don't think it's bad enough for us to come crashing through the floor but the slope is bad enough that I worry about our safety in the shower. One low placed handle in the surround will protect us if we grab it. Ha! We bought a tub refinishing kit with some non-slip additive but decided that the tub has to go instead. That tub refinishing process takes 3 days by the way and we like to be clean. We'd like to replace the tub with a beautiful walk-in shower. That does mean no tub in the plans for the house and we know that is a feature families look for with young children. Once again, controversial. Would that be a dealbreaker for you not having a tub? To me, I do not enjoy bathing in my filth. Then again, if it's a really nice tub…maybe. But we won't be able to fit a really nice tub in here nor can we afford the ones I consider nice.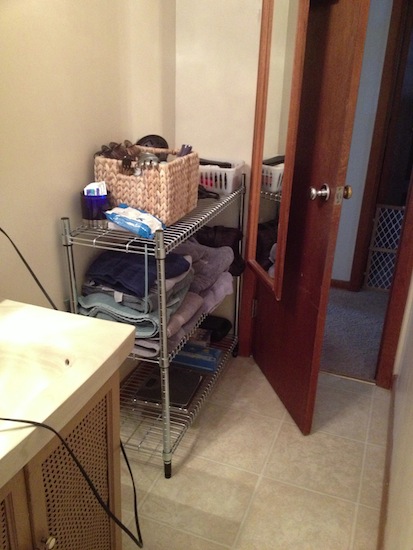 I can't help but wonder how the previous owner, an elderly woman, bathed because getting in and out of that thing safely makes for a tricky time.
Step 1 for the upstairs bath was to get a new fan (check) but this will include cutting a hole in the roof next weekend (check to come), more attic crawling (because Greg was up and down, insulation-covered all day yesterday) just trying to figure out how to get the old fan removed. He had to dig to find the thing in the attic, belly down on a board, then go to the bathroom trying to find some hidden nails or something that was holding it in place while I cleaned up what seemed a never-ending amount of drywall dust that had settled everywhere. (More sanding to come so I have more dust clean-up left. Keeping those good times rolling.)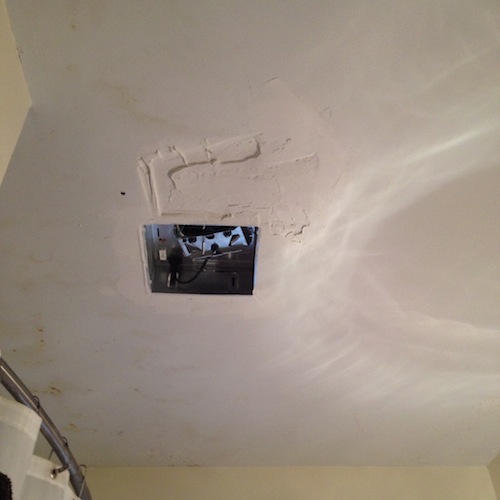 Anyway, finally Greg noticed that the old bath fan was attached somehow to a layer of drywall not visible from either end so he had to blindly cut the ceiling to find it and then beat it out with a hammer. I had my go while he was in the attic trying to lift it which accomplished nothing. This means he also has some ceiling repair to do in the bathroom. We were hoping to just put the new fan in the old's place. Why would it be that easy? After a few hundred dollars more than we budgeted (since we didn't intend to get the fan this soon…we initially thought we could make the old work), I was about to order the fan I wanted on Amazon but decided to check the options at Menards. Lucky for us, they had the exact one I wanted (cheaper than online too). However, it was huge and I found an alternative that I think looks nice. I'll know next weekend when we can actually put it up. Catch you on the flipside.