Oy vey.
First off, the weekend was a success in terms of wrapping up projects like painting the living and dining rooms. We started working on some pendant lights I've been trying to design for 3 rooms and we got back to that credenza/dresser that will be a different design from what we've done in the past and a bunch of small things were knocked off the old "to do" list.
That huge dresser we bought a year or so ago was bought by a nice couple with a large truck. The living room is put back together after a week under the plastic for safekeeping during painting and repairs. While I enjoyed the coziness of hanging out in the bedroom, we missed the living room.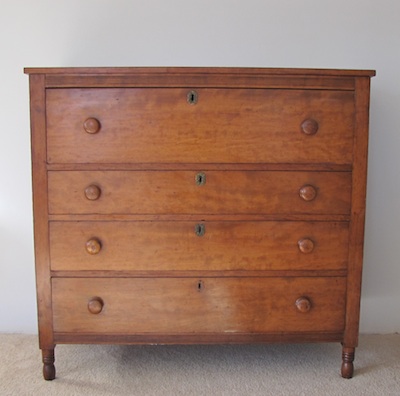 It all means we can move on. Or so I thought.
The dining/living rooms were painted Passive Gray from Sherwin Williams (that second color I picked after a change of mind and a reputable blogger's opinion). Well, after a third coat, wait for it…we think it's blue. Like not even a blue gray but a light blue. We put the last coat on yesterday. After working downstairs most of the day with a few breaks and trips upstairs, we kept declaring it blue. Late afternoon, dusk, while watching the Walking Dead that night, and again at 5AM before Greg went to work. Every time we said umm, it looks blue. And I wanted that ideal gray gray, not too warm or cool. After 14 samples, this wall sample seemed to fit everything I was looking for. So, why the blue?
Not neutral. You go blue and decor-related things are effected. Blue is my favorite color but not welcome in the largest, most open space we have. Was the sample different? I was told by a friend that their samples are not the real deal, maybe that was it. The tint info matched.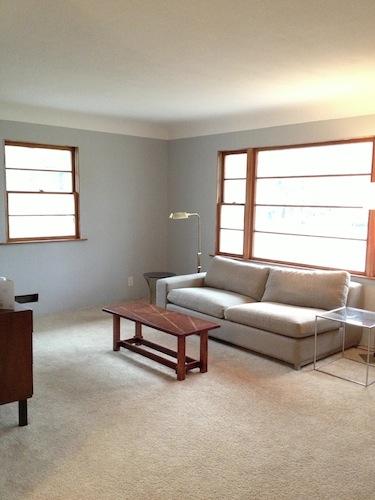 The first coat had me swooning, was perfectly light gray gray. I am second-guessing that opinion now because maybe my judgment was clouded by the fact that we had creamy beige carpet with creamy beige walls and warm, almost orange-hued trim and doors everywhere. The first coat helped cool things down and create a balance. And I didn't know this color existed until a reputable blogger did a post about the undertones of gray and this one fell in her true gray category. Not the blue gray category.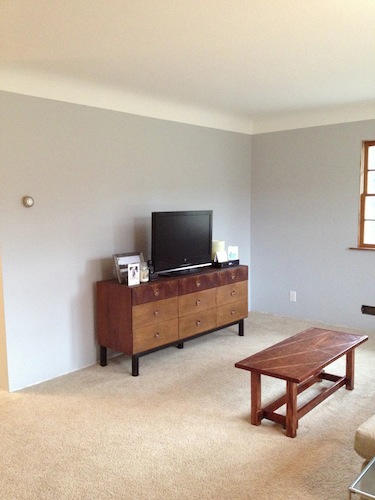 Then, and here's where another issue lies, we had problems with paint bubbles. All of the reasons why paint bubbles can happen were not factors in our situation so we were pretty darn baffled last week. One wall in particular had major issues-you could tear entire sheets of paint off- we had to start all over again with mud. When I said I was spackling last week it was to fix the bubbles. The only solution for us with those pesky bubbles, because mere sanding didn't work, was to go around and scrape them open then sand, spackle, paint the spots, sand some more, some needed more spackling, then another coat of paint and a final coat with a foam roller for the texture. That was 10 hours of my last week, 3 afternoons getting the bubbles off the walls.
This entire process took for-ever. The good thing is that all the repairs are finished on those walls and if we do decide to change the color it wouldn't take much. But I am not fond of wasting money. The hardest part. This took 3 gallons and could have been done in 2 if we didn't have the bubble issue.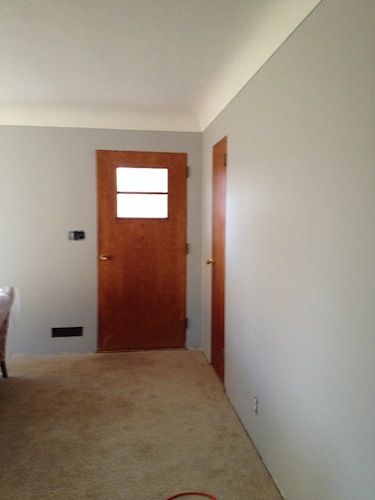 As you might recall, I am a Benjamin Moore fan but decided against it when I was introduced to this Sherwin Williams color (and remember we've had problems getting the tint matched elsewhere so we didn't want to go that route). We also got the Sherwin Williams paint on sale…but I kept it to myself that the "sale price" was equivalent to the everyday price of my favorite Benjamin Moore gallon. That should have been a clue. The regular price of the Emerald Sherwin Williams paint is around $70. $70! I did not know this. When I got to the store, the salesperson said if I wanted matte it was either that or one even more expensive variety. Had it not been a sale event, I would've walked away.
Furniture painting is completely different than painting walls but my review of the Emerald Sherwin Williams paint after this experience is meh. I found it no better than Benjamin Moore (any variety) and based on price, don't understand the high cost attached. I think I'll stick to Benjamin Moore.
When I look at the walls all I think is blue and my heart sinks. But early morning turned into a cloudy, rainy day and it's looking gray now. Barely. Hmm. I've started considering Benjamin Moore colors I had passed over because my idea needs to change to darker and a little warmer gray to avoid a too cool, blue tone. I decided I'm going to live with it and see what I think in a week even though I grabbed my large box of samples and just might slap some back up this week. Worse is that I will probably have to go back and get a bunch of samples yet again. Or do I go back to my original idea of Benjamin Moore's Eternity? Hmmm.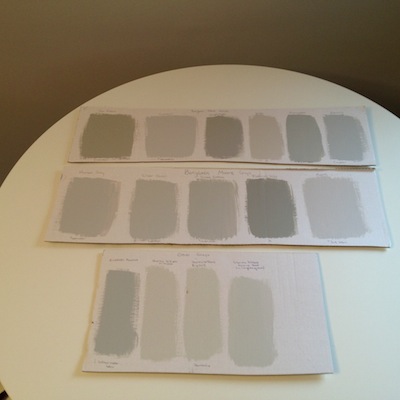 Our furniture doesn't help either. The only things I intend to keep in the living room is the brass side table and the brass floor lamp. The couch really doesn't go with the plans for the space so it will go someday and the walls make what used to be a beautiful fabric (Room & Board pewter) look uggo. I expected them not to go together but I didn't expect them to hate each other.
Oy vey. Furniture refinishing is so much easier than house refinishing.