Sooo, crazy/messy/insane life has been going on around here (continuing I should say),as many of you know from the facebook updates. I announced that I might be taking a break soon. I'm surprised to be writing this but I already had a good portion of it done last week before life got even more hectic. And I can't quit you.
I see you readers as people I'd love to sit and have a talk about life with. One of those good pals that sits at the dining table or on the couch next to you, glass of wine or tea in hand, that you tell your frustrations to, taking turns with laughs and a mutual understanding that life is one weird rollercoaster. Whether or not you feel the same, know that is how I feel and you can vent that frustration out to me too.
More unexpected things have taken up our time. For instance, someone else received a balance transfer that went on our (my) credit card. I initiated this transfer October 22, waited to see the credit on Greg's card, waiting the nearly 3 weeks it said it could take, then decided to call and see what was up when it never showed. Turns out a completely different account number received the amount yet still went on my card. How does that happen?! And the amount might as well be $1 million to us right now. Friday night we were on the phone with both companies, Chase and Capital One, for hours and then again yesterday. Shame on you, Capital One, for the way you mishandled this fraudulent situation and kudos to you, Chase, for being so helpful and having it resolved before Capital One even took us seriously. That should be cleared up this Friday so we can move on and breathe easier.
Greg had one more project added to his plate at work just when we thought it couldn't get any worse thus it's starting to feel as if furniture redecorating is a thing of the past for us which has made me quite sad. It's not so but I'm the type of person that gets one done and wants to tackle the next right away-we are a business and I do this full time so it makes sense. The pieces we have sitting around need Greg's expert attention to fix the structural damage. He just doesn't have that time. If I attempt, and I have, to do some of what he does I can do some more major damage that we might not be able to come back from and I don't like to waste time or money.
To make myself happy, I've been looking for pieces that don't need that kind of attention or pieces smaller in scale so I can spend my days doing what I love. No luck yet. We don't have the budget to pick up the kind of pieces that don't need repair. Rightly so, these pieces are at least $200 in the Minneapolis area craigslist and after supplies and the hours put in, there's not much of a return, if any, there.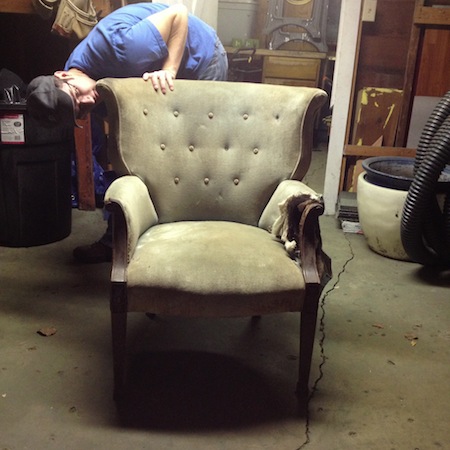 We found 2 free curb items recently-a chair and dresser. The dresser is missing front legs but I'm looking for some new ones…"But you ain't got no legs, Lieutenant Dan" or "Lieutenant Dan, you got new legs" so I'm going to call it Lieutenant Dan. I saw it at the garage sale for that household weeks ago but wasn't in a position to get. Then we spotted it on the curb and thought yeah, free is good for us.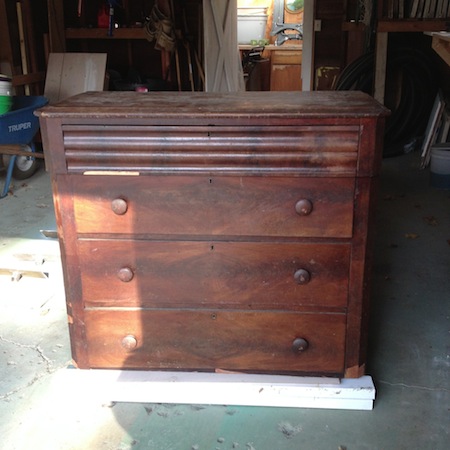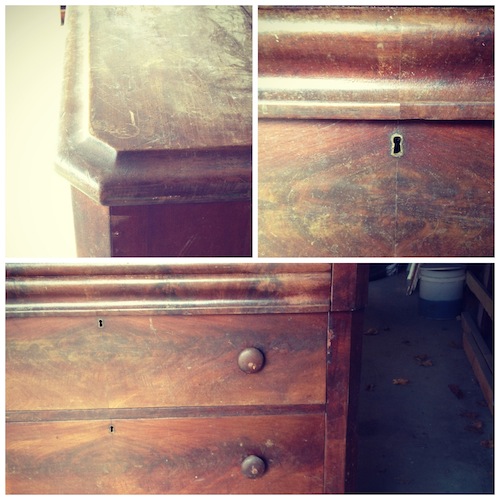 I'm looking forward to my sis-in-law's visit with her friend this weekend. We're wondering how the documentary about our furniture business will go. This will be a nice change.
What else am I working on?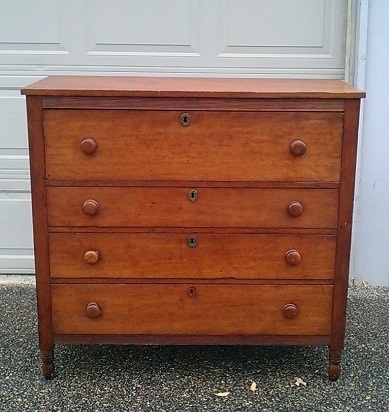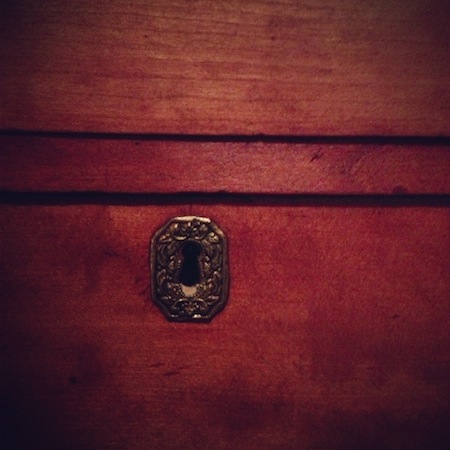 Finding new escutcheon plates for the large, antique dresser we got long ago because we think if we refinished the big guy it would take away some of its character but it is missing an escutcheon plate and I can't find the original so if we replace one, all have to be replaced then it can go to a loving home with its quirky charm. Imagine these dimensions for a dresser or buffet: a little over 44" wide, almost 43" tall and 19" deep. I'm in love with the shape and size of this one.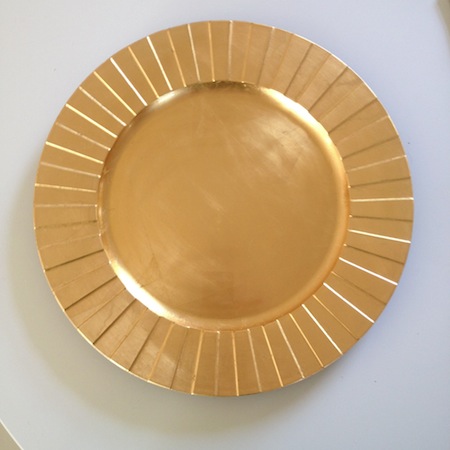 With the free dresser we picked up came a free acrylic dinner plate that would make a great sunburst mirror so I'm waiting for the mirror to arrive.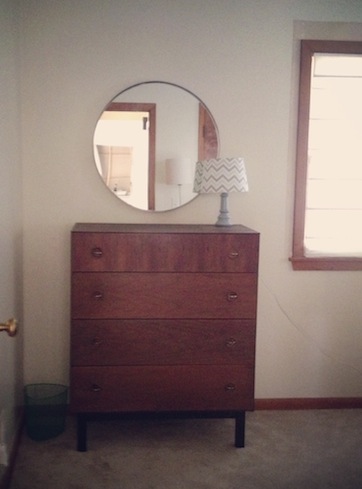 Fixing up the spare bedroom for the guests with one of the new mid-century pieces as storage (the lamp I made found a place in our home finally) and the old lace front side table that has a new temporary odd look sits beside the vintage brass bed.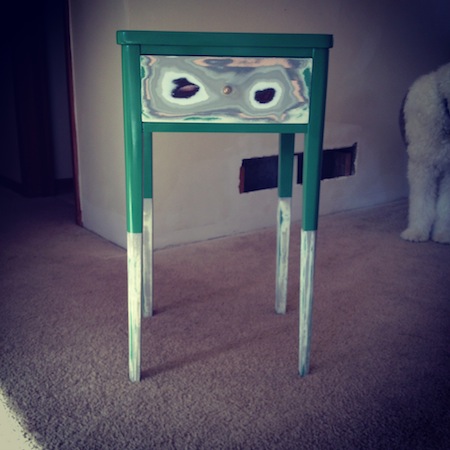 Finally bought new sheets for our deep pocket, queen sized needs and they are wonderful. They say they are 1000 thread count Egyptian cotton but I just know they are great, seem custom made, from this ebay seller for only $68. We're pleased.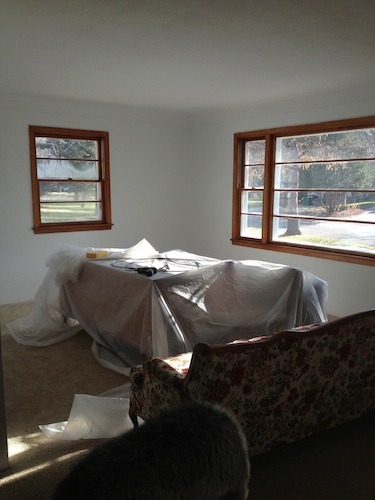 Spackling the walls.
Looking for things to add to our bathroom when we renovate (which I'm hoping is sooner rather than later). Found this beauty at Pottery Barn and couldn't believe it is recessed and not a bad price (I want better but I'm thrifty).
Rearranging, tidying and cleaning most rooms of the house and getting furniture in from the garage/moving furniture around in prep for the day we can get to them…at least it will be easier to get to them…before winter.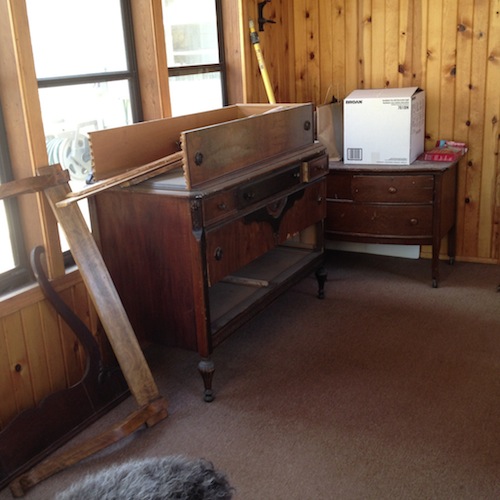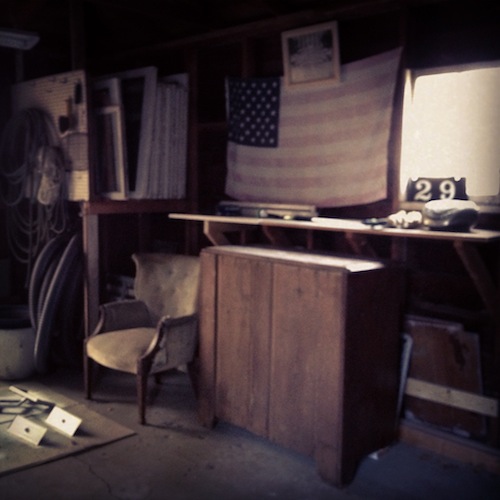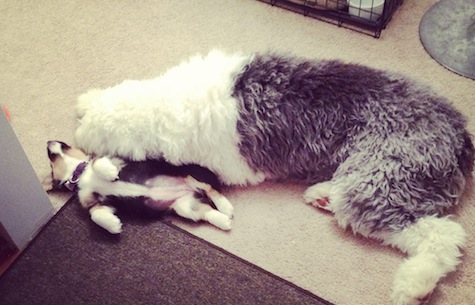 Pottytraining our new puppy and dealing with our older puppy who has been acting up and going insane with daylight saving time. Greg doesn't get home until it's dark with our only vehicle (he doesn't see the sun now) and the dog park closes at dusk. Poor pup only gets to go on the weekend so he's not happy.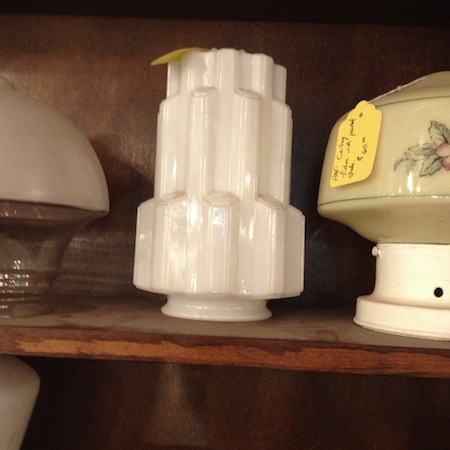 We went to the architectural salvage store I talked about a while back after the chairs we were going to ship ended up costing more than the quote and we found damage to them so we ended up not selling them after all (back in line for repairs they go). We happened to be in that town to ship these chairs and happened to need cheering up right after that. Found some great lights.
Setting up the studio for a photoshoot for my mom's ornaments like I had listed in our etsy shop last year. They are coming back! I know I'm a tad late and had them out around Halloween last year but you know, life and stuff.
Planning a post where I tell you about my parent's house (which was my sister and her family's place but they switched back home in Indiana). My parents have been renovating and I'm going to share at a later time.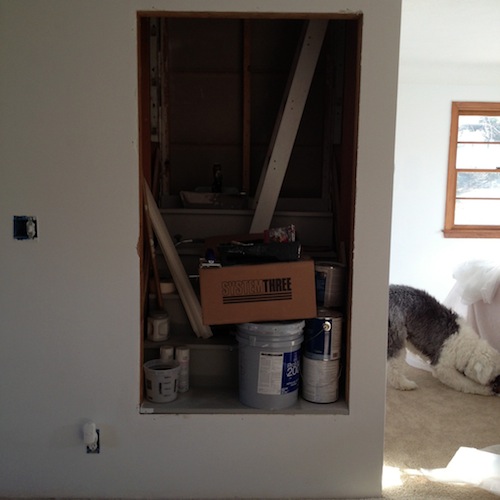 Finally, I, ahem, changed my mind about the paint color in the living/dining rooms. Yeah, just when you thought you couldn't be more bored with that topic or when you probably thought geez, don't they have that done by now. I wouldn't have changed my mind had I not read the blog post, since I subscribe to her blog, from Centsational Girl. Kate noted her favorite shades of the 3 undertones of grays and I saw one that caught my eye in what she calls the "cement grays."
I am very glad I did because NOW I have my perfect shade of gray, Passive by Sherwin Williams. And yes, I love Ben Moore and I know I haven't had much experience with Sherwin Williams and I've heard not-so-good things. However, I'm hoping it's a different story on the walls versus furniture. Plus, starting last Friday, there was a 40% off sale and I'm going with a matte finish to hide the imperections…that won't be there because Greg (and I) are doing a bangerrang job fixing the drywall which is a big task since the previous owner just kind of threw something up when they put the place on the market without taking any blobs off, repairing any damage, couldn't even be bothered to remove tape and those sticky tab things to hang art. Nope, just painting right over all those. Nice.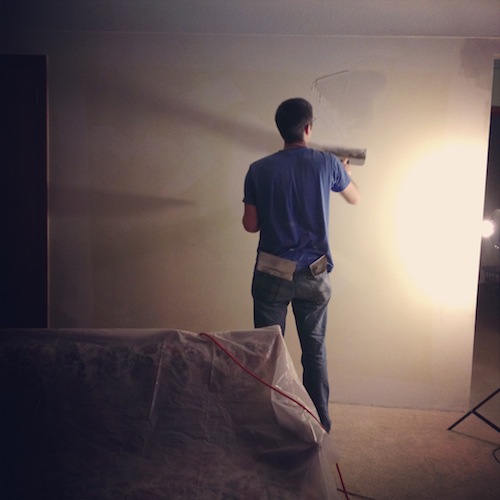 I know I could have it matched elsewhere but have I ever mentioned the time about 5 years ago back in Indiana soon after Greg graduated when we (moreso he) helped renovate a house for his mom's friend who put her and her ex-husband's house on the market? No?
Oh yes, we painted this house we helped fix up, went to get more paint, started putting it on the walls, thinking it off from the previous coats but decided it would probabaly match when it dried…it didn't. We had to start all over again. I don't know how the store got it that off but somehow it makes me leery to get it matched elsewhere. Especially since our local stores have had problems getting the colors right for some of our furniture paints. Not to be mean but if you get the wrong person behind the counter, you're going to end up with a lot of "oops paint" for $5/gallon. Know what I'm saying? Great for our furniture refinishing, bad for them and upsetting for house projects.
That about wraps up things around here. Now if you'll excuse me I have to spackle the walls some more. We found pock mocks around the dining/living rooms after we had put 2 coats of primer everywhere and were about to paint Sunday. I've spent the week sanding and spackling. We're putting the house back in order tonight, walls and bathroom unfinished, so our guests can have a place to sit. After their visit, we'll get back to it. Maybe we'll have the gray paint up by the end of the year. Since we aren't able to be with family this year for the holidays (thanks to Greg's schedule) we're sure to have some time to get something accomplished. The credenza/dresser sitting unfinished in the work room is begging us to come back. It's something like we've never done before but completely us.
Happy almost turkey time!